Blog
Remote working is here to stay… How can your business adapt?
/ Digital Transformation
May 20th, 2020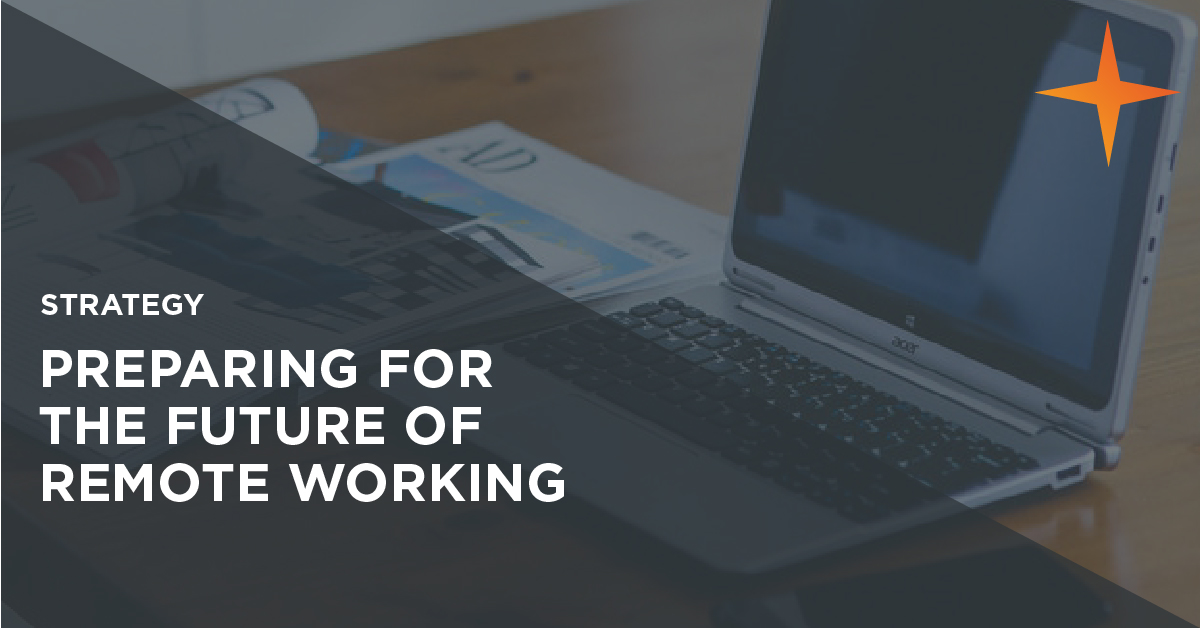 Since the UK announced a lockdown on Monday 23rd March 2020, more people have been working from home than ever before. According to the Office of National Statistics (ONS), in 2019 just 5% of the UK's active workforce considering home their main place of work. Since the COVID-19 pandemic, however, an estimated 20 million people have relocated to a home office – an increase of more than 1000%.
It's, of course, important to note that some industries, such as information and communication, professional services, and financial and insurance services, provide far greater remote working opportunities than others. Yet, even for employees in these industries, this is likely a new situation, with 70% of people saying they had zero experience of homeworking before social isolation measures.
There may have been some unusual conditions to manage during this time, such as childcare, home-schooling and enforced distancing from extended family, but it's fair to say that remote working, overall, has been successful. Probably more successful than many businesses would have anticipated. Technology has allowed us to replicate the office environment; tools like Microsoft Teams, Slack and Zoom have made it easier to remain connected and productive; whilst the flexibility in working hours has allowed employees to tailor their day to when they work most productively and to deal with personal commitments.
Even though some parts of the world are beginning to slowly return to normal, remote working won't be going anywhere. Plenty of businesses have now seen first-hand that they can still operate and that their teams can remain productive outside of a traditional office structure. Plus, employees will expect at least some level of flexibility now they have experienced the benefits and shown minimal impact on their role.
As the UK lockdown happened so quickly, many businesses weren't fully prepared to roll out remote working on such a large scale. Therefore, if you want to continue to offer remote working and ensure that it delivers for your business, then you need to ensure you are set up and operating in optimal ways.
4 key areas to review for successful remote working
1. Embrace cloud technologies
Infrastructure
Mass remote working can put huge pressure on on-premise IT infrastructure. If the environment is unable to cope then employees may face a degraded IT experience, ranging from system slowdowns and insecure connections through to the risk of total failure, increasing frustration and hampering productivity.
Embracing cloud-based application and infrastructure resources can help ease this pressure, offering greater flexibility and scalability, with the capacity to cope with fluctuating demand. Employees can access their working environment from anywhere, at any time, on most devices – provided they have a stable internet connection.
However, choosing the right cloud computing model for your business processes is vital for long-term sustainability and profitability.
Public – Offer massive scalability and cost-efficiency benefits. It's ideal for any customer-facing applications such as eCommerce. However, there can be some security concerns as it uses a shared infrastructure.
Private – Offers higher levels of security and direct control. It's typically adopted by those in highly regulated industries or those who deal with highly sensitive information such as financial services, banking and medicine.
Hybrid – Offers high levels of flexibility and is the default model for many businesses. It maintains some degree of control on-premise for sensitive data and applications but allows the massive scalability of the public cloud when required. Maintenance and complexity should be carefully considered to avoid security issues.
Cloud technologies are also making it easier than ever to remotely set up, secure and manage workspaces, no matter where users are based. Mobile Device Management (MDM) in Microsoft 365 helps you secure users' mobile devices, with the option to create and manage device security policies, remotely wipe a device, roll out new applications and view detailed device reports.
Software
Making the switch to Software-as-Service (SaaS) applications – where applicable – is beneficial for remote working, offering several resource-related benefits.
The pay-as-you-go model offers enormous flexibility and scalability, making it easy to quickly increase capacity to match business requirements. Software upgrades, support and maintenance costs are typically factored in which not only ensures you are always on a supported version of the application, but direct vendor support is available without additional hidden costs.
Furthermore, subscribers can access the software easily from any location and supported device with an internet connection, negating any reliance on additional hardware and complex VPN connections. For example, applications included in Microsoft 365 can be accessed via a web browser, desktop app or mobile app (with iOS and Android options available).
Windows Virtual Desktop (WVD)
WVD is a comprehensive Microsoft Azure-based desktop and app virtualisation service, which allows businesses to create a virtual Windows 10 desktop environment and deliver remote apps to any device. This allows employees to access the same desktop environment remotely as they would in the office. It's particularly beneficial for companies who have large groups of employees performing the same role and requiring access to the same environment.
2. Collaboration
With in-person meetings and daily huddles off the table, technology is vital for employee communication, fostering strong relationships and productive, efficient collaboration.
Microsoft Teams
Microsoft Teams reported massive growth in March 2020, with active daily users increasing 37% to 44 million, as employers encouraged their staff to work from home in line with lockdown measures. The cloud-based chat and collaboration platform aims to simplify and streamline communication between employees by offering a centralised place to connect and collaborate. Employees can send direct messages to individuals, set up hubs for group communication (ideal for departments), and organise video, audio or web conference all without leaving the platform.
Furthermore, it allows employees to collaborate in real-time by offering a centralised hub to access and share files. The core Office programs (Word, Excel, PowerPoint and OneNote) are all accessible in the platform, meaning files can be opened, edited and shared directly within Teams. Not only does this provide a better, more streamlined user experience, it also helps prevent things from getting lost or dropped – as often happens when documents are emailed back and forth for editing.
Microsoft is continuing to add more features to Teams, including background noise suppression in video calls, the ability to read and write messages without an internet connection, private chat channels, pop out chat and meeting windows, 3×3 video grids for meetings and more.
SharePoint
SharePoint is a web-based collaboration platform, which integrates tightly with Microsoft Office. As it is highly configurable, usage varies from organisation to organisation, but some of the most common use cases are:
Content and Document Management: Allows employees to store, archive, track, manage and report on documents and resources. They can easily access files wherever they're working, ensuring they always have the most up-to-date version. SharePoint integrates tightly with numerous Microsoft 365 applications, such as Word and Excel, allowing multiple employees to share, access, edit and collaborate on files. Robust document versioning makes it easy to a history of changes and, if necessary, roll back to a previous edition. This feature is particularly valuable where you have groups collaborating on the same document. However, employees can also work independently by checking documents out. This is ideal where several edits need to be made and you need to prevent others from working on or reviewing the document until you've finished. Once the document is checked back in, others are free to access, edit and review.
Intranet and Social Network: A SharePoint intranet or intranet portal allows organisations to better engage employees by providing a centralised location to manage internal communication and information. You can share rich multimedia, personalised news and companywide, departmental or intra-departmental announcements. In some organisations, Yammer has superseded the social network functions of SharePoint as it offers many similar features with a familiar social media style layout. Alternatively, you can include a Yammer feed in a SharePoint site such as a highlight of the most recent conversations.
Collaboration: SharePoint contains features to support teamwork such as; project scheduling, shared mailboxes, social collaboration and document storage.
File Hosting: SharePoint Server hosts OneDrive for Business, which employees can use to store and synchronise personal documents, as well as publicly or privately share them with others when needed.
Custom Applications: SharePoint also contains an enterprise app store to further customise your platform.
There is also a two-way integration between Microsoft Teams and SharePoint. Every time a Team is created in Teams, a SharePoint modern team site is automatically created to support it. All documents uploaded to the Team are automatically stored in the SharePoint teams' site.
3. Agile Working
Replace bulky desktops with laptops
The portability of laptops gives them the edge over desktops when it comes to remote working, allowing employees to easily change up their working location without needing to change device.
Fortunately for businesses, laptop costs have come down to match workstation costs when it comes to 'the standard workhorse'. Many office-based workers will be used to working on multiple screens so may wish to replicate this setup at home, in which case you should also invest in a docking station that retains those critical USB/HDMI ports and wired connections associated with desktops.
The downside to working from laptops is bad ergonomics. Encourage your employees to build an optimal working space, with things like a supportive chair, using a riser so the laptop screen is at eye level, and angling the keyboard down. This is will help avoid things like back pain or muscle aches and strains.
4. Security
Cyber-security attacks and breaches are a risk that all businesses must face. They can be incredibly disruptive, with the potential to cause significant, lasting financial and reputational damage. Such an attack can be even more difficult to handle when employees are working remotely, therefore you need to ensure you have a secure set-up to reduce the risk as much as possible.
Security Training for Employees
Human error is one of the biggest threats to your security. It's all too easy to respond to a phishing email, download malicious content or click on a dangerous link. Plus, with the security threat landscape in a rapid state of change, employees often aren't fully aware of the risk their actions can pose. Ensure you provide regular training and updates to ensure your staff have as much knowledge as possible.
Endpoint Security
With remote workers, the physical assets (e.g. laptops, desktops, tablets) are not in the office so you must have the best security software installed and kept up to date. Ensure devices are protected with a robust anti-virus solution and are updated regularly. Patch management can help as it will automatically update all devices on the corporate network, including those not physically accessible. You should also consider updating your remote working policies to state that employees should not use their own devices to access companies files and data when remote working, as you don't know what level of security software they have installed. Modern endpoint detection and response solutions (EDR) are designed to operate outside the corporate network, helping prevent malware, enabling rapid threat detection and allowing you to initiate immediate response actions.
Security Information and Event Management (SIEM) Solutions
With remote working increasing the risk profile, SIEM tools are a crucial part of the data security ecosystem: they aggregate security-related data from multiple systems, such as firewalls, server and PC event logs, antivirus applications, plus more. They analyse that data to catch abnormal behaviour or potential cyberattacks and then alert internal or outsourced security teams.
Typically a SIEM tool on its own is not enough and they are backed up by a Security Operations Centre (SOC) to ensure that security experts analyse any alerts generated by the systems. Generally, most mid-market businesses will outsource this capability so that their own internal IT teams just see the information that matters.
Multifactor Authentication (MFA)
Passwords are not enough to protect your devices and data. They're often not as strong as people think and even if you follow best practice, they can still be breached. Once your password is leaked or on the dark web, then that's it, your account is at risk of compromise – or multiple accounts if you reuse the same password. Multi-factor authentication involves an additional step to further protect your account. This may be a one-time code sent via email or text, an in-app push notification, a biometric method such as a facial scan or fingerprint, or a physical device like a USB.
Microsoft 365 subscriptions now automatically come with security defaults turned on, which means every user will have to set up MFA and install the authenticator application on their mobile device. Then the next time a user logs in, a code will be sent to their mobile phone via SMS or voice call.
There are also plenty of other 3rd party applications which support MFA using recognised security apps, such as DUO, Google Authenticator and Microsoft Authenticator.
Use a Virtual Private Network (VPN)
Using a VPN helps increase your online privacy by allowing you to have an encrypted connection over the internet, so is a good idea for those accessing business-critical systems or handling sensitive data. A business VPN will give employees the ability to remotely access private network resources, often necessary for completing work tasks. Accessing legacy systems can be difficult when using a VPN so an alternative may be to use SaaS instead.
Security Accreditations
A final thing, from a security standpoint, to consider is obtaining a security accreditation for your business. Preparing to undertake the accreditation process is a great opportunity for you to gain a clear picture of your current risk profile and identify and address gaps. There are a couple of options to consider:
Cyber Essentials and Cyber Essentials Plus: Are great places to start if you want to ensure you have covered the basics and have a good foundation in place which you can build upon. It is a government-backed scheme, designed to help reduce the risk of cyber-attacks by implementing five basic controls. Cyber Essentials Plus is recommended for businesses with remote employees (e.g. home or client sites). It is also typically a minimum requirement if you wish to engage with government or MOD projects.
ISO 27001: It is the best practice internationally recognised standard for an information security management system (ISMS). It helps businesses manage the security of assets, such as financial information, intellectual property, employee details or third-party information. Achieving this certification provides independent, expert verification that your company manages information security in line with international best practice.
Is there anything else you should consider?
It's not only technical requirements you need to consider if you wish to roll out remote working as an option for all your employees. There are many cultural and social issues to consider as well, with isolation, loneliness and a lack of human connection all reported as common problems by remote workers. Whilst technology will go some way to help combat these, you need to ensure you have a well-rounded, strategic plan for long term remote workers.