Blog
Using Microsoft Teams to manage the return to work and meet government COVID-19 guidance
/ Digital Transformation
June 1st, 2020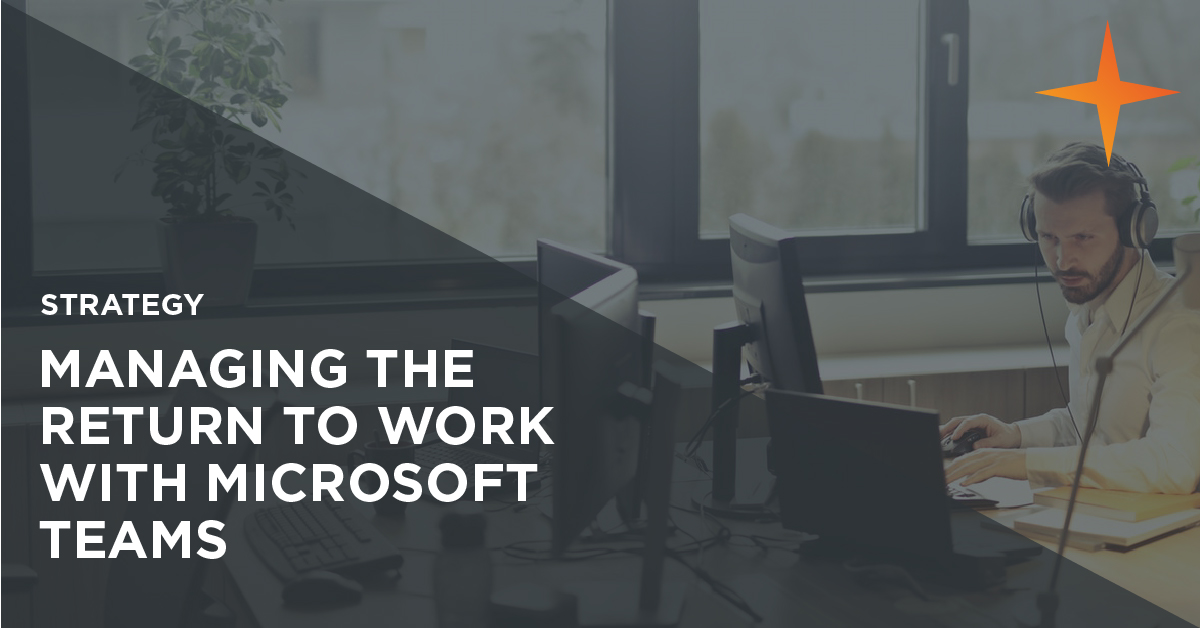 With the UK government continuing their phased return to normality, many businesses are now planning how they will manage the return to work process for their employees. Thousands of office workers, such as those in financial services, recruitment and law, have been working remotely since the lockdown announcement on Monday 23rd March. Now, these restrictions are beginning to ease; employers will need to carefully review their workplace to determine how and when it is safe for employees to return. 
Managing the return to work may cause significant difficulties for employers as they look to maintain the delicate balance of risk. Will hot desking make social distancing easier or further the spread of the virus? Shift patterns are necessary to service clients, but will this result in employee bottlenecks at entry and exit points? How will we maintain operations and ensure employees feel safe in the work environment?  
There are many things to consider and changes to be made, but technology can help to reduce the burden on managers. 
What does the 
return to work
guidance say?
The guidance sets out practical steps for businesses focused on five key points, which they should implement as soon as practically possible.  
1. Work from home, if you can
Employers should take all reasonable steps to allow employees to work effectively from home. However, if they cannot do this and the workplace is not an establishment that the government have said must remain closed, then employees can return to work if it is safe to do so.  
2. Carry out a COVID-19 risk assessment
Employers have a legal duty to protect workers and others from risks to their health and safety. They should carry out a COVID-19 risk assessment in consultation with their employees or trade union to determine which guidelines to put in place. Where possible, businesses with more than 50 employees should publish their risk assessment online.   
3. Maintain 2 metres social distancing where possible
Employers should redesign workspaces to maintain 2 metres distance between employees. Measures may include things like moving desks, staggering start times, creating one-way walkthroughs, opening more entrances or exits, or restricting the number of people allowing in meeting or break rooms.   
4. Where social distancing cannot be maintained, reduce transmission risk
Employers should look at putting barriers in shared spaces, creating shift patterns or fixed teams to minimise the number of people in contact with one another or ensure colleagues are facing away from each other.  
6. Reinforce cleaning processes
Workplaces should be cleaned more frequently, with attention paid to high-use objects like keyboards and door handles. Hand sanitiser or handwashing facilities should be provided at entry and exit points.  
The role of technology
There are already reports of employers rushing out to buy the latest tech in a bid to make their offices safer. Some businesses are utilising existing building technology to track the numbers of employees in the office at any one time. In contrast, others are considering surveillance options like thermal sensors, motion detectors, and contact tracing to track the movements of infected employees. 
Some of this technology requires significant investment and may be out of the reach of mid-market and growing businesses, particularly during a pandemic when they need to scrutinise every financial decision carefully. There's also a question of how surveillance will make employees feel, even if the technology is for their benefit. In a time where tensions are already running high, and employees may be reluctant to return to the office environment, the last thing your business wants to do is add to the stress. 
However, there are options in technology you're already using, such as Microsoft 365, which leadership teams can repurpose to help manage the return to work and meet government guidelines with little to no extra cost. 
Shifts in Microsoft Teams
Shifts is a schedule management tool that helps you create, updates, and manage schedules for your team within Microsoft Teams.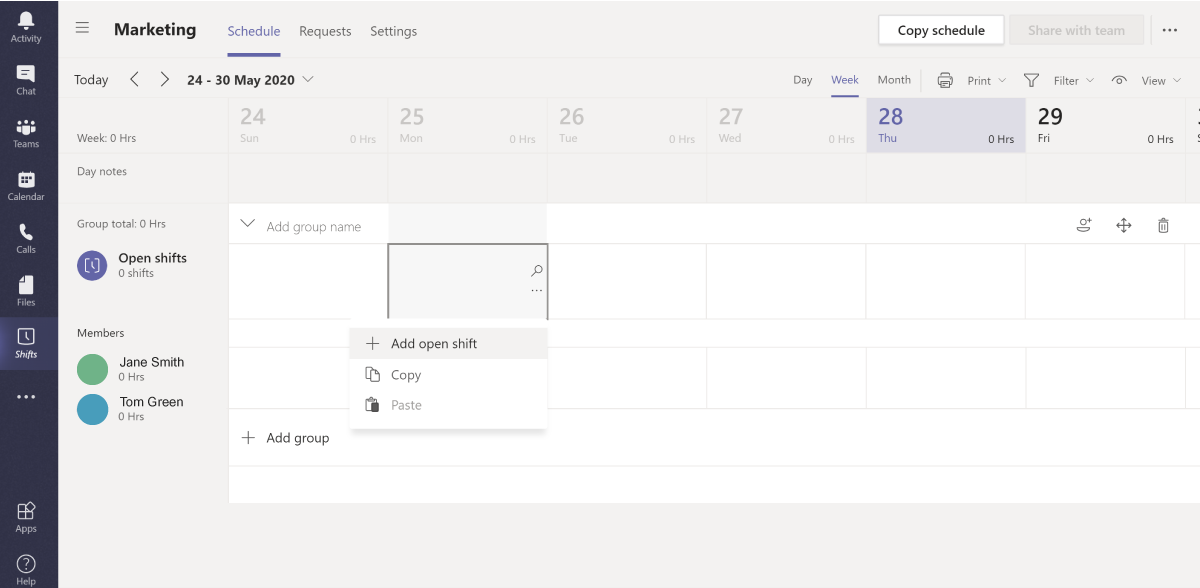 Features in Shifts
Schedules: 

Team Owners can c

reate a schedule from scratch or import an existing one from Excel. It shows days at the top and team members on the

left-hand

 side. 

If you are an owner of multiple teams, 

you can toggle between different shifts to manage them. 

 

Day Notes

: Add notes to share relevant news or reminders with your team.

 

Groups

: Name 

groups by job function or location to 

keep organised

.

 

 

 

Shifts

: Choose a slot to assign a shift, then

add activities or specific tasks, so individuals know what they need to complete.

 

Requests

: Review requests for time off, shift swaps, or offers.

 

Time Clocks

: Allows employees to clock in or out using a mobile device. Enable location detection to ensure team members clock in 

from a designated work site. 

 

Share

: Once you've finished making edits, 

share your schedule updates with your team.

 
Office or Facilities Managers can use Shifts to centrally manage and share available space to employees based on location or floor. Managers can allocate workspace, or allow employees to reserve or request it, ensuring social distancing is maintained wherever possible.  
Available as a mobile, web or desktop app, Shifts is included with every Teams licence at no additional cost and your IT administrator can quickly roll it out to your whole business.  
App Templates
App Templates are production-ready applications for Microsoft Teams that can help streamline and improve the employee experience. No coding is required, and all templates come with detailed documentation and support guides to ensure smooth deployment and configuration.  
Company Communicator Bot

 

– This app allows 

businesses to create and send messages to teams or large groups of employees right where they communicate. Companies can use it to share things like new policies, company-wide initiatives, 

employee onboarding or company-wide broadcasts. 

 

Incident Reporter Bot

 

– A Microsoft Teams bot designed to streamline incident management in your business. 

The bot facilitates automated data collection, customised incident reports, relevant stakeholder notifications and end-to-end incident tracking. 

The bot allows users to report incidents with facilities quickly while providing a centralised location for responders 

to see and respond to incoming events. 

 

Scrum Status Bot

 – A simple scrum assistant bot 

that enables users to run asynchronous 

stand-up meetings and provides an easy way for users to share their daily updates. 

Designed to work in Teams Group chats, all members of that group can contribute

 to the scrum which could help

remote project teams keep their projects up to date and on track.

 

 

 

Icebreaker Bot 

– A Microsoft Teams bot designed to help 

your team become closer by pairing two random co-workers each week

 to meet. The bot not only helps facilitate conversation and connection between remote 

teams but

 could 

also 

be helpful if you need to onboard new team members 

before everyone returns to the office. 

 

Facilities Bot 

– Use this bot to send targeted, location-specific updates to employees on Teams, helping

manage the use of large communal areas such as cafeterias, kitchens and break rooms. 

 
The office of the future?
The lockdown has shown many businesses that their employees can remain productive and operations can continue outside of the confines of a traditional office. Looking to the future, some may evaluate the cost of ample office space, and if it's an overhead they really need – or want to – continue budgeting for.  
In-person meetings are certainly still valuable, but is there a need for every employee to be in the office for the same set hours each day? Technology has made it vastly easier for teams to remain in contact, and it means your business is no longer geographically confined when it comes to hiring talent.  
While there's no one size fits all policy, this could certainly be an excellent time to review your operations and ways of working to see if changes could make a measurable difference to your business.