Blog
Do I need to change my business phone system?
Poor call quality, difficulty transferring calls, phones ringing off the hook and confusion about who should be answering which call can all be signs that your phone system is no longer fit for purpose.
/ Managed IT Services
August 17th, 2020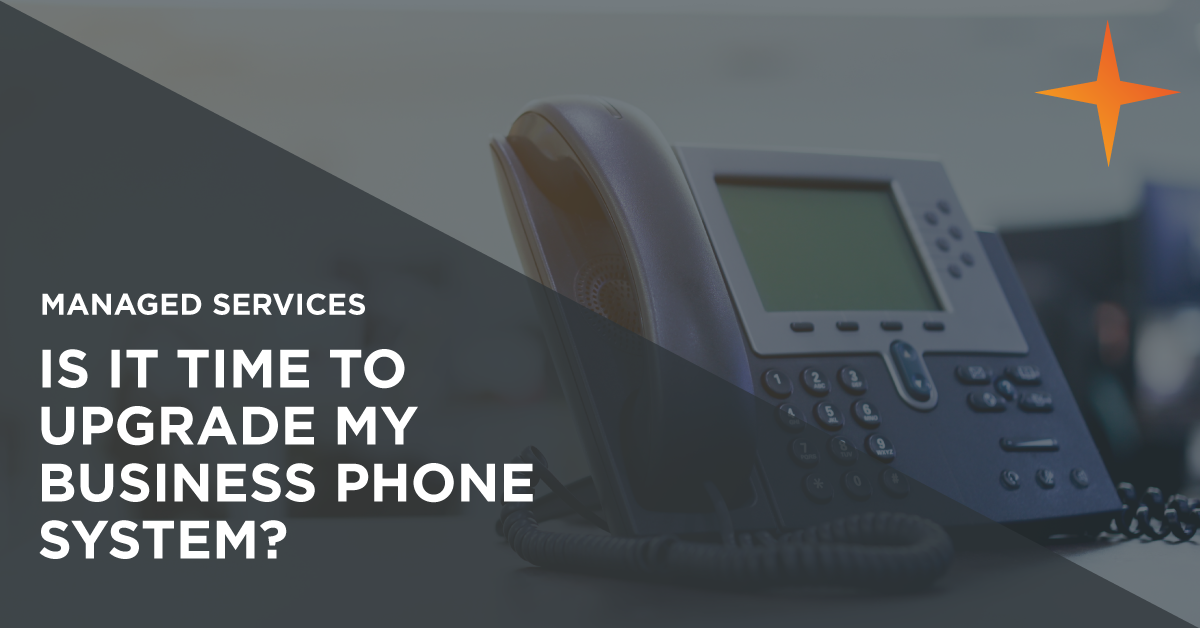 While issues may start as minor irritations, over time, they can have a significant effect on your business operations, and this can end up reflected in your bottom line.
An efficient, effective phone system is a necessity for any mid-market business, and one that can't keep up will place a stranglehold on growth. If you're experiencing some frustration and wondering if it's time to upgrade, then here are seven critical signs that your current phone system is harming your business.
Seven signs it's time to change your business phone system
1. Your telephony costs are skyrocketing
A phone system may be a necessity, but that doesn't mean you have to pay through the nose for it. Businesses often accept their bill, regardless of how much it costs or if it keeps creeping up, when it's actually possible to reduce this spend drastically, by merely embracing newer technology. Switching from a traditional on-premise PBX to a cloud-based or hosted one using VoIP can save you as much as 80% on your phone bill.
2. Your telephone systems provide a poor client experience
While your phone system should offer a good user experience for your employees, you shouldn't neglect your clients either. If clients find it difficult, time-consuming or confusing to try and reach the company via phone, then it reflects poorly on the business.
Consider what experience you would like your customer to have when they contact your business and compare this to what happens. Do you need an individual to monitor and manually transfer all incoming calls, and what happens if they're busy with something else? Is it easy to transfer calls between staff or are they frequently dropped, requiring the client to call again? If you use call routing, does the call end up going to the right department or person?
Again, individually these might be minor frustrations, but if they happen every time a client tries to call it's going to harm the business relationship in the long run.
3. You have issues with routing calls
A phone system with limited call routing and be difficult and time-consuming for clients to navigate. If a client has an urgent matter and wants to speak to their Account Manager, the last thing they need is to have to trawl through an endless maze of menus, entering long strings of digits and waiting on hold for extended periods.
If your current phone system doesn't allow you to customise the call routing features, then it may be time to consider one that does. Even something as simple as being able to route calls based on the business's operating hours, so out of hours callers have the option to leave a voicemail, can significantly enhance the calling experience for clients and prospects.
4. Your phone systems offer no geographical flexibility
The number of people working remotely may have exploded as the result of the pandemic, but it's expected that this trend is here to stay for the long run. If your phone system ties you to a single geographic location, then you're creating a scenario where employees can't work effectively from home or on the road, or where they need to use a business or personal mobile to keep up with calls.
5. It's challenging to add new users to your phone system
A mid-market, growth business can quickly outgrow its telephone infrastructure, leaving it struggling to cope with call volume and extra extensions. Traditional phone systems rely on SIP trunks and ISDN lines, and it can be difficult – not to mention expensive – to add new lines to cope with additional capacity. If you add a new office location, then you also need to buy new equipment and add that to the hardware refresh cycle.
6. Your phone system has limited call functionality
Call functionality is valuable for both your clients and your employees. For an optimal client experience, you need to be able to offer more than just the basic functions like mute and hold. If you're using an auto-attendant program to route calls, do clients have the functionality to rehear the options? Can they easily return to a prior menu if they make a mistake, or do they have to hang up and start again?
Consider, also, the experience for the client once they're on a call. Do you leave clients waiting in silence while on hold, or are they met with hold music? Do you automatically update them on their queue position and estimate wait time? Little touches like these can notably improve the call experience for the client by setting expectations from the start.
For employees, limited call functionality can seriously hamper their productivity. Limited numbers for conference calls, a lack of voicemail and landline limitations are just some of the things which can make it difficult for teams to work effectively together.
7. You don't get any data and insights
Data and information are an asset within a business. If you can't analyse your call statistics quickly and easily you are probably missing out on key data and information that can improve your business operations, sales and customer service.
Do you know key pieces of information, such as how many calls come into the business and each department? How many calls go unanswered? Who never answers the phone and who could be more productive if they weren't fielding so many calls? Simple metrics like these can give you real insight and vision into your operations and many phone systems don't have the capability to provide the data or it's very costly.
What are my options for a new phone system?
If you can relate to one, or more, of these issues, then it's a key indicator that it's time to change your business phone system. It could be standing in the way of your business delivering an excellent experience for clients and even hampering your ability to win new business.
One popular solution is to consider switching to a VoIP telephone system, which leverages your existing internet connection, allowing you to make calls over the internet. It's not only typically more cost-effective, but also offers greater flexibility, scalability and functionality when compared to a traditional on-premise telephone system.
If you want to find out more about VoIP and what's involved in migrating your business to a new telephone system, then download our free guide for a comprehensive overview.