Blog
SIEM Solutions Guide: What is SIEM and why is it an essential investment for all businesses?
According to a recent UK government survey, eight out of ten businesses say that cyber-security is a high priority for their senior management boards. The huge rise in working from home this year has further increased security concerns for business leaders and IT departments will need to prioritise the detection and management of security incidents in 2021 to stay ahead of the curve.
/ IT Security Services
December 14th, 2020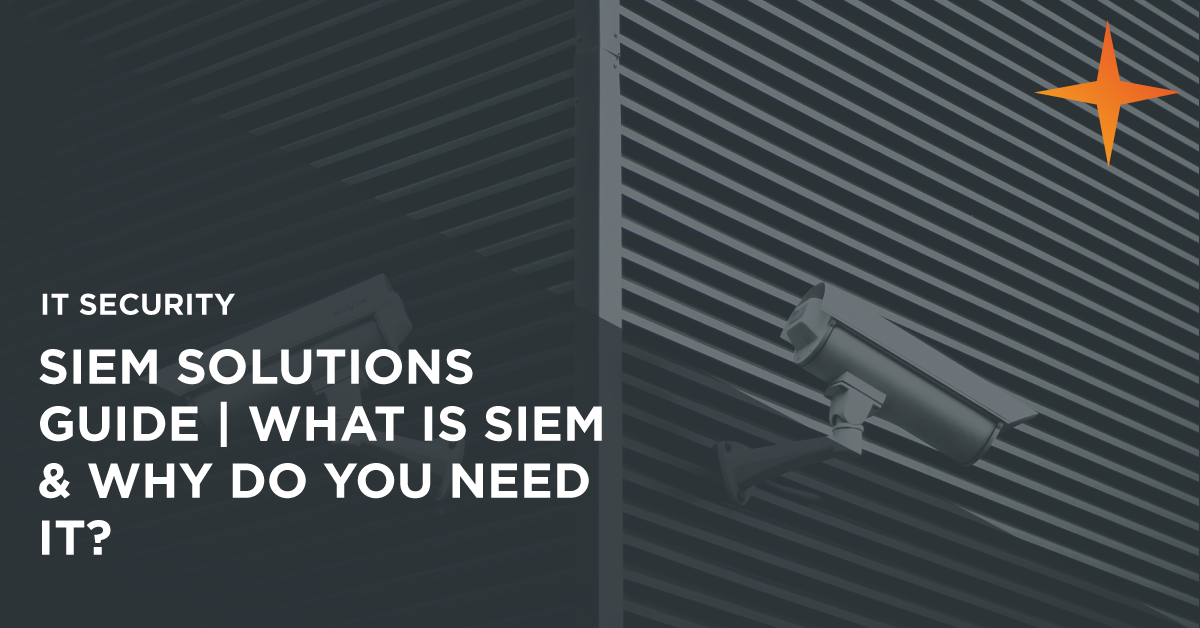 That's no simple task with the increasingly complex IT environments and constantly evolving cyber-security landscape. With new threats appearing every day, IT Managers need to build an effective stack of cyber-security tools to help them keep their infrastructure as secure as possible. In this article, we will explore the role of SIEM solutions within that toolset.
What is SIEM?
A Security Information and Event Management (SIEM) solution aggregates and analyses activity from existing resources across your IT infrastructure. It collects security data from devices on your network and applies analytics to discover trends, detect threats, and enable your organisation to investigate any alerts.
A SIEM solution is put in place to protect your IT estate from external attacks. It can be configured to automatically isolate and deal with many detected threats, but it also needs to be closely monitored by skilled engineers to handle more sophisticated attacks and ensure nothing is missed.
Why SIEM solutions are essential for professional service businesses
Gartner first coined the term SIEM in 2005 when Mark Nicolett and Amrit Williams proposed combining Security Information Management (SIM) and Security Event Management (SEM) to create a new, all-encompassing, security information system.
Since then, the technology has been steadily evolving and improving and has become ever more important as cyber-attacks have increased across the world. A UK government report from earlier this year found that 46% of all businesses suffered cyber-security breaches or attacks in the previous 12 months. And this figure rose to 68% for medium-sized businesses.
A 2020 global IBM security report found that the average cost of a data breach, including lost business due to increased customer turnover, lost revenue due to system downtime, increased cost of acquiring new business due to diminished reputation, and remedial work to resolve the data breach was £2.87 million. This is in no small part down to an average time of 280 days to identify and contain a breach. The report also found that businesses with fully deployed security automation in the form of a SIEM solution saved an average of £2.6 million when dealing with a data breach compared to those with no security automation.
Prevention is always better than cure for any part of your IT infrastructure, and when there is such potential to incur significant costs, it makes sense to invest upfront in protecting your business.
What are the main benefits of a SIEM solution?
1. Data aggregation and normalisation
The larger and more complex your IT infrastructure becomes, the more difficult it is to keep track of every single link between devices and applications across your network. This can lead to opportunities for hackers to exploit and access your systems unbeknownst to you until they choose to launch their attack. SIEM solutions gather security event information from the entire network at a central point, uncovering any potential vulnerabilities or malicious activities. This data is then normalised or reformatted as required by your organisation so that it can be easily understood by your staff and dealt with swiftly and efficiently.
2. Threat detecting and security alerting
SIEM solutions can connect your security team to multiple threat intelligence feeds so that they are always up to date on the latest threats to businesses like yours. Coupled with the aggregation and normalisation of the data across your network, SIEM solutions perform real-time analysis of potential threats then log alerts for your incident management team to investigate and resolve as quickly as possible.
3. Regulation compliance
Virtually every business in every industry requires the fulfilment of at least some regulatory mandates such as GDPR and ISO 27001. This is even more true for professional services businesses and failing to meet these can result in loss of sales or expensive lawsuits.
Many SIEM solutions provide out-of-the-box report templates for most compliance mandates and often much of this information can be collated automatically to save your security team time and resources.
4. Increased efficiency
Incident handling is streamlined by the data across your network being collated in one place, allowing security threats to be dealt with as quickly as possible. As well as having a direct impact on your security team, this can lead to a wider reduction in incidents across your IT department as potential attacks are identified and dealt with before they can create incidents for other teams to deal with.
5. Customer attraction and retention
By showing customers and prospects that you have a fully functioning SIEM solution, you can give them confidence that their data will be safe with your organisation, and the service you provide them will not be threatened by a cyber-attack. Conversely, if your business is the victim of a cyber-attack and is unable to deal with it efficiently and effectively, it may take years for your reputation to recover to previous levels. In the short term, this can result in the loss of existing customers and, in the long term, a significant increase in the cost of acquiring new business
How to choose the right SIEM solution for your business
Defining your requirements
As with any IT project, you can't do anything until you are 100% clear on your requirements. For SIEM solutions, these fall into two distinct categories:
1. Collection, storage and compliance:
What data sources do you need to log, and do you need to collect all data or a subset?
How long do you need to store the data for?
What compliance regulations do you need to meet?
2. Analysis, reporting and personnel:
How will you use your data once collected?
What sort of reports do you need, and do you need the ability to customise them?
Do you have existing expert staff in-house who can manage the solution, or will you need external assistance?
Assessing available solutions
SIEM solutions can be purchased as an appliance or an application. And they can be implemented and managed entirely by your own team or purchased as a service from an outsourcing provider who can do the implementation for you and provide ongoing management if required. Once you have defined your requirements, you can identify the products which best match and request demonstrations. At QuoStar we have a team of security experts who can assist you in identifying the most suitable SIEM features for your organisation and arrange a live demonstration to help you make the best choice.
Deployment
You need to understand how the solution will be deployed within your organisation before you make your final decision. It's critical that you are confident in the provider as, even if you are doing the implementation yourself, you will require their expertise for the more technical aspects. If you decide to engage a partner to deploy the solution for you, you need to be comfortable that they have a full understanding of your network and requirements, as well as the SIEM product itself.
Ongoing SIEM management
Any SIEM solution is only as good as its administrators. You need to have a plan in place from the start in terms of who will manage it on a day to day basis. Both in terms of the administration of the solution and the management of incidents created by the SIEM tools.
What else do you need to know about SIEM solutions?
The most important thing to understand is that the successful implementation of a suitable SIEM solution is not the end of the journey. It is only the beginning. The landscape is constantly evolving – both within your network and externally in terms of the cyber-threats you face. If you are not regularly reviewing your SIEM tools and features, you run the risk of being compromised by a new form of attack.
At QuoStar, our security experts are constantly reviewing the latest trends and assessing these against our clients' existing setups to ensure everyone is fully protected.
We can provide a fully outsourced Security Operations Centre (SOC) incorporating SIEM and any other tools which are critical to the security of your IT network, allowing you to focus on other key projects safe in the knowledge your infrastructure will not be compromised by any malicious external threats.