Blog
7 quick technology wins professional services firms can make right now to emerge stronger from COVID-19
/ Strategy
Last updated on August 14th, 2020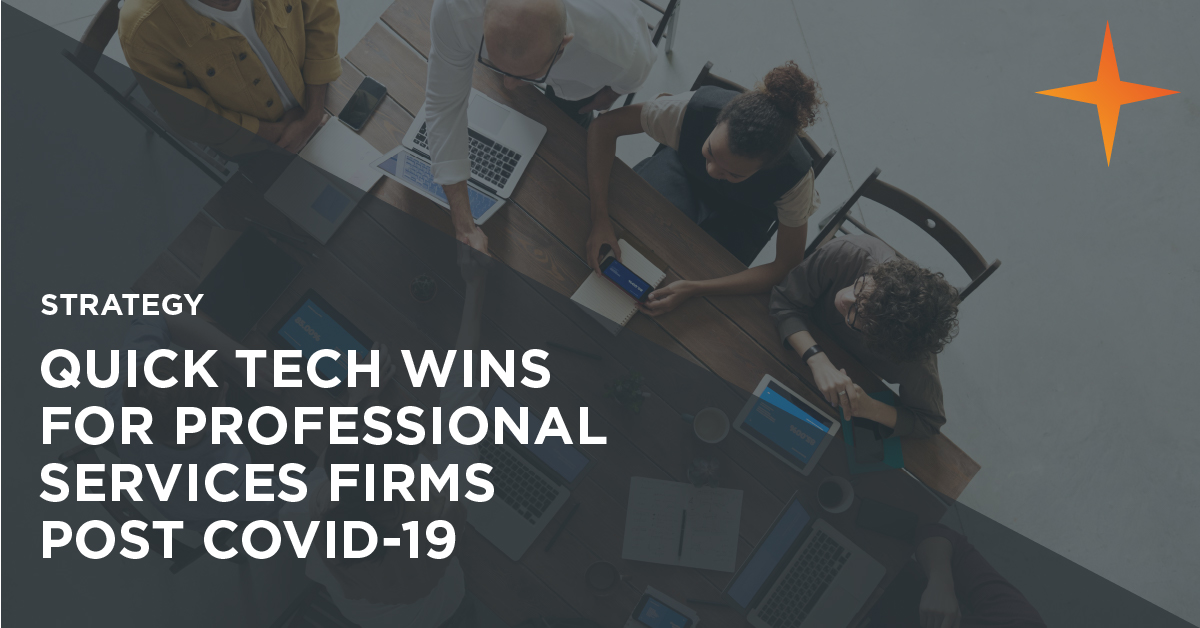 The COVID-19 pandemic has had a significant impact on professional services firms worldwide. While the industry may have been able to adapt more quickly compared to others like hospitality, leisure and tourism, they still had the impact of clients' changing priorities, cost avoidance and reduction measures, and the delay or cancellation of projects. Many enacted full-scale remote working for the first time and potentially had to deploy new tools to help employees remain connected and continue to deliver for their clients.
As the UK begins to roll back COVID-19 restrictions, many firms are looking to the future and considering how to adapt their business strategy to protect their position. While the full impact – and fallout – from the crisis remains unclear, the ways professional services firms operate and engage with clients will probably change permanently.
It's crucial, of course, that firms think strategically about the mid- to long-term and avoid rash, high-risk decision making. However, in the short term, low-risk wins can be achieved, many of which require little financial investment. Technology has played a vital role in helping firms respond and adapt to COVID-19, but it also presents many future opportunities for those who are willing to embrace it strategically.
7 quick wins that will strengthen professional service firms
1. VoIP
VoIP, particularly hosted telephone systems, is typically cheaper and offer greater functionality, flexibility and choice compared to traditional phone systems. It's a sound investment for most professional services firms, but particularly those who want to continue offering flexible or remote working for staff.
The portability of VoIP means it's suitable for both 'on the road' and desk-based users. VoIP desk phones are 'plug and play' so can be plugged into any home office with an internet connection, while softphone applications allow employees to use their mobile, laptop or other smart devices as their desk phone. Wherever an employee is, their phone number can follow them automatically and seamlessly.
With ISDN due to be switched off in 2025, investing in a VoIP telephone system now will help future proof your firm by ensuring you're using the modern standard for telephony communication and your technology doesn't become redundant.
All in all, it's a relatively low-risk investment. Firms can usually trial the solution first, plus many providers will offer incentives such as free hardware, making it an even more attractive option from a financial standpoint. There are typically very low setup charges, so VoIP is certainly a project that can be delivered without putting a firm at risk.
2. Office 365
If your firm hasn't already migrated to Office 365, then now is the time to do. As a cloud-based solution, it enables employees to work anywhere, anytime, from almost any device, making it a must-have for any modern work environment, particularly one with remote workers. But, Office 365 offers more than just our standard Word, Excel and PowerPoint, the collaboration tools in particular – such as Yammer and Teams – really empower firms.
Even where professional service firms have been using Office 365 for some time, it's unlikely that they're taking full advantage of all the productivity-enhancing features. For example, many will see Microsoft Teams as just an instant messaging and video calling platform when it's actually a complete collaboration platform offering one centralised place to connect. From a single window, employees can instant message colleagues, book meetings, join video and audio conference calls, share and collaborate on files, create group and department channels – and that's just with the native features of Teams, there's also plenty of integrators and third-party apps to extend its capabilities.
With over 30 applications in the Office 365 stack, the best place to start is with a gap analysis. Assess what you have and how you are currently using it, then evaluate this against the available features and the functionality you require to determine where to invest.
3. Give IT a seat on the Board
Most business strategies will require technology and processes, but if IT leadership doesn't have 'a seat at the table' then IT rarely works to support the overall strategic direction of the business. This lack of alignment can cause significant friction and lead to wastage, in terms of spend and opportunity. It can also lead to complete project failure, so there must be an IT head that is part of the leadership team.
Giving IT a seat on the Board provides the firm with the knowledge and accountability to deliver real change. A true IT leader can ensure that investments are allocated strategically to deliver a measurable return whilst supporting the business's strategic objectives and the work of revenue-generating departments. They will be aware of the risks to the business, such as downtime, productivity issues, data loss and cyber-security, which the board might not consider and can advise on the priorities for resolution.
However, if you wish for your IT Manager or senior IT professional to become more involved at Board level it may be worthwhile considering some mentoring. An external consultant or CIO-on-Demand service can mentor less strategy focused IT Managers to help them develop their strategic and leadership skills, specific to the requirements of the firm.
4. KPI Tracking
You can only make effective changes if you understand where you are now, yet many professional service firms are still not tracking and measuring KPIs successfully.
KPIs are much more than just numbers; they are a scorecard for company health, allowing firms to measure progress towards long terms goals and business strategy. Instead of wondering what's working or why you haven't achieved your goals, regularly measuring KPIs keeps you focused and drives change. It's essential now and as firms emerge from COVID, ensuring a granular vision of the performance of all areas of the business.
Ideally, firms should set KPIs at the company and department level. Each department may have a long list of KPIs they measure daily, weekly or monthly to track performance but would not report all of them at a company level. For example, the marketing department may measure numerous KPIs to track the performance of campaigns. Yet, at a company level, they would only report the number of leads generated per month, the number of marketing leads which converted to sales, and the percentage of revenue attributed to marketing activity, as these directly correlate to business strategy.
A KPI dashboard gives you the most critical information right at your fingertips, allowing you to spot trends, address issues and take advantage of opportunities. However, if you're starting from scratch, you don't need to worry about investing in Business Intelligence (BI) software immediately. A simple spreadsheet is enough while you define what is needed and get used to tracking and analysing measurements regularly.
5. Cyber Essentials
There's been a significant increase in cyber-security attacks, including phishing, malware, ransomware and other attempted breaches, as cyber-criminals look to capitalise on the uncertainty of the situation.
A big security incident is going to hurt professional services firms right now, even more so than usual. With firms already dealing with increased operational and financial pressures, they cannot risk a cyber-attack which will further impact their productivity, reputation and finances.
Cyber Essentials is a good place to start, it really is the basics of security within an organisation. The government-backed scheme is designed to help firms reduce their risk of cyber-attack by implementing five basic security controls. As your firm now has employees working remotely, and particularly if you intend for it to stay that way, then you should be implementing Cyber Essentials as a bare minimum, not doing so is frankly negligent.
6. Review all your cloud estates
There's no denying that cloud computing has been essential during the pandemic, enabling employees to remain productive outside of the office, collaborate with colleagues and deliver services for clients.
82% of firms increased their use of cloud in direct response to the pandemic, and COVID-19 will likely only accelerate the adoption of cloud technologies further. However, with millions of pounds of cloud expenditure already wasted every year, it is essential professional services firms review what they already have before jumping to invest further.
Cloud sprawl, idle resources, and inefficient set-ups are just some of the common issues which result in wastage. Even reviewing something as simple as your software licences, for example, recent changes in the licensing of Microsoft 365, could result in a significant monthly saving, potentially thousands, giving you additional resources, which could be invested elsewhere for a higher financial return.
Going forward, it's best practice to build in regular reviews of cloud usage and spending, as there are many factors which can quickly inflate your monthly bill.
7. Technical Skills Training
Technical skills training is an essential investment for any professional services firm, ensuring that employees are using the software available in the most efficient, productive and secure way. Even with 'standard' software packages, such as Microsoft Word and Excel, most employees will only be familiar with the basics so could be missing out on features which would significantly enhance their productivity. Plus, remote working has likely introduced some new everyday tools, such as Microsoft Teams or Zoom, which employees may have had to learn 'on the fly'.
Training is also critical for strengthening firms' security defences. 60% of cyber-security breaches are the result of human error, and hackers are well-aware of weakness so are adapting their attacks to take advantage of this. Security training will help employees be aware of the types of attacks, how they respond and how their actions could affect the firm. As the cyber-security landscape evolves so rapidly, the training should be repeated regularly to make employees aware of new threats.
When it comes to any type of employee training, it's often best to involve a third party. Unless you have an internal training team or an IT team are familiar with user training methods and best practice, they may not provide the optimal training experience – particularly when it comes to specialist software like CRM systems, practice management systems or how to use dozens of Office 365 applications more effectively.
Next steps for professional services firms
While we can't be sure exactly what the future holds for professional service firms, it's undeniable that technology will be a key enabler and differentiator. Law firms, accountants, and other professional services firms have all seen that virtual communication and digital client engagement are not only possible but viable.
There will be pressure to invest in new technology and make great changes, but its important professional services firms do not get caught up in the panic buying cycle. Start with the quick wins and do not buy technology without a strategy set and clear business outcomes defined. Assess what you can do now, which is of little risk and requires low investment, but will deliver a measurable business gain.
Firms should consider their mid- to long-term strategy as well, but while the situation continues to develop and no firm end date in sight, they should build in flexibility that will allow them to adapt.