Blog
4 common problems for IT Managers and how co-sourcing can help
IT managers face their own unique challenges and stresses on a daily basis, and there are few who can exist without any type of external support. There are many options out there when it comes to IT support, but one which might particularly suit IT managers is co-sourcing.
/ Managed IT Services
September 27th, 2017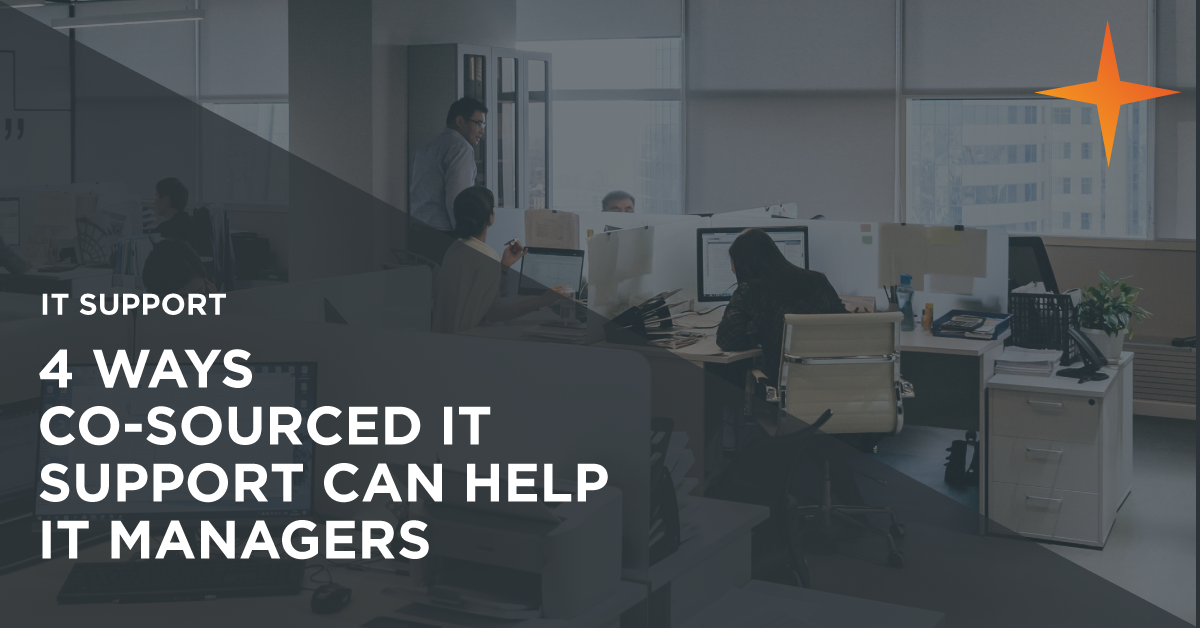 What are the most common problems for IT Managers?
Problem One: Keeping up with everything
Hardware, software, telephony, IT security, servers, emails… all this requires monitoring and maintenance, and keeping everything on track can be challenging. Not to mention trying to keep up with technological advancements, new security threats and the latest strategic developments. One practical solution would be to involve a co-sourcing partner to manage the appropriate tasks and reduce the workload burden. For example, your co-sourcing partner could manage IT security, your server platform and web management (e.g. DNS hosting, web design and hosting) whilst you take care of end users, communications and connectivity.
Problem Two: Skill gaps
Even an IT manager who oversees multiple team members, will have some skill gaps. This means that external support can often be required to fill these gaps, especially in specialist or niche areas. It may not be necessary to hire full-time team members with these skills, so a co-sourcing partner can provide you with the right technical assistance when required.
Problem Three: Not enough time
Many IT managers may have to deal with the issue of stretching limited resources. One area this can arise is the Service Desk. IT Managers often find themselves juggling internal service requests, ongoing maintenance and monitoring, projects and business priorities. If you don't have the resources to cover all these points then partnering with a co-sourcing provider who can offer a proven Service Desk could be a good option to consider.
Problem Four: Hitting KPIs
Like many other departments, the IT department has its own KPIs and targets to hit but this can sometimes feel difficult if your resources are already stretched. Co-sourcing provides an efficient, cost-effective and flexible way to optimise results, without drastically increasing overheads or losing control. It can free up time so IT Managers can concentrate on the areas best managed by an internal team, confident in the knowledge that an experienced partner has responsibility for the rest of the tasks.
Co-sourcing can be a great option for those businesses who want to develop an internal IT team, but also require additional support for particular areas. It does not replace an internal team, instead, it helps supplement skill gaps on an as-needed basis.
The flexibility of this approach means IT managers can decide what to keep in-house and what to outsource. The most important thing is that you find the right partner for your business. A good co-sourcing partner will always work in partnership with you and ensure seamless integration with your existing team.