Blog
Co-sourced IT Support Guide: The top 5 benefits
IT services, support and security are critical functions for the majority of businesses, and when it comes to deciding the approach your business should take you want to make sure you are getting the best. One of the many challenges can be striking a balance between cost and service.
/ Managed IT Services
September 20th, 2017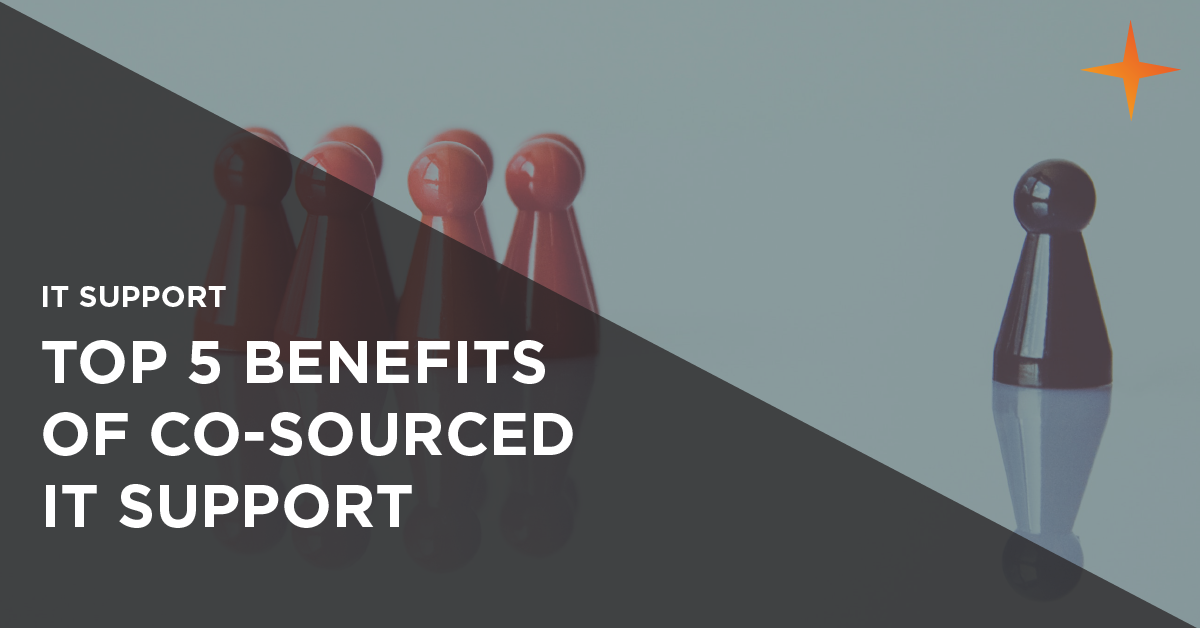 Outsourced IT support and internal IT teams both have their pros and cons, but there is a third option available to businesses and that is co-sourced IT support. Co-sourcing is a flexible approach which allows you to supplement your internal IT department with external resources, which can alleviate the team's workload and simultaneously provide you with additional resources, experience and skills.
What is co-sourced IT support and how does it work?
The activities you will co-source will largely depend on your business. Some common co-sourcing scenarios include:
Providing helpdesk support
Extending your support hours to provide 24×7 coverage
Managing your infrastructure, servers and administration
Delivering security and virus protection
Providing disaster recovery and remote backup services
Migration support (e.g. migrating to Office 365)
Delivering strategic consultancy and business process transformation
What are the benefits of co-sourced IT support?
1. Lower Costs
Keeping expenditure in check is an important consideration for a business owner. However, IT – particularly around security – is not an area where you want to compromise on quality. Co-sourcing can be a good way of achieving a balance because it typically has lower overheads. Yet you can still gain access to the specific skills and experience required for a particular project.
As you can rely on outsourced IT support staff to perform certain functions you may be able to limit the number of people you require full time in-house. As business owners will know, finding and retaining skilled IT engineers is expensive and time-consuming. While outsourcing may not be right, having an external team helps with workload distribution, preventing build ups and delays.
2. Flexibility
Another benefit of co-sourced IT support is its flexibility. Depending on your set up, your internal team may deal with daily issues but have no time for projects. Or who simply don't have the right skill set for performing specific functions, such as security or infrastructure management. In these situations when projects do arise it can cause tension and stress as the internal team simply can't manage it all.
For example, if your business decides to migrate to a new system (such as Office 365) it can be helpful to not only have additional help at hand but to be able to rely on people who have experience with this particular type of migration.
This flexibility is ideal for businesses who don't require a large team on a day to day basis but do require additional assistance in specific areas. Co-sourced provides you with reliable, high quality and experience support where and when required.
3. Scalability
If your business is growing rapidly, or you operate in an industry which experiences flux, then there may be occasions where you rapidly require extra support but it's not practical to simply start trying to hire additional IT engineers.
Co-sourcing allows you to increase your IT support in-line with your business needs, without the hassle of additional recruitment – which may not be practical from a financial or time-scale point of view.
4. Improved Security
A co-sourced IT provider will have the resources to keep up with the latest security developments and are well placed to assist with or take responsibility for IT security. Even minor vulnerabilities, such as neglecting to apply the latest patch, can leave your systems open to threats such as malware and ransomware, so IT security is not an area that you want to neglect.
5. Frees up your internal team
Many internal IT teams can often find their time eaten up by support issues. Leaving them unable to dedicate time to projects, system improvements and changes which deliver value to your business.
Depending on the structure of your internal team and the skill base you have, one option would be to use your co-sourced partner to manage and fulfil internal service requests, freeing up your team to focus on valuable projects.
Alternatively, your co-sourced partner could take responsibility for larger projects while your team focuses on internal operations.