Case study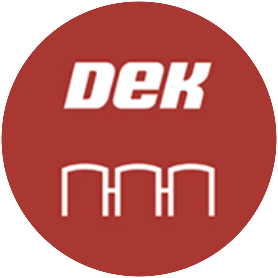 DEK
QuoStar implemented a managed print solution for electrical manufacturer DEK, instantly reducing costs whilst increasing visibility, reliability and control.
/ IT Consultancy
Electrical manufacturer DEK had an aged estate of printer hardware throughout their primary operations and manufacturing site in the UK. They had become increasingly reliant on desktop printers and simple actions like 'file and print' had become a huge operating expense and a pain for end users.
QuoStar conducted an Audit, assessing print statistics and user routines, to determine the most suitable solution. A secure 'follow-me' managed print solution was recommended, to reduce wastage and give the IT team greater control from a centralised location. This was installed over a two-day period along with the upgrade and consolidation of DEK's aged printer fleet.
The Key Results and Deliverables
Availability – Installation of reliable and resilient hardware through the site with an embedded 'follow-me' print solution for 100% service availability.
Immediate Savings – Instantly reduced costs by 15% by reducing and standardising the cost per copy across the board.
Cost Neutral – The 'follow-me' solution paid for itself within just three months of install and is now showing considerable savings.
Timely – Ensured the firm was fully transitioned and accessible ahead of the transfer deadline, preventing the firm from incurring additional fees.
Positive Experience for All – The solution was installed over two days, with zero downtime for the manufacturing company and no negative feedback from the 350 users on site.
Centralisation – Enabled control and complete visibility for the IT team whilst also reducing print-related calls to the Help Desk by 60%.
Efficient – The MFDs came with automated toner ordering and 'phone home' capability when an engineer is required.
Business Challenge Background
DEK had an aged estate of printer hardware, ranging from MFDs to desktop printers. The manufacturing company had found themselves relying more and more on the desktop printers as the reliability of the MFDs had severely decreased. Additionally, with no managed print solution in place, DEK was wasting tremendous amounts of paper with prints often left on the device or thrown away.
The QuoStar Solution
QuoStar conducted an audit of DEK, assessing print statistics and user routines combined. The IT team wanted a way of controlling the print from a centralised location and, from the results of the audit, it was clear that the business was ready to embrace the concept of secure 'follow-me' printing.
The solution comprised of Kyocera devices, embedded with a PaperCut solution which utilised DEK's existing door entry security cards, along with a personalised scan-to-email solution to enhance workflows. Five MFDs and 20 desktop printers were replaced with five larger Kyocera devices placed strategically through the building. The installation was carefully planned to incur no downtime and very little user training was required.
The IT team at DEK were duly cautious with the managed print solution install as previous similar projects had caused issues. However, through the partnership with QuoStar and Kyocera, DEK found themselves pleasantly surprised. The IT team found that all employees had fully embraced the concept of secure print and there were no complaints about the removal of desktop printers.
Five months following the installation, DEK were pleased to report a 60% decrease in all print-related calls to the Help Desk, freeing up the IT team to attend other priorities.
Feedback from DEK
"In the 15 years I have worked at DEK never have we installed something without even a grumble, until now." – Steve Sheriff, Global Infrastructure Manager at DEK.
"This has been a very successful project" – Ian Bleazard, CIO at DEK
About DEK
DEK is part of ASM Assembly Systems, Printing Solutions Division, the world's leading provider of equipment and processes for the high accuracy mass imaging of electronic materials. The DEK brand offers award-winning screen printing equipment and technologies for diverse industries
DEK is the world's leading provider of screen-printing equipment and processes for diverse industries, from surface mount technology and semiconductors, to fuel cell and solar cell manufacture. It operates from over 20 offices globally.
Let's discuss your IT challenge.
Enquire or call 01202 055400