Blog
The benefits of flexible working for law firms
/ IT Consultancy
September 8th, 2015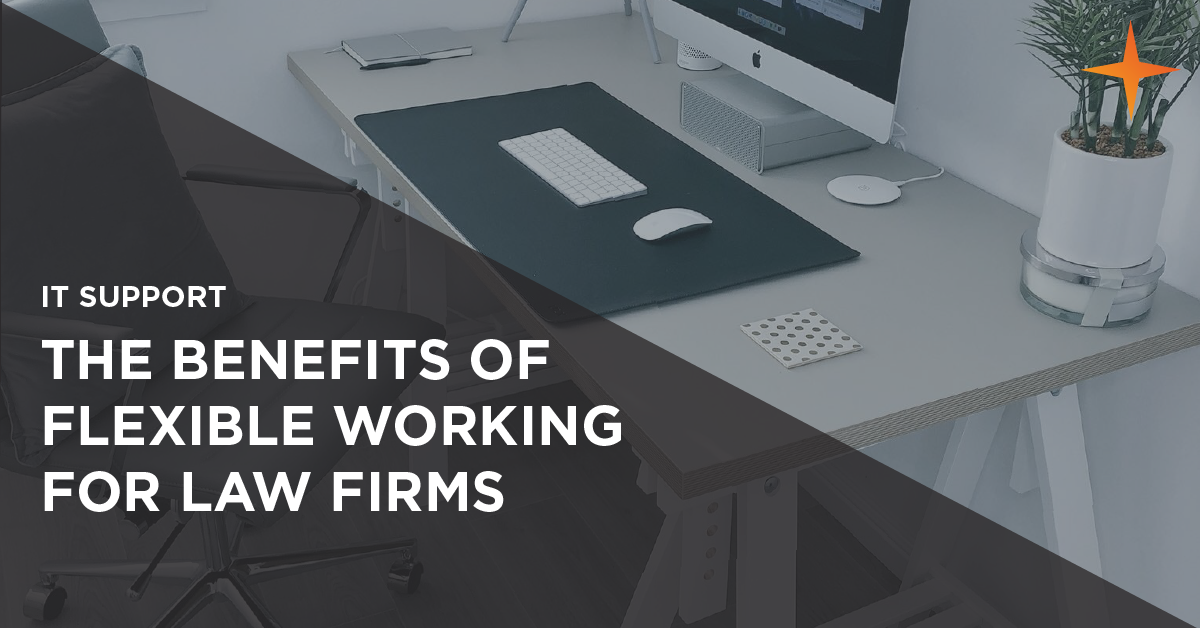 Flexible working is slowly becoming more common in the legal sector, with numerous firms announcing plans to implement the practice in the last few months or, at the very least, exploring the idea.
This increase is a response to numerous issues affecting law firms, whether it's improving work/life balance for employees, the challenge of having global teams in different time zones, or in response to escalating rental costs – a particular concern for London-based firms, many of whom are starting to move out of the city.
We are also seeing a good number of start-up and boutique firms using quite advanced technologies to work from home or hot desk, giving them much better profit margins than their larger competitors. There's no real reason why firms cannot increase the availability of flexible working.
The Benefits of Flexible Working
Flexible working can take many forms – part-time working, term-time working, home-working, compressed work, flexitime or hot-desking are all possibilities to explore. The practice can bring many benefits to a firm, among them including:
1. The ability to hold on to valuable staff
For example, those who need to work part-time in order to balance work and family life.
2. Reduced levels of sick leave
Employees will feel less run down due to a better work/life balance. Alternatively, they will no longer have to take sick leave in order to meet other personal commitments.
3. Increased employee morale, engagement and commitment to the firm
Staff will feel taken care of and have the flexibility to meet personal obligations and life responsibilities.
4. Improved productivity
Staff can work when they feel they can accomplish most and feel freshest – depending on the flexible work schedule adopted.
5. Greater talent pool to recruit from
It develops an image as an employer of choice, e.g. family-friendly, modern etc. Many workers these days, particularly graduates, have higher expectations and view flexible working as the norm.
6. Faster response time
Business decisions today can be made or lost in a matter of minutes. Having employees who can work from anywhere, at any times, means firms can be more responsive.
7. Reduced overheads
Flexible working initiatives like hot-desking have the potential to save money in terms of office space. For some firms, it's unnecessary for every member of staff to have a fixed desk, and it's a waste to pay for an empty desk.
Some firms implementing or exploring flexible working:
Herbert Smith Freehills

The firm has had a flexible working agreement since 2012, but in August announced plans to implement agile working across all its London based practice groups following a successful three-month trial. A number of partners and fee-earners were invited to work from home up to one day per week. The majority of those involved gave positive feedback; 89% reported improved work-life balance; 75% said flexible working improved their productivity and only 3% experienced negative responses.
Foot Anstey
The firm launched a "warm-desking" pilot in August, which is set to run for two months. The move is partly a response to a need to look for new premises in the city within the next three years.
BLM
In February, the firm announced that it was offering a flexible working program for all its London staff as it consolidates its two offices into one. BLM said they have invested heavily in technology to make flexible working simple and achievable.
The key to achieving the benefits of flexible working is implementation. Technology, of course, is important but also easy. Any IT department should be able to enable employees to work in the same manner, whether they're in the office or not, without effort. A vast array of technologies and readily available Internet connectivity make it easy to collaborate in and out of the firm.
There are however also other softer elements to consider. Personality types, organisation and culture can all determine whether flexible working is a possibility for your firm. Overall you should focus on the business requirements first and foremost.