Blog
Why you should switch to Office 365
/ IT Consultancy
July 26th, 2018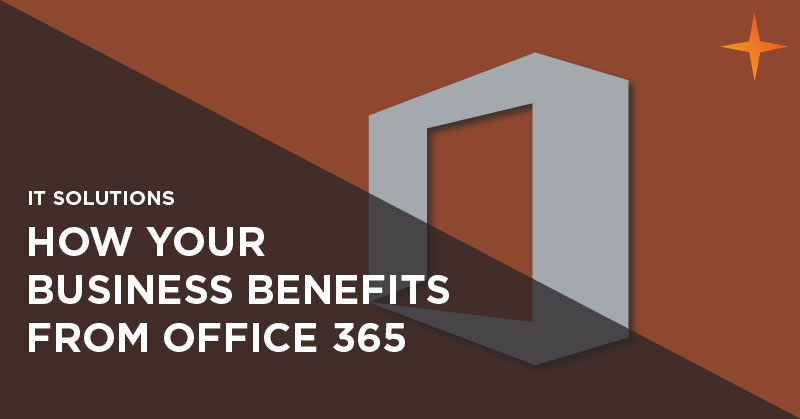 Microsoft's Office has been a staple for businesses for many years and that's not about to change. Office 365 is the name for the package which includes the suite of Microsoft's core programs as well as a cloud service, letting you stay connected wherever you are.
But why should you switch to it? And what benefits can it bring to your business? Here's a collection of features in Office 365 that can change the way you work.
The benefits of Office 365
Gain access to the latest software versions
With an active Office 365 for Business subscription, you gain access to the latest versions of the Office suite via regular and free updates. These updates include bug fixes, security patches, performance improvements and new features that add additional functionality to your software. A one-time purchase of Office doesn't come with these benefits. And to gain access to an updated version of the package it must be purchased again.
Contains the whole Office Suite and more
Depending on your plan, an Office 365 subscription gives you a variety of useful programs on top of the basics of Word, Excel, PowerPoint, Publisher and Outlook. Programs like Teams let you set up a chat with co-workers, enabling working on the go from multiple locations. OneNote lets you type, draw and write down ideas then share them between devices. Skype for Business lets you set up video calls with clients and co-workers. And SharePoint lets you collaborate on files with co-workers using the cloud.
Cloud-based storage means access from anywhere
With Office 365 you can access all your programs and files anywhere that has an internet connection. You can work wherever you like and still have access to the full range of tools you need. Furthermore, with OneDrive you can view and edit important files from home, work or over Wi-Fi.
Layers of security
Office 365 offers a variety of security at every level meaning your files and data are always protected. This includes:
Demagnetisation and destruction of faulty hard disks in Microsoft data centres preventing data from being stolen from the discarded hardware.
Port scanning and intrusion detection systems deny malicious access to the servers your data is stored on, keeping them secure.
Data encryption during transit and rest combined with the ability to send encrypted emails ensuring your data and communications are private.
Configurable account privileges letting administrators limit access to critical systems to only those who need it.
However, security is only as strong as the weakest link, so ensure that your business is Cyber Essentials certified to know you have the basics covered regarding IT security.
Wide UK availability
Microsoft has two data centres within the UK located, one in London and one in Cardiff. Additionally, there are eight in Europe and many more in Asia, Africa and America. This means that almost no matter where you are, you'll be in proximity to one of these data centres. This, combined with Office 365's track record for an exceptional level of uptime, means that you'll have access to the files you need, when you need them, wherever you are.
Includes web and desktop versions of the software
A common misconception about Office 365 is that it's exclusively web-based. However, all Office 365 business plans (except the Essentials plan) include desktop versions of Office 2016 in addition to a web version. This gives you flexibility in the way that you work, so you can continue to access your offline files when working without internet access.
Simplifies collaboration and communication
Combining this real-time collaboration with one of the communication programs that Office 365 comes with such as Skype for Business, Teams or Yammer means you can easily set up video, audio and text chats between co-workers, offices or even organisations. With everyone up to date, work can be completed more efficiently which in turn improves the productivity of your business.
All in one system
Office 365 contains word processing, note-taking, spreadsheets and email all in one package. This greatly simplifies the number of subscriptions you need to take care of and can help reduce the overhead of handling multiple separate services. Having all your systems from the same supplier also means that there are many more integrations amongst the software such as scheduling Skype calls in Outlook, previewing spreadsheets in an email and linking OneNote notes to a task. All of which streamlines your work experience and boosts productivity.
Range of choices
Office 365 does not tie you to a single plan. So, depending on your business needs, you can have as many or as few features as you want. Plus, as a subscription service, you can more easily manage your budget and reduce the upfront cost of purchasing many one-time licences.
The overall flexibility and collaboration features enable you to be more agile with your workflow, improving productivity and performance. If you're interested in finding out more, we not only offer Office 365 for business as a standalone package but also as a managed service where we remove the hassle of management and maintenance, letting you focus on what's important for your business.