Blog
What is Sway? | 7 benefits of Sway for businesses
/ IT Consultancy
February 4th, 2019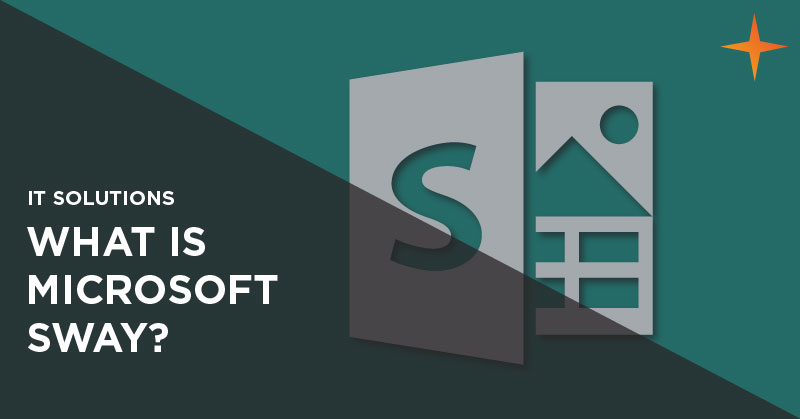 What is Sway?
Sway is a presentation tool included within Office 365 which fulfills the role of a "digital storytelling application". Sway is ideal for creating business reports, presentations or updates. Allowing users to make visually compelling, content-rich presentations without needing any serious design skills.
Sway and PowerPoint are often compared with one another. But whilst they're both presentation tools, they both fill very different niches. PowerPoint is the ideal tool for presenting content to an audience. Whereas Sway is best used for presenting content onscreen to an individual.
What are the benefits of Sway for businesses?
Optimised for mobile:
With an increasingly mobile workforce, users need applications that can be used on whatever device they're using. Sway is optimised for mobile devices to accommodate this. It even has a range of features which allow created sways to look just as good on a phone or tablet as they do on a desktop.
In-built mobile previews, touch-screen friendly interactions and an image focus-point customiser all contribute towards making Sway a superior presentation tool. And one which is ideal for the modern, mobile age.
This makes Sway great for sending a report to a travelling executive. Or for ensuring an important company announcement is accessible by anyone at any time. Regardless of the device they're using.
Customisable templates:
Ensuring a consistent visual approach is integral to having a solid brand style. So, Sway's in-built ability to save a created sway as a template to use for future documents is invaluable. This is also useful for semi-automating the creation of recurring documents such as sales reports or newsletters.
Sway has a massive range of pre-set layouts. Plus the ability to tweak these or create a new one from scratch. This lets you create a plethora of unique styles. Or find the perfect one to align with your brand's identity.
Accessible to everyone:
Something easy to overlook but valuable nonetheless is accessibility. Sway has its own accessibility mode which lets created sways be usable by everyone.
Features like adding in alternative text for images to assist with screen readers. Or restructuring pages to a simplified layout for people with dyslexia both go a long way. And an in-built accessibility checker ensures created sways aren't difficult to use.
Sway also has a set of free guidelines available for ensuring created sways are accessible to those with dyslexia or visual impairments. You can also use the accessibility checker to analyse the document and find issues like insufficient colour contrast. Something which can cause problems for those who are colour-blind or have low vision.
Quick import:
As well as being able to write content natively, it's also possible to import a pre-existing document into Sway. This can be a something like a Word file or a topic outline from Wikipedia.
From there, Sway breaks the document down into its main components. A headline, titles, body text, images and tables for example. And displays it in your sway.
Sway can then takes this a step further, adding in a few extra touches. These additions are only cosmetic such as text extracts. But they vastly improve the visuals of the document.
Once you import the document, it can still be edited to get it to your liking. But from experimentations, Sway tends to do an already good job of presenting imported content.
Accessible anywhere and shareable with anyone:
Sway stores created sways in the cloud. Meaning that you can view any sway you want as long as you're connected to the Internet and have access permission. This does have the downside of meaning that whilst offline, you won't be able to access any sways. But for the increased flexibility offered by a cloud approach, it's a worthwhile trade-off.
Being stored online also has the advantage of simplified sharing. The types of documents you make in Sway are meant to be shared. Whether that's with only a few as with a report or many people as with a newsletter.
Having no need to upload or download any files and fiddle with versions is great. Considering that sways are often packed with rich media or images. You also get to avoid long transfer times due to a large file size because your sways are stored centrally.
Rich content:
Sway allows users to insert content from a variety of sources to enrich their presentation. Flickr, Bing Images and Pickit all offer a variety of images under the Creative Commons licence. Letting you use them freely as backgrounds or features within the sway.
Additionally, you can embed YouTube videos, tweets and Facebook posts into sways. Allowing for easy viewing and no need to link out of the presentation for content which is on another platform.
Of course, you can also embed any images or videos you already have into the sway. Either via OneDrive or by inserting the file into your presentation.
Slick presentation:
A major issue with PowerPoint presentations is that they can seem unprofessional or lack finesse. Which in turn reflects poorly on your business. Likewise, Word documents are difficult to organise and are often visually sparse. Sway on the other hand is built with elegant design and impressive visual performance in mind.
Through using the pre-made templates and styles – or creating your own – it's simple to create a presentation which looks good and impresses your client or manager.
How to get Sway for your business
If you're interested in getting Sway, it's included for free within certain Office 365 licenses. If your business is yet to adopt Office 365, discover some of the great features you're missing out on.
Other articles in this series: