Blog
7 legal technology trends for 2015
/ IT Consultancy
January 21st, 2015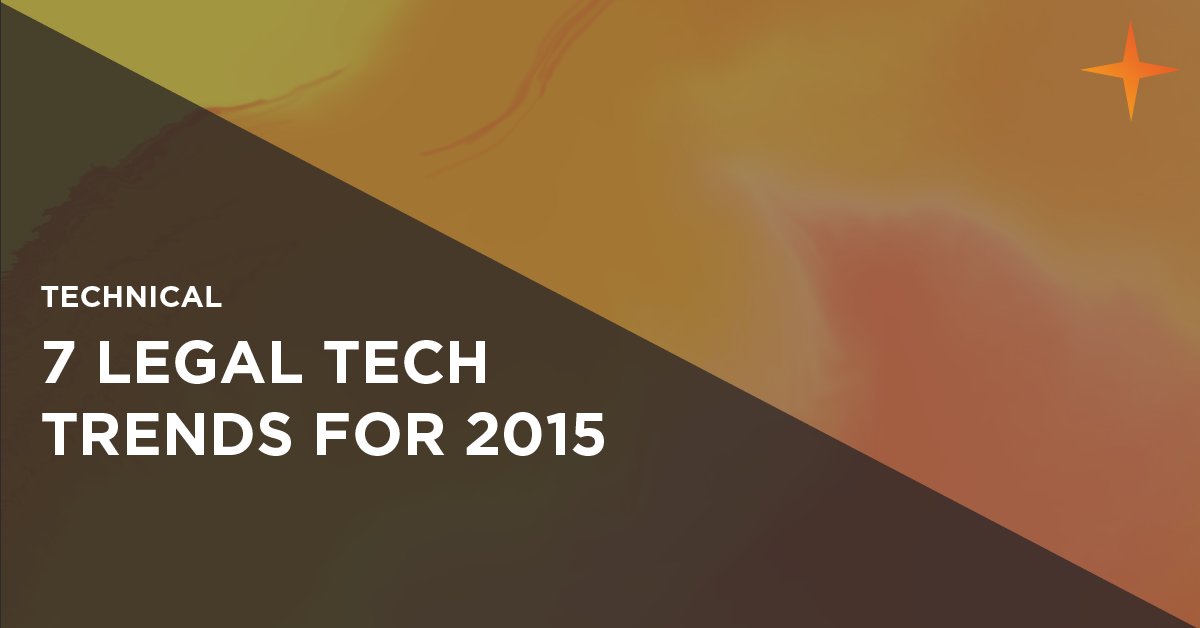 In terms of technology, process and systems the legal industry is changing more rapidly than any other sector. It has a lot to get to grips in a short space of time, far shorter than many may believe. Larger global firms have mostly begun to change, but it's now the turn of the small and mid-market. They need to become much more commercial and competitive in their outlook.
It is particularly smaller firms need to make the biggest changes as they are being squeezed from multiple directions. However, the progress in these firms is often slowed by resistance to change. As well as not having the necessary skills in place within the firm to deliver it. Firms shouldn't be fearful of the current environment, they should be looking at the opportunity. Particularly to seize the competitive advantage over the competition
I see the following technology trends really taking root in 2015, particularly in the small and mid-market:
1. Customer relationship management
Law firms are now simply service providers. This means that the key to earning revenue comes down to relationships, as much as expertise. As the legal market is now more international, understanding clients is more important than ever. CRM systems have in the past been used as glorified address books, but expect them to be used to gather more intelligence on clients, behaviours and relationships.
2. Process/workflow management
The business operations within many small and mid-market law firms often leaves a lot to be desired. The worst thing is that many do not truly understand how bad things are and how much additional margin can be gained through process re-engineering within a firm, using existing IT systems and people. Of course, cultures can be difficult to change, but partner teams need to be pushing through change in order to remain competitive in a rapidly shifting market. We are already seeing a monumental shift to process re-engineering in the legal sector; it's exciting to see how small changes can make a real difference to profitability.
3. Automated time management
Time management and capture has typically been a relatively cumbersome process. Some lawyers do it as they go, some at the end of the day, some at the end of the week. This obviously can lead to issues, things do get forgotten or missed and clients are often suspicious of how time is really captured. The rise of passive time capture is now unstoppable and will become a prerequisite for clients very quickly. This method works to the firm's and the client's benefit as it's seen as more transparent. It also stopping billable time slipping through the net.
4. Business analytics
– As every firm should understand, business decisions cannot be made without clear information. Many firms do not understand that the majority of the information that they require to become more profitable is already being captured by their existing IT systems. It can often take a matter of days to bring data and information together to give clarity to 'gut-feels', sometimes without any significant cost. Expect to see more demand for analytics and real-time dashboards to allow partners to really see what is happening within a firm.
5. E-billing
– Many other sectors find it hard to believe that firms are not billing the bulk of their clients electronically. I fully understand that it is more difficult for certain departments, but many clients find it frustrating and somewhat bizarre. Personally, as a business owner, I find it slightly concerning if my suppliers cannot bill me electronically. It's just so much more efficient and cost-effective to bill electronically, and firms are now seeing this in hard Return on Investment figures.
6. Cloud infrastructure
Cloud in law has been treated with great caution by some firms. In all honesty, this has been the fault of the cloud industry, due to overpromising and not pushing back on security concerns. Cloud, in particular, private cloud, is now a norm for most businesses. We are now seeing legal firms gaining confidence in the cloud, and using it to gain the IT platforms they need without the associated capital and running costs. It should be noted that not that many firms will be cloud only within the next 2 years, especially the mid-sized firms, they are much more likely to operate in a hybrid arrangement – a mix of on-premise and cloud-based solutions.
7. Outsourcing
Too many firms are holding onto all elements of IT. This will be inefficient for many firms, increasing the risk to the firm whilst also decreasing profit margins. We are looking at a second, some say the third wave of more intelligent outsourcing. Internal IT teams should typically focus on adding value, leaving the day to day operations and security to the experts. Many firms have been reluctant to outsource, however, now they must do so in order to actually gain more control.
Obviously, there are other areas of IT within legal that will change over the coming year. The interesting thing now is that it's varying from firm to firm, as it should do. In the future we will see less of the herd mentality in legal, well at least I hope we will.