Blog
Is IT outsourcing the right choice for growing businesses?
/ Managed IT Services
February 20th, 2017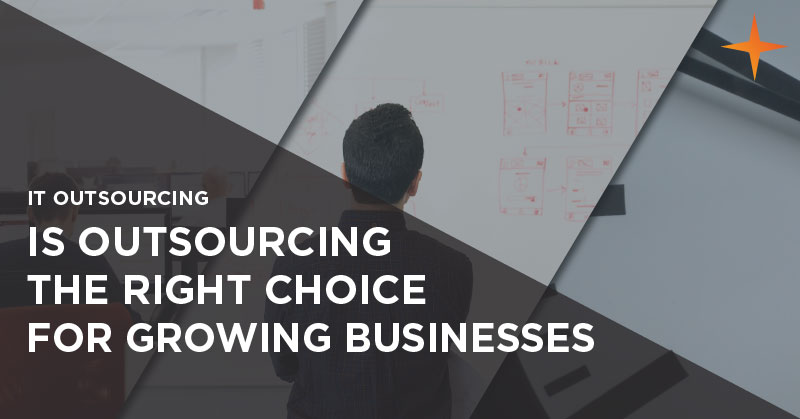 Growing businesses need to plan strategically to ensure they are getting the most from their resources, from budget to staff. For some having an in-house IT helpdesk won't make sense, but as the business continues to grow then it may become clear that additional resources need to be allocated to IT management. Keeping your IT resources operating efficiently and managing infrastructure can be stressful, especially with a small – or no – internal team dedicated to doing so. This often leads to many businesses considering outsourcing their IT function to a dedicated provider.
IT outsourcing takes the work of an in-house IT department and hands it over to a third party, who has the time, skills and experience to manage it. There are many reasons why your business may look at IT outsourcing. Before making a decision they should consider these six things to make sure it's the right solution.
1. What are your reasons for considering IT outsourcing?
First and foremost you need to look at the reasons for outsourcing your IT support. For many businesses, financial gain is the main motivator. The majority of IT support providers will offer contracts with a fixed monthly fee.
You may also feel that you don't currently have the right expertise in-house to support your growing business and no time to recruit the right professional. Or you are concerned that staff are becoming overwhelmed with technical issues which are preventing them from focusing on core activities. Whatever your reasons, you should take an in-depth look at them and consider whether outsourcing is the best option for helping you achieve your goal and progress efficiently.
2. Who is currently responsible for IT support?
Making the move to IT outsourcing can result in one or more employees changing roles or leaving the company. This will largely depend on whether you have a dedicated resource for IT support or whether certain employees take partial responsibility for different areas alongside their core role. In either case, it can benefit your business in terms of cost-savings and employee productivity.
If you have few IT needs then it probably doesn't make sense to have a dedicated in-house resource. You would effectively be keeping someone on retainer just in case anything goes wrong. Alternatively, if your requirements are complex then your in-house resource may feel overwhelmed balancing daily management and troubleshooting alongside projects. Bringing in a managed IT support provider offers additional support and expertise for your in-house team, either taking responsibility for the daily running of your IT environment or providing additional resources for specific projects.
3. What technical expertise do you require?
The size of your business, and it's projected growth, may also influence what type of IT support you require. In small businesses, it is not uncommon to find that the person who has the best "computer knowledge" has become responsible for IT management, even though this may not be the role they were originally hired for. While that person may be able to assist with troubleshooting, other tasks are outside of their skill set. Plus anytime they do spend on IT takes away from their original job function. Similarly, as your business grows you may find that your IT staff don't have the time or expertise to deal with everything.
When you outsource your IT to a company who specialises in this work you are getting access to a whole group of highly qualified and experienced technical professionals, who will be able to meet your IT requirements. It is important to remember that IT outsourcing can be flexible, from a fully managed service to provided support for specific areas. The right IT outsourcing provider will be able to assign the right people, with the right experience, qualifications and skills, to the right tasks to ensure you get the technical expertise you need.
4. How much time do you have?
In a small business, it's critical that you are strategic with your resources to ensure you are getting the greatest return. If your top priority is business growth then you may not have the time to dedicate to recruitment. Finding the right person with the right skills can sometimes result in costly recruitment fees. Even if you already have someone in-house, you may find the demands of management, monitoring and maintenance will stretch their time thin.
Outsourcing your IT alleviates the burden on both fronts, by providing your business with access to qualified and experienced IT professionals who can provide technical support and guidance. Managed service providers have seen the majority of problems, and will ensure the right engineer is assigned to the right task.
5. What will you outsource?
You must also consider what tasks you want to outsource. While you can have a fully managed IT service, there is also the option for co-sourced IT support. This is a flexible service where a provider offers additional support to an internal IT team on an ad-hoc basis. It's a cost-effective way to extend your own team and can help in a number of areas such as; ongoing management, IT strategy, project management or absence cover for holidays. This may be an ideal option if you want to develop an internal IT team, but need assistance to develop.
6. Where will you outsource to?
There are many companies overseas who will offer outsourced IT support at very low prices. This can seem like incredible value, but it can also raise other issues. You must consider aspects like time zones, which can be a hindrance or a help. For example, you may be able to have work completed overnight, so your business is effectively running around the clock. However, it may not be as easy to communicate with your IT Help Desk. Language barriers and cultural nuances easily create difficulties.
Like any business decision, IT outsourcing is not something you should rush into. You should carefully consider your business goals and objectives and decide which path will help you meet these. There are pros and cons to outsourcing, but finding the right provider will minimise most of the cons.