Blog
How to strategically use IT to increase business resiliency in the age of COVID-19 and beyond
Increasing resiliency allows businesses to anticipate, respond to and recover from threats more easily, protecting their ability to achieve long-term strategic goals. IT plays a critical role in increasing business resiliency, here are six ways you can utilise it more effectively.
/ Digital Transformation
December 7th, 2020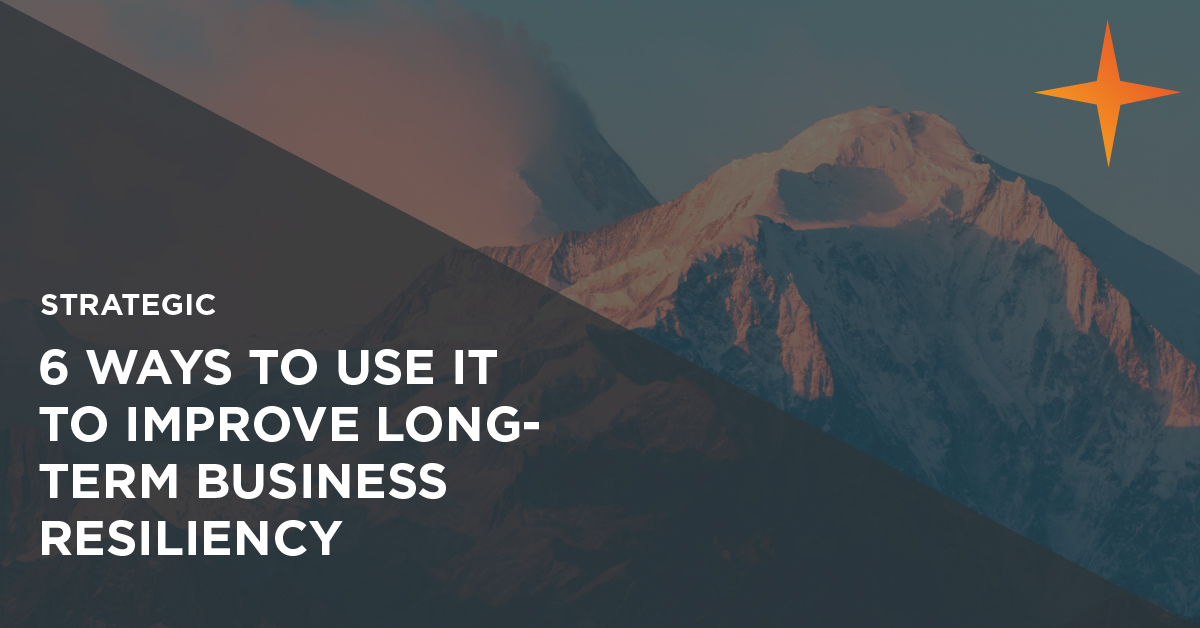 Resilience. It's been one of the top words of 2020. But, as coronavirus has aptly demonstrated, it's much more than just a buzzword. If you want to your business to withstand turbulent times, be it a recession, new marketplace competitors, changing regulations, security threats, Brexit or a global pandemic you need to improve resilience.
What is business resilience?
Resilience is essentially a business's ability to anticipate, prepare, respond to, and adapt to change within the business environment. Some events, like COVID-19, are near impossible to predict but generally, the business landscape is becoming more volatile and dynamic. Rapid technological evolution, an increasingly global competitor landscape, and societal issues are all putting stress on the business environment.
However, if you can successfully and continually increase business resiliency, it will better protect your ability to achieve goals and objectives, regardless of the unexpected events that may occur.
6 ways to use IT to increase business resiliency in the long-term
1. Simplify the IT estate
Businesses are dealing with an increasingly complex IT environment. Mergers, acquisitions, and years of accumulated technology – much of it outdated – all contribute to bloat. Over the years, businesses will have likely acquired multiple systems and applications. New demands (internally and client-side) require new capabilities and businesses strive to keep up with the pace of change.
There is probably a lot of overlap within the IT estate. So, the first place to start is with a comprehensive IT portfolio review. Businesses need to review the full estate of infrastructure, hardware, applications, people, processes and tools to determine where the inefficiencies lie.
While such a review may be daunting, the returns – both financially and operationally – will far outweigh the effort. By trimming the fat, businesses will ultimately be able to achieve more modern, agile and secure IT operations. This agility is key to building resiliency. A cumbersome and complex IT estate makes change costly, slow and problematic. Building flexibility into the IT estate, allows businesses to quickly and efficiently react to changes around them. It can also help reduce IT operations expenditure (Op-Ex), which you can then redirect and essentially self-fund further transformation.
2. Use CRM systems
A CRM system ensures you have a complete, centralised view of everything that is going on in your business development function, from New Business and Marketing, through to Account Management, clients and prospects. It gives your Sales and Account Management team access to the real-time data and deep insight they need to close deals for quickly and efficiently.  
Ensuring up to date contact information and a record of all activity is stored in one centralised place allows reps to deliver higher levels of customer service. If a rep is on holiday, ill, or leaves the business, another member of staff can pick up contact where it was left ensuring a smooth experience for the customer. 
Often, it's not the waiting that frustrates customers, it's is when they feel like they are in the dark. Not knowing if your request has even been seen, let alone acknowledged. As many businesses strive to improve their customer service, people are being less tolerant of poor service across all industries and are quick to switch to competitors when their expectations aren't met. When utilised correctly, CRM systems can help manage customer expectations by helping prevent activities from being dropped. Workflows can notify relevant staff members of important upcoming dates, remind them of outstanding tasks, set recurring reminders for regular check-ins and calls, and numerous other points which help the overall client service function run smoother.   
Holding detailed client information also allows marketing teams to send more timely, relevant and accurate communications, for example celebrating anniversaries, notifying them of relevant upgrades or add-ons to services/products they already utilise, and alerting them. The right communication, at the right time, can help increase the likelihood of retaining the client and may encourage them to make further purchases. For example, if a client already has a rolling service with you, you probably don't want to notify them of the massive discount you're offering to new customers.  
However, it's important to remember that you cannot realise these gains simply by purchasing the technology. You need to clear on your business requirements and goals – why are you purchasing a CRM system, what do you want to gain, what do you want your reps to be able to do? You need to have the sales and marketing processes in place and be prepared to continually improve them. It's not just a case of "switch-on and go".  
3. Utilise cloud computing & storage
Cloud computing is one of the best ways to increase business resiliency thanks to its inbuilt flexibility and scalability. This was aptly demonstrated at the start of the pandemic when many businesses needed to switch immediately to remote work. Those already utilising cloud platforms and services reported finding the switch much easier than those based fully on-premise. No longer completely reliant on physical hardware, employees can access company data, files, applications and programs from nearly any internet-connected device.  
Additionally, cloud services, such as SaaS, are typically priced per user per month. The number of active users can be easily scaled up or down depending on demand. This flexible pricing structure gives businesses much tighter control over their cash flow, potentially giving them additional budget to be directed elsewhere in the event of a crisis. It also allows a business to scale up, out and across quickly, to seize advantages without the traditional CapEx and ramp-up times. 
4. Automatic breach detection & notification
The cyber-security threat landscape is growing exponentially. Businesses must prepare to defend against threats like ransomware, phishing, malware, DDoS, attacks on IoT devices and more. While you have your first line of defence, like firewalls, anti-virus software and employee training, this is no longer enough. You need to prepare for things slipping through the cracks.  
Tools including threat intelligence analytics dashboards, SIEM, and 24x7x365 Security Operations Centre (SOC) should be utilised to automatically detect any potential threats, intrusions or suspicious activities and respond rapidly to minimise the threat. Such tools and services should also notify IT administrators as soon as threats are detected so they can act and prevent costly downtime and shut down breaches. 
5. Use effective KPIs & dashboards
To accurately track the health of your business, you need to have a holistic view. Typically, most KPIs, at their base level, measure the value extracted. While this is, of course, valuable, and should be continued, it's quite backwards–looking in terms of resiliency. Measuring the components of resilience, such as adaptability and flexibility, are critical to building a sustainable business.  
Once you've chosen the right measurements, it's essential that you review them on a regular basis. This will enable you to spot potential issues on the horizon and rectify them before they cause real issues for the business. How often you review will depend on what you're measuring. Some KPIs may need to be checked more frequently than others. You can underestimate the importance of this data. It is what you should be using the drive business decisions, both strategic and technical. If you can see what is working, you know where to direct your efforts, your resources and your budget.  
Ensure employees are aware of the KPIs and how their actions contribute to the overall success of the company goals. Awareness builds accountability. If employees can understand and see the role they play in the business and feel part of the business's success, they are more likely to continually improve and refine to ensure those KPIs are hit.  
6. Embrace change
Building resilience is not about only making changes under extreme pressure. Businesses need to have a level of flexibility in their organisation and their supporting IT systems that will allow incremental change and continual improvement. Small but frequent changes are also far less risky than massive, one-off 'big bang' style changes.
Increasing business resiliency beyond coronavirus
Unfortunately, experts are already predicting that COVID-19 will not be a one–off. There is every reason to expect we will see other global pandemics in the future. Furthermore, broader issues like inequality and climate change could easily result in the same economic instability and marketplace volatility that the coronavirus has caused. We also don't know what the longer-term effects of the long lockdowns on businesses will be, as the whole world has certainly got smaller again, markets are without a doubt going to be more global. 
Change is a natural part of business. You will never be able to fully eliminate every potential risk your business could face. However, you shouldn't see this as a problem. This is an advantage. Don't seek to merely mitigate risk to try to restore what was. Instead, look to create opportunities for your business by effectively adapting to new realities.  
Businesses who build resiliency can typically anticipate threats more rapidly, better withstand the initial shock of the event, rebound more quickly, and emerge in a better state for the new environment. These four benefits can make all the difference in a highly turbulent, competitive landscape so businesses must prioritise building resiliency in the coming months.  
Join the Business Leaders Community
If you found this content valuable, why not join our free Business Leaders Community? Not only will you receive our monthly briefing with more business improvement tips and advice, but you'll also get exclusive

 access to virtual events 

designed for leaders who want to make strategic improvements and get ahead of the competition.