Blog
4 essential things to do before you outsource your IT project
/ Digital Transformation
April 4th, 2018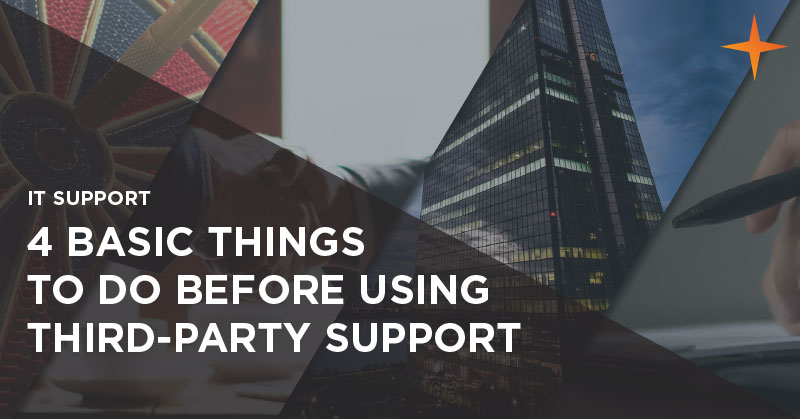 In today's blog, we will be discussing four things you should do before meeting with providers to who you will potentially outsource your project to.
1. Determine your goals first
Whilst you may think you need to have an extremely detailed project plan before approaching providers, you may end up missing out on expertise. A provider may be able to provide some alternative solution or options to accomplish your goals based on their prior experience.
Growing businesses who are looking to outsource an IT project should instead outline the business goals they would like to achieve through the process. Begin the project with the end in mind – know your desired outcome.
2. Manage expectations
A new IT project can bring a fair amount of change, so it's important you communicate openly throughout the business. Your project may result in employees having to change how they perform their role, but the more prepared they are for this the smoother the transition will be. Hold meetings, send email bulletins, schedule training sessions and generally just keep them up to speed.
The more you include the wider business, the better. The best way to overcome resistance is typically inclusion. This can happen through creating a project team within the business, made up of key stakeholders. This should also result in a better outcome in general.
3. Select a certified and experienced IT consulting business
Whilst cost is always a consideration, don't let it be your sole – or even your main reason – for selecting an IT consultant. What is far more important is the certifications, training and experience a provider has in relation to your IT project.
Additionally, it is a good idea to inquire about the provider's prior history working on similar projects and perhaps for some references. It makes sense to ask for references, or if you are technical – meet and discuss the detail with the technical team who would deliver the project.
You should be looking for a partnership when choosing an IT provider. You must trust the team and be prepared to work with them with the same level of trust you'd have with your own internal teams.
4. Create a specific contract or agreement
Once you have chosen your IT service provider, you should work with them to determine objectives in terms of the project's scope and completion. It is possible that you may uncover additional things which need to be done in the midst of your project and while this isn't necessarily an issue you should have a plan in writing in how to deal with these.
Even where your provider has done thorough research into your IT infrastructure and configuration before the project commences, some things are not encountered until after work begins. By understanding that things may occur and could result in additional time or expense, and being prepared for this, frustration is minimised for all parties.
Conclusion
IT projects don't need to cause pain. Although it may take some time to get the necessary framework in place and to find the right provider, due diligence will pay off. With structure and governance, you will achieve a positive outcome and working relationship.