Blog
A quick guide to IT support pricing models
/ Managed IT Services
April 5th, 2017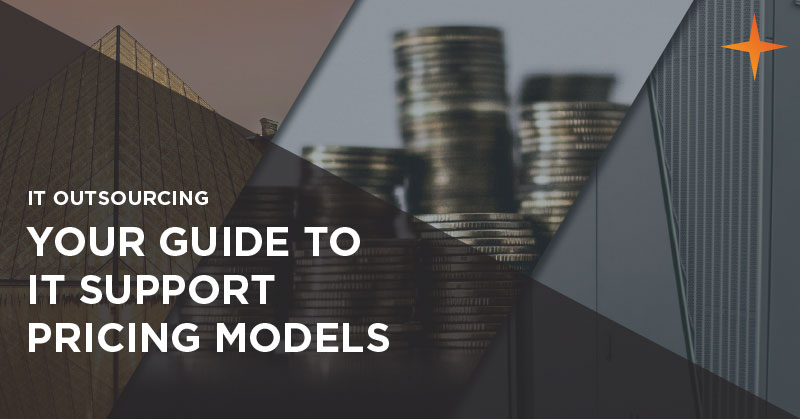 The continual running of IT operations in your business is essential for it to survive. This means you need to have a qualified team on hand to manage your systems. But the cost of hiring and retaining such a team internally is something only the largest companies have the time and budget for. To gain the competitive advantage big players get from their internal teams, smaller businesses have turned to IT outsourcing as a way to strike a balance between performance and cost. One of the most talked-about benefits of IT outsourcing is the cost savings it can bring, although the benefits extend far beyond this. However as there's no one set pricing model it can be difficult to understand exactly what's included, and if the service is priced appropriately.
Below are some of the most common pricing models you are likely to be presented with when exploring IT outsourcing providers.
Monitoring only pricing model
This pricing model typically provides network monitoring and alerting, but with different levels of service. For example, for a small business, it may include patch management, antivirus and anti-spam updates, disk optimisation and backup monitoring on a flat monthly fee. Additional remediation work, identified through monitoring, would be an additional charge.
For larger businesses, the internal IT team would receive monitoring alerts, with the provider responsible for all incident resolution.
Per-user pricing model
Most per-user pricing models charge a flat monthly fee per end-user to cover IT support across all devices. This is a very straightforward pricing model and ideal for those companies with a tight budget as it allows you to budget for your IT support exactly. It also makes it easy to forecast for any business growth. Planning to take on an extra 20 employees this year? You can see exactly how much that growth is going to cost you in terms of IT support.
Per-device pricing model
Another option is for IT support providers to charge per device, e.g. desktop, laptop, mobile, server. There would usually be one flat price per device type, which again makes it relatively easy to see exactly where your costs are coming from and allow you to budget for future additions e.g. you decide you want every member of the sales team to have a tablet for remote working. The per-device model will often come out marginally more expensive than the per-user model – owing to the fact a single user will likely have multiple devices which need covering.
Ad-hoc pricing model
The ad-hoc model means rather than paying a flat monthly fee you pay as and when you require support. This may sound good but, since prices can't be normalised, you will likely end up paying far more overall. Additionally, as IT becomes increasingly critical, a purely reactive approach to IT support will leave you hurting after a major incident due to prolonged downtime and a large bill from your support provider. Because of this, the ad-hoc model is becoming increasingly rare with most businesses having transitioned to a fully managed service or "all-you-can-eat" model.
Tiered pricing model
Tiered pricing is where different bands of support are available. The higher the band, the more services or perks you'll gain access to but at a greater cost. For example, you may see bronze, silver and gold tiers.
This is one of the most common pricing models but it does have its difficulties. As each tier includes its own services and limits, what can initially seem like great value can become a headache. For example, you take out a bronze level IT support contract which includes data backup. Imagine the worst happens and you lose your files. Then, on top of that, you find out your backup only covers a certain period – excluding the period you've lost.
It's not to say that tiered pricing won't work for some businesses, but if IT is critical for your operations it's probably not something to gamble on. A fully managed service should be fully managed. There should be no limits on what your support includes.
'All you can eat' pricing model
The all you can eat model allows for an unlimited amount of support at a fixed rate each month. This makes it ideal for nearly every type of business looking to outsource their IT. It's technically the same as the top level of a tiered pricing model, but without the artificial inflation from the lower tiers. This typically makes the all you can eat model better since it will include everything you need whilst being at a predictable cost.
When looking at this model, it's important to check if it includes out-of-hours support as standard. Depending on the provider, 24/7 support might be there by default or it might have an additional charge. Although, it's typically worth the extra money to have full peace of mind and to be able to prevent a late-night incident impacting the following day.