Blog
/ Managed IT Services
January 3rd, 2021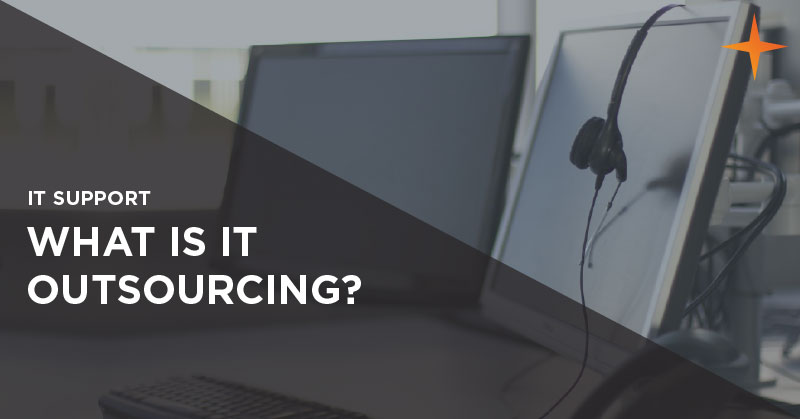 IT outsourcing is the practice of using an external service provider to deliver some or all of the IT functions required by a business including managing infrastructure, directing strategy and running the service desk.
IT outsourcing providers can take full responsibility for all IT maintenance and support, this is called a fully managed service, or they can provide additional support for an internal IT team, this is sometimes referred to as co-sourced IT support and is usually an approach taken by larger organisations.
A company may use one provider for all their IT requirements, or multiple service providers to deliver different elements.
Types of IT outsourcing
Offshore outsourcing
This involves sending IT-related work to a company in a foreign country, such as India, China or the Philippines, which offers political stability, lower costs and tax savings.
Nearshore outsourcing
The process of sending IT-related work to a company in a country that shares a border with your own. Theoretically, this should make travel and communication between the two companies easier.
Onshore or domestic outsourcing
This involves contracting an external service provider, located in the same country as you, to provide IT-related work, remotely or on-site.
Cloud computing
Contracting an external service provider to provide IT-related services over the internet, such as Infrastructure-as-a-Service, Platform-as-a-Service (PaaS) and Software-as-a-Service (SaaS).
Managed services
This involves contracting an external company to provide network management functions such as IP telephony, messaging and call centres, virtual private networks (VPNs), firewalls and networking monitoring and reporting.
Which IT Services are typically outsourced?
Application/software development
Web development/hosting
Application support or management
Technical support or help desk
Database development or management
Telecommunications
Infrastructure – hardware, software and network installation and support
Networking and communications
Disaster recovery (DRaaS)
Data centre management
Data storage
Email
Security – virus, spam and other online threat protection
There are a number of reasons why businesses choose IT outsourcing. It can enable companies to reduce costs, increase productivity and take advantage of external expertise, experience and assets.
If you want to find out how we can help you further speak to our team today.