Blog
Benefits of IT Outsourcing for growing businesses
12 examples of why IT outsourcing could benefit your business
/ Managed IT Services
November 25th, 2020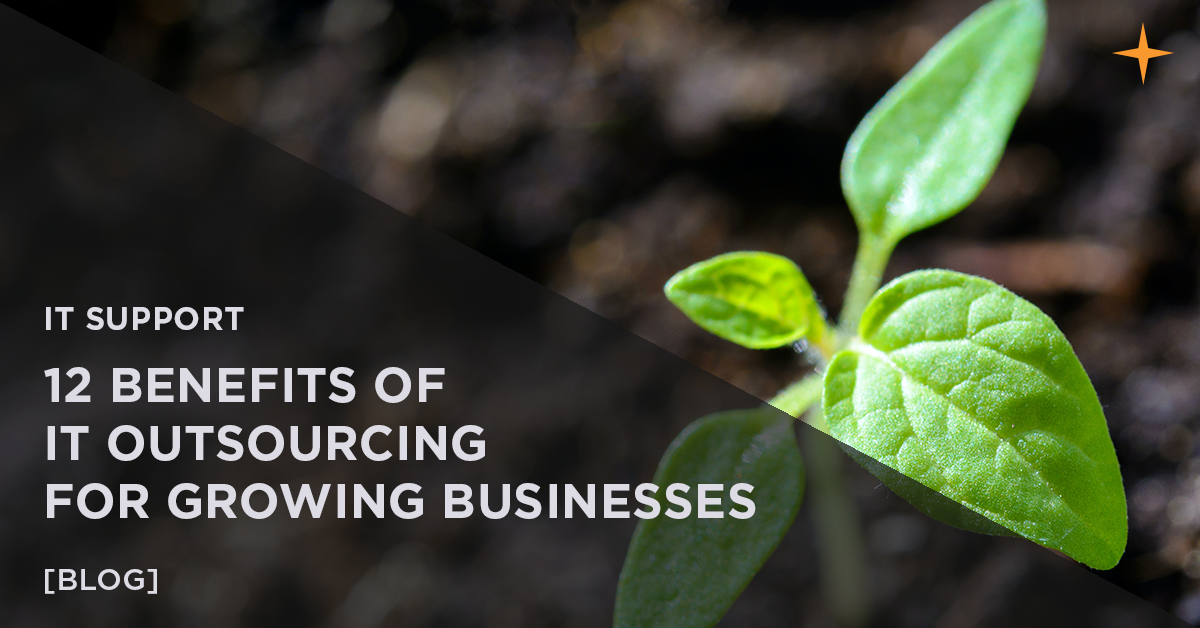 The benefits of IT outsourcing can give you a great advantage over the competition.
In an increasingly competitive business environment, having a competitive edge is vital to helping your business to survive and grow. The benefits of IT outsourcing can be vast. Outsourcing your IT to an outside provider is one way to gain this edge and here's how it can help you…
1. Outsourced IT support can improve business focus
No growing or fledgling business can have an expert in every area, and seasoned IT professionals can be expensive. The benefits of IT outsourcing are huge for a growing business, especially as they can lack the resources needed for a dedicated internal IT team. It, therefore, makes sense to outsource certain functions to a company that can focus specifically on that area.
Not only does that give you the same level of service as an internal team would, but it also lets you keep your current internal staff focused on achieving your business goals and doing what your business does best.
2. You have access to experienced professionals
Because outsourced IT teams work with multiple clients, they have a greater range of experience with a greater range of IT systems. This means that they're more likely to be able to address your specific needs and requirements, as they'll have the experience.
This can also mean that if you outsource your IT support, the support analysts will be able to solve issues faster because they won't need to do as much preliminary research and troubleshooting as someone who hasn't encountered the problem before would. This reduces the average length of a ticket time and means you experience less IT downtime.
3. Helps you manage your budget
The cost of hiring and training a single dedicated employee easily outstrips the price of outsourcing. And in a growing business, hiring any employee can be a risk if they turn out to be a poor fit or under-qualified. With the high salaries of well qualified IT specialists, these risks are amplified even more.
Choosing to outsource your IT needs instead means you have more options to choose from regarding how you get your IT support, enabling you to be more flexible with your budget. This leaves you open to investing more in system upgrades, delivering increased business performance and improved security systems to keep you safe from the multitude of cyber-threats out there.
4. Address any issues rapidly
Employing a dedicated support engineer for dealing with support tickets will mean that they're stretched thin across your business. This can result in long waits for simple fixes, even longer waits for big issues and backlogs of issues whenever that employee is off sick or on holiday.
You get access to multiple highly qualified and experienced support specialists if you choose to outsource. You'll be able to provide solutions to many simultaneous issues and reduce the amount of time lost to under-maintained IT. This will in turn let you focus more on your business and reduce the chance of costly downtime.
5. Reduces downtime
Having an IT support team on hand means problems can be resolved faster and employees can return to work sooner. This means less time is spent dealing with technical issues and more time is spent on the tasks which deliver value for your business.
A high-quality outsourced IT provider is also able to identify larger issues that could cause an outage or technical problem in the future and suggest ways to solve it. This lets you prevent or avoid expensive periods of downtime that can damage both your profits and your image.
6. The benefits of IT outsourcing allow you to be more competitive
Outsourcing your IT lets you get the advice and assistance that larger firms have, but at a price suitable for a growing one. This allows you to compete with other businesses in your field by giving you access to the technology and support that they utilise. Additionally, with access to a service that market leaders use, you'll be able to elevate yourself above the direct competitors in your field.
7. Provides 24x7x365 monitoring
It's not feasible to expect your single IT manager to monitor every single aspect of your IT environment 24/7, 365 days of the year. But if you choose a quality IT support provider they'll have access to the resources needed to do this. Not only that but they'll also have the expertise needed to spot any potential issues and resolve them before downtime occurs.
8. Works proactively, not reactively
Many internal IT teams deliver a reactive service. Only broken things get fixed. Although this may keep a business running, things shouldn't be left to break down in the first place. One of the biggest benefits of IT outsourcing  is that forward-thinking outsourced IT providers offer proactive support where they identify potential issues, and implement suitable solutions before a major technical failure occurs, saving you time and money.
9. You bypass lengthy training & you save money
Delegating aspects of the workload will see a cost benefit. Outsourcing allows you to avoid the often large monetary and time costs associated with training dedicated IT staff. This is because a good IT provider will hire experienced analysts and continue to train them further in their own time rather than on yours.
Additionally, by working with multiple clients, analysts can develop their skills and experience further and faster. Ensuring that you receive a constantly improving service.
10. Benefits of IT Outsourcing Minimises risks
Effective and easy access to your IT environment means greater business success. To address this, a good outsourced IT provider will keep your IT environment up to date. This includes taking full responsibility for verifying backups, pushing out patches, and keeping stock of inventory to minimise potential disruption.
The right outsourcing partner needs the capacity and expertise to proactively monitor your systems to prevent downtime and respond quickly to any issues.
Choosing to outsource your IT also reduces the risk of making a poor technology investment, as you will always have technical expertise on hand to assist you with major projects.
11. Your knowledge pool is bigger
When you hire an IT specialist you get the expertise of a single person with a single level of skills. When you hire a support team, you get access to multiple analysts with various levels of expertise in multiple areas. So, you end up with access to a greater pool of knowledge at a more cost-effective rate.
Furthermore, the Service Desk Manager can ensure that the analyst with the most relevant experience is assigned to each ticket. Reducing the time taken to solve issues, so you run faster.
12. The benefits of IT Outsourcing increases efficiency
Through outsourcing, you can reduce the time spent on the little things and focus more on the big picture. Employees can spend less time trying to fix IT by themselves, technical issues can be resolved faster and expert advice can be given on IT infrastructure problems. This means you have more time on your core business activities which support your growth and success.
In conclusion
A critical function like IT being in the hands of an external company can seem risky, but as there are many benefits provided by outsourcing. There's no reason to not consider it for your growing business.