Blog
Are you paying too much for IT support?
/ Managed IT Services
April 12th, 2017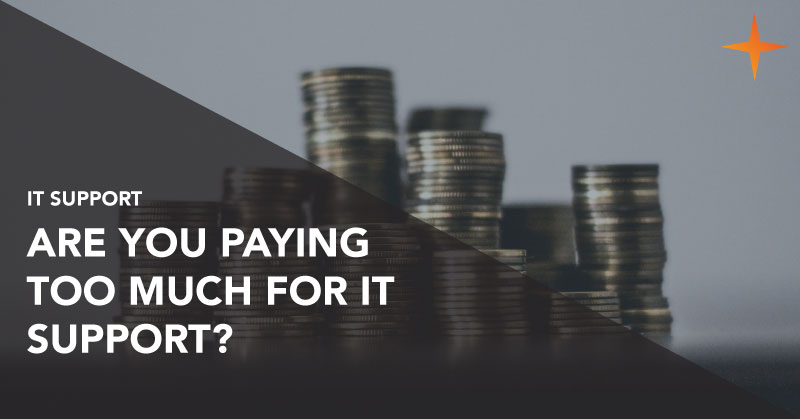 You've probably heard the old adage "you get what you pay for", meaning if you choose a cheap product, you can probably expect problems. But is this true when it comes to IT support?
Well, yes… yes it is.
With one of the most well-known benefits of outsourced IT support being its' cost-effectiveness, many companies rush to find the lowest price they can. But if you're selecting your IT support provider solely on cost, then you could be in for a nasty surprise. Just as a bigger provider doesn't guarantee better service, a cheap quote doesn't guarantee cheap service in the long run!
IT support prices vary widely from provider to provider, but be wary of any quotes which significantly undercut others. If the price seems too good to be true it probably is. So always be on the lookout for hidden costs. Maybe your proposal says you're getting a 'fully-managed IT service' for only X amount per month, but what's really included? For example, you have access to the Service Desk but is that 24x7x365 or 9-5 Monday to Friday? Or 'security' is included but what exactly does this entail – is it a firewall, anti-virus, network scans? Those elements alone do not mean you are secure.
Providers will typically price IT support in two broad ways; pay-as-you-go (or ad-hoc) or fully managed services for a fixed monthly fee.
What is pay-as-you-go or ad-hoc IT support?
This option is typically suited to small businesses and start-ups who are not heavy technology users yet and have budgetary constraints. There is usually a set hourly cost for reactive support, but the exact price can depend on the role you require – for example, a senior consultant usually charges a higher hourly rate than a systems engineer. Sometimes there are additional charges for transport and travel time.
Some companies will sell blocks of hours, also known as a "time bank", with the price determined by the numbers of hours you buy. There may be a discount for bulk buys, but be aware that some companies may put an expiration date on the hours you purchase.
Your ad-hoc IT support may include a small monthly retainer to cover the cost of the initial take on, ongoing maintenance and network monitoring. You should be clear exactly what your ad-hoc support covers and what you can use your hours for e.g. can I use my hours for strategic guidance and IT consultancy.
If IT is an essential part of your business, or your company is growing quickly, then, typically, you should avoid ad-hoc support as it simply isn't cost-effective over the long run. If you end up requiring day-to-day support then purchasing hours or paying for reactive support will get very expensive – and likely slow down your operations.
What is managed IT support?
The price of fully managed IT support typically depends on the number of servers, computers and devices to maintain. However, some companies do charge by the number of end-users instead so make sure you check with your provider.
Typically a fully managed IT support service will include telephone, email and remote support, alongside onsite visits when required. A quality IT support company shouldn't limit your support, for example how many calls you can make and what they will support. If you use extremely bespoke applications then you may need to make allocations, but your IT company should provide guidance.
However not every managed service provider is transparent when it comes to pricing. It's still very common for providers to offer tiered pricing, where the support you receive depends on your tier. For example, you may have seen pricing plans with levels such as:
Bronze / Basic / Standard
Silver / Preferred / Advanced
Gold / Elite / Premium
Platinum / Ultimate
Watch out with tiered pricing!
Tiered pricing can become extremely complicated because one plan includes some features and not the other. You may only receive remote support with a Bronze Package, but the Gold Package may include remote, telephone and on-site support.
You can also expect to find different levels of support at each tier. For example, all levels may have access to help desk support but at the Bronze level, you can only access that support between 9 am – 5 pm – or log a certain number of tickets per month.
Check the SLA
Another thing to be wary of is your Service Level Agreement (SLA). This can massively impact service, support and response times – which can negatively impact the running of your business. Every provider should have transparent SLAs which detail how they prioritise issues and the response times for each level. If a provider won't – or can't – give you the details of their SLAs then step away now. The best thing you can do is choose an IT support provider who is completely transparent with pricing and SLAs.
Conclusion
Every provider will have different IT support packages, so check exactly what yours includes. While it may seem like a good price initially, it could cause you problems in the long run. A fully managed service should be just that, it shouldn't have unnecessary limits. You should both be working in partnership.