Blog
Why do IT teams love private cloud?
/ Technical
July 26th, 2012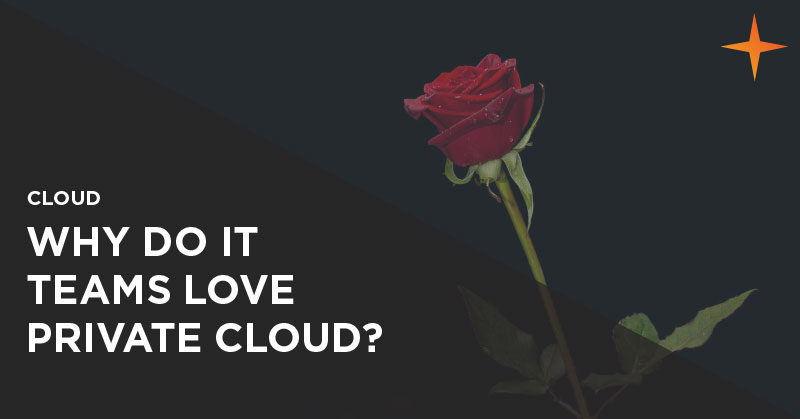 There are many different definitions of cloud computing. However, it essentially means you store your applications, systems and data at a remote location and access them via a network connection, typically over the internet, rather than in your own office. This model has already delivered some compelling benefits, including greater flexibility, easier collaboration, and greater cost control.
Most recently, however, businesses have been trying to obtain these same benefits by using their own 'private' cloud. This basically follows the same model, but a sole organisation will operate it.  There are many advantages to using a private cloud in this way.  For a start, it gives most IT teams exactly what they've always wanted – control – since a private cloud can give the IT department a lot more power and freedom than it would have with a more traditional 'public' cloud model.
What is it about private cloud?
For end-users, a private cloud will also be appealing because of its familiarity, since the technologies being accessed via the private cloud will often be the same as the company's internal systems, especially in areas like virtualisation, storage presentation, operating systems and so on.
Private cloud solutions are also extremely flexible and configurable in terms of operating systems, storage, applications, security, continuity etc. They can also integrate with other applications and systems more easily. Public clouds, on the other hand, are typically more rigid in their integration, as they often depend upon complex APIs and other software development tools to work properly.
A private cloud can also be vendor-neutral and is generally more secure. This is because businesses can typically implement any security systems into this kind of environment.  Cost-wise, public clouds typically charge on an hourly basis, whereas private clouds typically offer a flat per-resource per month price. A flat resource is often better and more cost-efficient for corporate IT, as the workloads tend to be more static and easier to control. In many cases, a public cloud solution will quickly become expensive once you start building in additional resources.
Thinking of making the move to a private cloud?
So are there any disadvantages of a private cloud solution? Well, possibly. At the moment, it's generally quicker and easier to ramp up resources on-demand on a public cloud platform. However, this is changing as more private platforms allow companies to flex on the fly, and to 'burst' in peak times.
Also, because there is quite a low barrier to entry to create a private cloud platform, a number of IT companies are already jumping to offer this service. The sudden influx of resellers may pose a risk to customers and companies may end up burnt. Especially if there are no experienced consulting, engineering or service teams on hand to ensure the solution fits the business's needs.
Even so, the option of a private cloud is likely to dominate the market in the months and years ahead. Particularly within corporate IT teams. Microsoft will still be the main player in terms of applications and operating systems for the foreseeable future. Especially as it is now free from hardware and their customer base is worldwide. It also now has the skill to deliver solutions and services on its platforms.
To get true value out of a private cloud, businesses will need to have access to a reasonable amount of technical skill. The more capable the business is in terms of its IT skills, the more it will get back. Private cloud is really what you make of it, whereas with public cloud is usually "you get what you're given".
Both options do offer benefits. The first step – as always – will be to determine the specific needs of your business, and then choose accordingly.