What is the cost of cloud computing?
Last updated on April 1st, 2019
One of the most commonly talked about benefits of the cloud is its potential to reduce and optimise IT spend. With your data being stored in the provider's data centre it reduces the need to keep costly server equipment in-house. With that also comes a reduced spend on cooling equipment, electricity and maintenance. There's no hardware or software upgrades to unexpectedly deal with or budget for. It's also an easy service to budget for as most providers run on a per-user, per month model.
With cloud service providers regularly promoting all these benefits, and more, it can seem like a complete no-brainer. Surely every type business should be adopting cloud? Unfortunately, it's not always the best fit for everyone, and one of the things you should be considering up front are the costs, and if your IT budget can cope with them?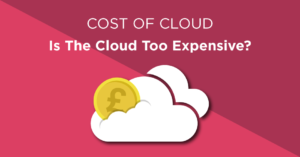 What are the operating costs of cloud computing?
Is this another service that, once you're hooked, escalates in price? Do all sorts of hidden charges and unexpected costs suddenly appear?
Well, that all depends on the vendor or the person choosing the service. If you choose the wrong provider or service then you could quite easily happen. You could end up a solution that doesn't fit your initial requirements and costs can quickly spiral.
If the proper analysis is performed before a vendor or solution is chosen then the operating costs should typically be less, or at worst case the same as delivering a service internally. A key benefit being that typically an organisation will be gaining access to top-class infrastructure and systems without the associated capital expenditure, and without needing to hire, train and retain staff to manage such a high-level of infrastructure, business systems and security systems. There will obviously be ongoing operational costs from an internal perspective as the biggest mistake many organisations make is to think 'it's in the cloud I can forget that area of my infrastructure now'.
This seems to be the standard business model for the IT industry, so why should cloud computing be any less of a racket?
It is a bit of a jungle out there at the moment, with everyone offering some sort of cloud service – from the software houses through to IT support shops. When you have a gold rush you will always have cowboys looking to make an easy buck or amateurs putting their customers at risk. If you know what you are doing and fully understand your requirements then it is relatively straightforward to assess the market and to choose the right vendor that matches your business and operational objectives.
The main issue comes when a business doesn't have any high-end IT minds in-house and buys cloud services on the word of a sales guy – that's dangerous and always leads to pain. I'm guessing that I'm saying that buying cloud services isn't that far away from any other high-end IT system or service, the issue is that some vendors in the market are trying to make the customer believe it's as simple as buying a new server or replacing desktop PCs.
Where are the hidden costs likely to spring from?
Misjudging the complexity and time involved in migration is usually the most costly mistakes.
It's also common to overlook the correct levels of security and resilience when deciding on a vendor or solution. It's important to keep these areas in clear focus as it's simpler and usually cheaper to implement at the beginning. Never think that by choosing a cloud service you are simply outsourcing risk and its management.
Sometimes a service or relationship doesn't work out. A business should always understand what its exit costs are going to be. This is not just in terms of your contract, but pulling off data and migrating to another vendor.
It's common to see organisations massively over specify cloud solutions as if they were buying a server for an internal function that had to last 3 years. People forget that the cloud allows you to flex your operations and only pay for what you use.
Where do they usually emerge? Integration? Consultancy? Projects that never end? Bribes? Failed projects? Contractors that go bust.
The issues typically arise in the consultancy and integration phases. You'll often see a company provision a service from a vendor, and then take six months or more to get their systems running. During this time they are obviously incurring additional resource and consultancy costs but they are also paying for the service that they aren't using. There's just no need for it but it's happening all over the world.
How can CIOs guard against these?
As always if you are undertaking any project of size then it's all about the planning.  If you don't feel 100% comfortable then pick up the phone and get an expert in. Even if it's just for a day to sanity check everything. Too many CIOs are too proud to have their judgement double-checked, and this can prove costly – in many ways.
Robert Rutherford, CEO of QuoStar