Blog
12 ways to get more out of your cloud computing spend
Cloud adoption is booming. Spurred on by the pandemic, cloud-based services are seeing an uptick and businesses only expect to allocate more budget to this area in the coming months. Yet, with an estimated 30% of cloud computing spend wasted, it appears that businesses need to focus on managing their budgets first, before jumping to increase spend.
/ IT Consultancy
August 10th, 2020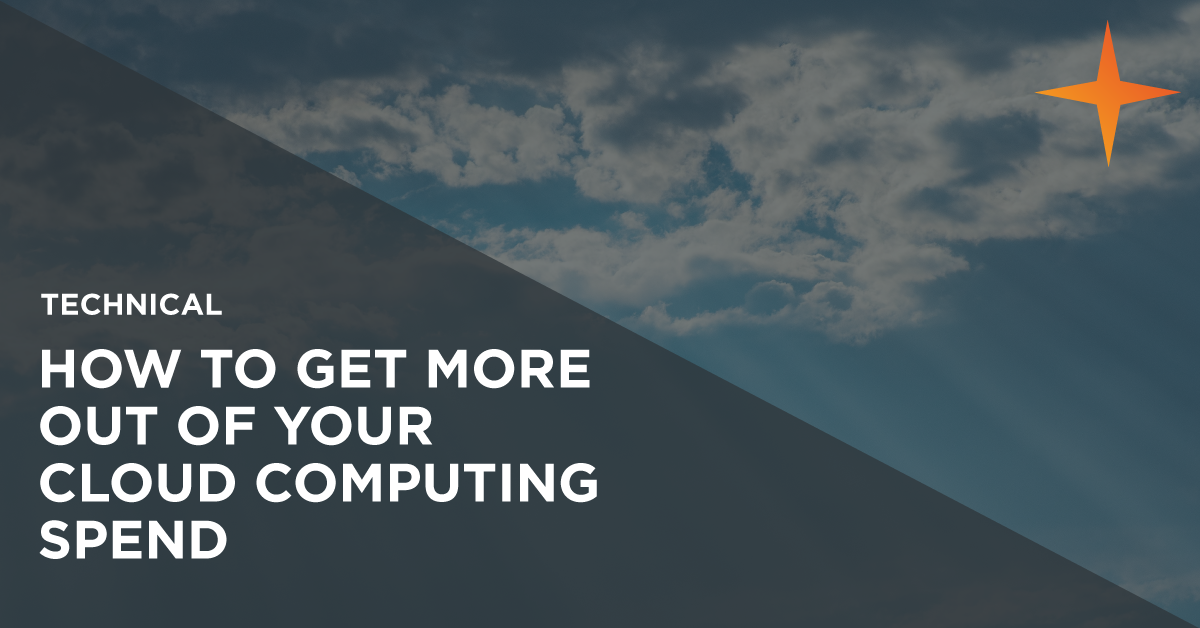 How to reduce cloud computing spend
Fortunately, there are plenty of opportunities for recovering spend quickly and effectively – largely around better cloud management and resource allocation. Of course, any cost-cutting measures need to be performed in a controlled way to ensure the integrity, performance and security of the cloud platform is not compromised.
1. Reserved instances
Ensure that you are using reserved instances where appropriate. Many organisations are still using pay as you go billing and ultimately losing out versus locking in pricing for a year or more. In some scenarios, you can save more than 70% with reserved instances.
2. Review licensing
It's worth regularly reviewing licensing, particularly around the Microsoft stack. Microsoft makes regular changes to licensing, particularly around cloud-based services; some small adjustments can deliver significant savings within an estate. It's worth noting that many organisations are doubling-up on licensing, particularly when using Azure and Microsoft licensing, i.e. Not using the Azure Hybrid Benefit program. If you bundle this program with reserved instances then savings of up to 80% can be made.
3. Price matching
Most public and private cloud providers will match their direct competitors on price. If you are up for renewal on your cloud platform or are not in a contract it's important to take this into account. Also, even if you are in a contract it may be worth speaking to your provider about extending your contract term for a reduced monthly fee.
4. Look at containers
Containers are lighter weight than virtual machines and thus cost less. It's worth looking at your applications to see which could be repackaged into containers to reduce the VM footprint and also costs.
5. Testing environments
Many organisations are paying to host their dev and testing environments. This is typically unnecessary and most cloud providers will allow you to run these workloads and licenses at a significantly reduced cost.
6. Move databases from virtual machines
Often, due to technical and operational familiarity, a lot of databases sit on VMs when they could sit in an elastic database. There are significant cost-savings, resiliency and often security benefits to be gained here, often without a huge amount of work.
7. Look for redundant disks
So many cloud estates have idle disks lurking around with them. It's important to identify where these are, as they will be costing you every month. Most cloud providers, particularly within the public cloud arena make this easy, i.e. Look at the disk owner (or lack of) within the Azure portal's disk screen.
8. Look at storage tiering
It's easy overtime for data usage on disks to change. It's important to ensure that the right data is stored on the right type of disk to ensure you are paying the right amount to store or process that data. Storage tiering, particularly automatic storage tiering, if not in use already should be evaluated to get the right balance between demand and price.
9. Look at uptime requirements
Many services within an organisation don't need to be on in the evenings or at the weekend. In many cloud environments, you are going to be paying for those resources, if you are using them or not. If a server is only used between 8am to 8pm then why pay for those additional hours it's not being used? You won't save 50% of costs as it's probably idling, but you could save 20% or 30%. When you extrapolate that over a number of servers and a number of days the savings do ramp. Most cloud providers have automated tools to help you automatically deallocate resources and shut idle systems down.
10. Break down virtual machines
Consider a larger number of smaller VMs compared to 1 large VM. This splits the workload and can help availability, whilst importantly making it easier to power down more resource when not in use.
11. Consider PaaS rather an IaaS
For example, Remote Desktop Services (RDS) require multiple gateway servers to build/run/maintain on top of session hosts, Windows Virtual Desktop (WVD) removes the need and ultimately the costs operate and manage these servers.
12. Look at your egress bandwidth
Always consider your egress requirements and what connectivity would be most suitable for your setup, such as using Microsoft ExpressRoute may be more cost-effective than running complex site-to-site VPNs.
Preventing future wastage
Whether you're planning to migrate for the first time, planning to invest further in cloud, or you're evaluating the suitability of your current platform, it's essential that controlling waste remains a priority.  
Optimising cloud computing spend is an ongoing challenge due to the cloud's highly dynamic nature. Every time a new application is launched in the cloud or more cloud resources are allocated, cloud usage, and therefore spend, increases too. However, with automated policies and regular reviews you can ensure costs remain under control and prevent unanticipated bills.   
It's too soon to tell what the long-term financial impact of the pandemic will be, but in times of financial difficultly, IT spend can often be the first one on the chopping block – even with the best of intentions to maintain or increase that spend. Therefore, it's more important than ever for IT Managers and teams to dig deep and assess what it truly being spent. Controlling cloud spend will not only make forecasting easier, but it'll also free up budget for further digital transformation projects.   
Need help optimising your cloud computing spend further?
With over 15 years' experience in analysing, designing, deploying and managing all types of cloud platform, QuoStar is ideally placed to help you get more from your cloud computing budget.  
We can help identify measurable costs savings, without negatively impacting the performance, reliability or security of your cloud platform, with a Value Enhancement Audit.  
Get started today by booking a free online review with one of our cloud consultants. We're here to help and can offer no-obligation advice about cloud computing, specific to your business requirements.