Blog
How can VDI solutions help IT Managers manage a widespread remote workforce and transform the workplace
VDI is just one of the technology tools which has seen a recent resurgence thanks to lockdown. In this guide we explore how VDI can help IT Managers to manage and support a remote workforce, and the benefits of utilising the tool.
/ IT Consultancy
November 30th, 2020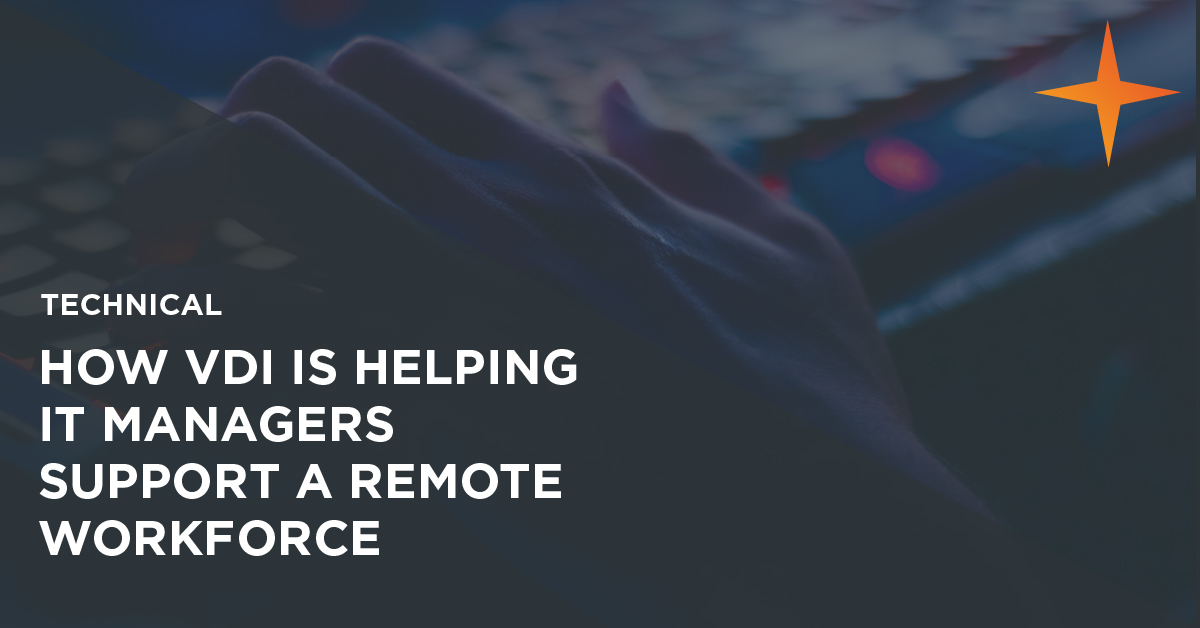 The COVID-19 has had a huge impact on the way businesses deliver IT services to end-users. The lockdown and subsequent restrictions left businesses scrambling to deal with an unprecedented situation where their entire workforce needed to work from home. Most simply weren't set up for permanent, widescale remote working but had no option but to embrace it to remain operational. 
Technology like online meeting and collaboration tools, hosted telephony, VPNs and virtual desktop infrastructure (VDI) saw a surge in adoption as businesses looked for ways to keep their employees connected, productive and secure. Of course, VDI solutions are nothing new. Businesses have been using it for over a decade to deliver desktops and applications to end-users. However, it is seeing a resurgence, both due to current challenges arising from COVID-19 and the maturation of Windows Virtual Desktop. This was highlighted in the recent Spiceworks Ziff Davies 2021 State of IT Report which found 46% of businesses were using or planning to use VDI by mid-2022. Furthermore, 26% of businesses planned to increase VDI deployment specifically because of the new challenges that have surfaced due to the pandemic.  
How can VDI solutions help internal IT Teams?
1. Reduced Costs
Delivering desktops through VDI helps reduce the time it takes to provision new desktops. Easy and quick to set up, VDI not only reduces the time required by the IT team and the support costs, but it also provides more immediate value to the business. 
VDI can also help IT Managers optimise and reduce their IT spend. Purchasing and upgrading hardware for remote employees is a significant cost, but as a virtual desktop can be accessed from almost any device it can really help slash spend in this area.  
2. Simplified Licencing
Software licencing is one of the most common issues for IT managers with remote employees. If an end-user uses a personal device for remote working and needs a particular app to do their job, it's ITs responsibility to licence this. Not only do multiple licences increase IT costs, but it also complicates licence tracking and compliance. The IT team needs to be able to prove that apps on personal devices are properly licenced and differentiate between corporate-owned software and personally owned software. VDI solutions eliminate this challenge for IT teams by keeping the licenced software within the business's own data centre and removes the need to track remotely installed apps.  
3. Improved Security
Security is a constant concern, even more so with the new threats emerging as a result of the pandemic. It's a particular issue for IT teams where end users are using personal devices to access company data or systems. There are no guarantees that the device adheres to the company security policy, it may be infected, compromised or running an outdated operating system. However, with VDI, device-level security becomes less important as the user remotely connects a corporate desktop which IT configures to exact security requirements. The personal PC essentially becomes a thin client as all activity takes place in the data centre, with all of the corporate security systems and controls in place.
IS CONFIDENTIAL DATA LEAKING OUT OF YOUR BUSINESS? FIND OUT TODAY WITH A COMPLIMENTARY DARK WEB SCAN
4. Reduced Technical Support Time
IT Managers' workloads are higher than ever now they need to manage a fully remote workforce on top of their existing responsibilities. VDI solutions make it easier for IT teams to support remote end-users because it puts them in a standardised environment, with the device itself less significant. It also reduces major technical issues and speeds up resolution time because IT teams already have all the information about the user's virtual desktop systems to hand. Of course, technical issues can still occur with virtual desktop users, but these are usually related to connectivity and performance and are simpler to identify and resolve.  
5. Centralised Management
With everything centrally stored, managed and secured, desktop virtualisation streamlines the management of software assets. This makes it easier for the IT team to set up and provide end-users with desktops and applications, no matter where they are located. Administrators can also deploy, patch, upgrade and troubleshoot from a central, singular location, rather than updating end-users' environments individually.  
Are VDI solutions the right choice for every business?
Desktop virtualisation has continually developed over the last decade, but today the main two categories are VDI and DaaS (Desktop as a Service). VDI is suited to businesses who want to host and manage the virtual desktops themselves, on their own servers. DaaS is very similar but removes the need for infrastructure management by delivering it as a cloud service.  
Both VDI and DaaS are well placed to deal with the most common challenges of traditional desktop and laptop systems, such as software licencing inventory, ensuring compliance and expensive procurement. Outside of these legacy challenges, both solutions also help businesses deal with IT process concerns, such as keeping up with the rapid pace of change and the time IT staff have to dedicate to routine tasks (e.g. troubleshooting, helpdesk requests).  
DaaS has a slight potential edge on VDI due to the shared responsibility of a cloud model. It largely removes the need to manage the physical infrastructure, enabling IT teams to focus on the entire digital workspace and user experience.  
The prominent solution that overlaps both categories is Windows Virtual Desktop (WVD). Previous virtualisation options gave businesses limited options over the type of virtual machines they could use to deliver desktops. They had to either compromise on user experience and deploy Windows Server Desktop experiences to achieve the cost benefits of a multi-session. Or, they had to sacrifice on cost and deploy single sessions in Windows 10.  
This dilemma, plus the opportunities presented by Azure as a platform, ultimately led to the development of Windows Virtual Desktop (WDS). It's the only virtual desktop infrastructure that offers simplified management, multi-session Windows 10, optimisations for Office 365 Pro Plus and support for RDS environments. An additional plus, just for IT teams, is the relatively short time to go live. A 100 person business with 4-5 servers could be looking at less than a week to set up from scratch. 
Are there any issues with VDI solutions?
However, like any technology option, VDI is not a one–size–fits–all solution. Businesses still need to fully evaluate its suitability for their employees and their ways of operating. For example, while VDI is a good option for remote workers and contractors who need to securely access Office applications, it's not the best for employees who travel frequently due to latency and VPN issues. 
Certain applications also still don't perform as well in VDI style solutions. Microsoft Teams and Zoom are two of the most widely used conferencing platforms, yet they both have performance issues and limitations in VDI environments. For example, with Microsoft Teams some advanced features may not be available in a virtualised environment, and video resolution can differ. Call and meeting functionality is also only supported on a limited number of platforms. As there are multiple market providers, it's recommended that you seek consultancy advice or speak to your virtualisation solution provider to confirm you meet the minimum requirements. 
VDI is just one element of the technology stack. Don't forget you'll need other complementary technologies to address gaps and round out the experience for the end-user if you're looking to build a fully functioning digital workplace. 
Join the IT Leaders Forum
By joining the community you'll receive exclusive monthly briefings, tech updates from industry-leading vendors and

 free

 personal invites to top tech events.