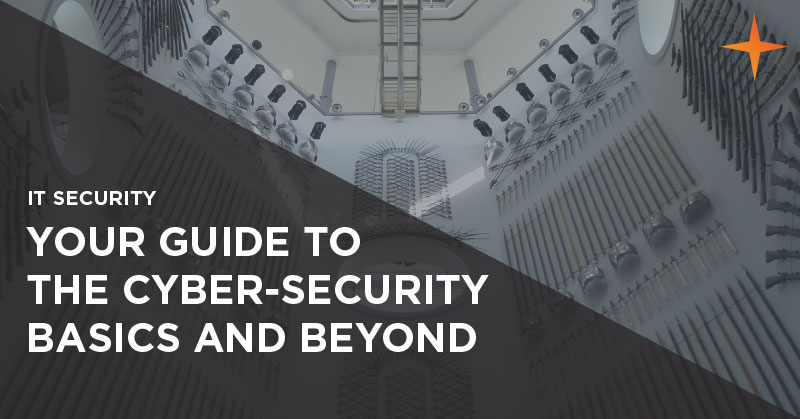 What are the essential cyber-security measures every business needs?
In today's digital era, advancements in technology are happening very rapidly. Therefore our defence systems against very real cyber-security threats must keep pace. If the correct measures aren't taken, your business might be more at risk than you think. Here are 9 essential cyber-security measures your business can take.
Are you relying on the same security basics you were a few years ago?
It's easy for time to pass unnoticed while all these advancements happen around us. Before you know it, you're relying on the same old security basics to protect your business as you were a few years ago – firewalls, antivirus and intrusion detection software. Most people update their mobile phone software more frequently than that. So here are our 9 recommendations on how to keep your company more secure.
Why is it so important?
The truth is, we all feel impervious to cyber-crime and security breaches. It's just something that happens to other people – until one day it's not. Even if a direct financial attack is not a concern for a business because that's locked down, many people are unaware of the intrinsic value of the data their business holds in today's world.
Hackers aren't just after your bank accounts.
Cyber-crime is now an industry that produces over £1 trillion in revenue for cyber-criminals. Ransomware can be used to encrypt a company's files and hold them for ransom. Network penetration can enable mass data theft and crypto-jacking to harvest crypto-currencies by stealing your machine's processing power. Money can even be gained by using social engineering to persuade employees to transfer cash to a fake bank account.
9 steps to combatting cyber-threats
A UTM system is a combination of security appliances and acts as your gateway to the internet.
A Spam Filter tops potentially malicious files from entering your network via email.
Antivirus and Anti-malware are applications that protect your servers, laptops and other devices from malware.
A Patch Management System manages the installation of software updates to close security holes.
2-Factor Authentication gives you a second level of security, preventing unauthorised sign-ins.
Device Encryption makes any data stored on the machine useless to criminals and keeps your data secret.
Regular data backups. You should keep a copy of your business data at a secure off-site location in case the original is lost.
Content filtering prevents access to dangerous or illegal websites which reduces the risk of infection.
A Disaster Recovery Plan sets out how you will recover from an unplanned event such as a fire or cyber-attack.
Regulatory fines and costly lawsuits sting victims of cyber-crime too.
Keeping businesses cyber-secure is even more important since the implementation of the General Data Protection Regulation (GDPR – tailored by the Data Protection Act 2018). Businesses are responsible for their data leaks or breaches if the correct security protections/protocols have not been put in place. Hefty regulatory fines can be levied, and costly lawsuits can follow for the victims of a cyber-attack or security breach.
All businesses should ideally be looking into taking more than just the bare minimum steps to keeping the company cyber-secure, but it's at least these 9 steps that start the journey in the right direction. The next step beyond the basics is to become Cyber Essential certified.
Cyber Essentials is a Government-backed Accreditation
Cyber Essentials is a government-backed accreditation that acts as a way to understand where your security succeeds and where it needs improvement. It's similar to a cyber-security audit and allows you to see what your next steps in improving security will be.
Cyber Essentials still covers fairly basic security concepts, such as having the ability to remotely wipe devices, application whitelisting, daily virus scans and the disabling of OS utilities. All of which are simple things that you should already have in place. But it's well worth going through the accreditation process if you haven't already – it can improve your company's image as well as open you up to working with more cyber-conscious clients.
If you want some help implementing the basics, or would just like some friendly advice, contact our team today.