Blog
4 technical considerations when upgrading to a VoIP phone system
There are many reasons why you may be planning to upgrade to a VoIP system. Enhanced features, functionality, reliability and availability make cloud-based telephone systems a great option for most mid-market business, particularly those with multiple sites.
/ Managed IT Services
September 7th, 2020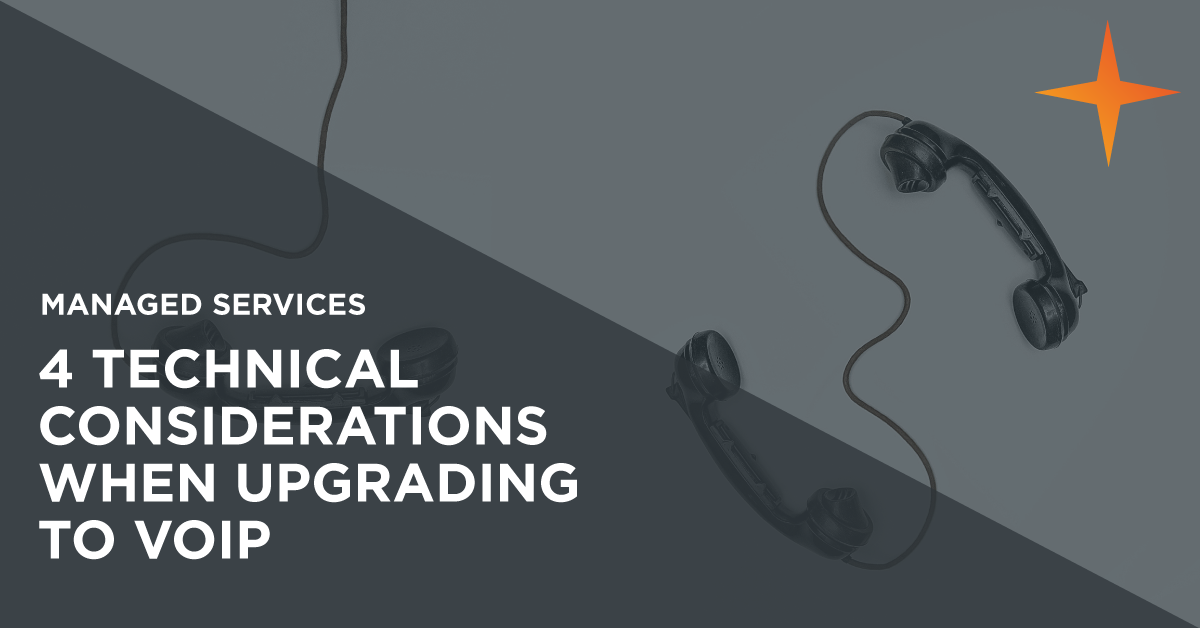 Plus, with IDSN-based telephony now a legacy product and due to be taken out of service in 2025, it makes sense to invest now and future-proof your business. 
However, as with the roll-out of any new system, there are technical considerations to bear in mind to ensure the transition to a VoIP phone system is as smooth as possible with minimal disruption and risk to the business.  
Preparing to upgrade to a VoIP
phone system
1. Is your connectivity suitable to run voice?
To ensure business-grade call quality, your internet circuit needs to have a guaranteed level of performance. Normal DSL broadband circuits will not be suitable for voice as there's no guarantee of quality. If there's a surge in network traffic, voice packets can drop or arrive all at once, making it difficult to understand the call and providing a poor experience for both parties on the line.  
One alternative is a DSL circuit with performance SLAs designed specifically for voice. However, these cannot be used to also carry normal data traffic – for that you need a separate data internet circuit. Instead, a better option would be an ethernet circuit which can provide suitable performance SLAs. If configured correctly for quality of service, an ethernet circuit can also prioritise voice traffic over normal data, making it suitable for simultaneous use.  
2. How long will it take to install your new phone system?
Installing a new phone system can take longer than anticipated. From preparing the hardware and configuring the phone system, through to integrating with the LAN network and porting the number, there are many different elements to consider. Determine how long it will take to install and when you want the new system in by so you can create a comprehensive project plan.  
If you're installing a new phone system as the result of an office move, you should start planning as soon as you have your move date. It's vital that you leave adequate time for installing and testing the new system, particularly if your business relies on the ability to make calls in order to operate.  
3. How will you communicate the change to employees?
Installing new hardware and changing handsets can not only disrupt operations, but it may also affect company culture. Employees may need to adjust to new handsets and feature, or even new ways of working if you're moving away from physical desk phones to softphone applications instead.  
With any new system roll-out, it's important to engage employees from the start. When staff feel informed it typically makes the process much smoother and increases adoption rate. With phone systems being such a vital line of communication, you should have a suitable training plan in place. If employees are confident using the features, they'll embrace the technology fully, ensuring a professional image of the business is presented and providing a better experience for anyone who calls in.    
4. Do
es your disaster recovery plan include telephony
?
It's important not to forget about your disaster recovery plan when moving to a new phone system. While the available features and functionality of cloud-based phone systems can increase availability, you still need to be prepared and able to react to worst-case scenarios. Ensure you're able to answer questions like: 
What happens if the phone lines go down or there's a power cut?

 

What happens if the system goes down?

 

Where will calls be routing

 

What impact will 

downtime have on the business? What are acceptable levels?

 
Support for phone system upgrades
Choosing and deploying a new phone system is a significant undertaking, but the wrong decision can put your business at risk.  
If you want to ensure you're making the right investment and your phone system will meet your business requirements, then a managed telephony service is a good option.  
At QuoStar, we can work with mid-market businesses to determine their requirements in order the select the most suitable platform. We can also manage the installation or upgrade of your phone system and provide ongoing monitoring and maintenance to ensure it continues to deliver for your business.