Blog
An internal IT team or an outsourced IT support provider?
/ Managed IT Services
April 17th, 2017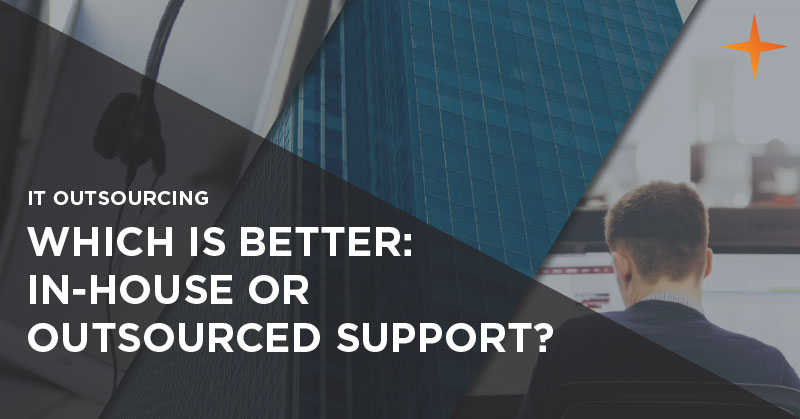 The large majority of companies today will have some sort of IT requirement, and a good proportion of those will find IT critical to the day to day running of their business. Not only do you have to think about the business's overall IT requirements, but these days it's common for each department to have their own individual needs – such as bespoke programmes, software or workflows.
It's clear that most businesses will need some kind of dedicated IT resource, but the trouble comes in deciding whether to build your own internal IT team or opt for outsourced IT support.
In-house IT support
There are benefits of building an internal IT team. With the right people, with the right experience and qualifications, you can build a bespoke support team with in-depth and specialist knowledge of your company's specific setup and systems. If based on-site they will likely be available immediately and will be able to solve issues fairly quickly. Some companies view this as invaluable for potential emergencies, such as security breaches.
However, it takes time, patience and often significant capital outlay to build an internal IT team. Businesses must understand what skills they will require in the future to build an effective team, and this can be difficult to predict – even for the most forward-thinking business leader.
It's not only the one-off recruitment fees to consider. The average salary for a service desk analyst is around £26,000. For an IT Manager, you could be looking at £45,000 or higher. You'll also need to consider ongoing training costs – as you'll want your team to stay up to date.
It is usually a mistake to rely on just one or two people to manage your entire IT environment. Even the most experienced IT engineer will have knowledge gaps. Relying solely on a very small team could likely cause your problems in terms of sickness and holiday cover. If one member of your two-person team is on holiday and the other falls sick, what will happen? Who will be responsible for covering issues outside of normal working hours? You cannot expect a single person to be on call 24x7x365.
Outsourced IT support
One of the main benefits of IT outsourcing is the financial savings it offers. Generally outsourced IT support is more cost-effective than creating an in-house team, and you can expect to pay a fixed monthly or per-user fee. The exact price usually depends on the number of users and the level of support, but once you do the calculations, outsourcing tends to be the most cost-effective route.
With outsourced IT support you have support 24x7x365, so you don't have to worry about things like sickness and holiday cover. Most IT support providers will have a dedicated out of hours line so you can access support whenever you need it. Many issues can now be resolved remotely, so you may not need a full-time team on-site at all times.
You will also have on-demand access to a wider pool of expertise. A quality IT outsourcing company will have staff with a range of experience and qualifications, and as such should always be able to find someone to help, whether it's to assist with a quick fix or for a more long-term project. If your internal IT team doesn't have the experience then you may need to bring in a freelance consultant. While they may only be a short-term hire, costs add up, as contractors often command higher day rates.
Critics will argue that a third party will never be as effective as an employee under the control of management. Other concerns often include data privacy, data ownership and disaster recovery. However, the majority can be avoided altogether with the right IT outsourcing provider. There should be agreements in place governing the quality of service you receive. Service Level Agreements should outline the way issues are prioritised, response times and the penalties if these are not achieved. Customer retention rate and recommendations can give you a rough idea of quality, but don't make decisions on a single factor – e.g. "who is the cheapest?"
Conclusion
It can be hard to decide which approach is best for your company, but it is clear that there is no one size fits all solution when it comes to IT support.
For some companies, neither approach maybe 100% right. This leads some to opt for a hybrid model that combines elements of outsourcing with an internal team. The most important thing is to find the right IT outsourcing partner, who understands your business and needs.