Blog
How to create an IT Strategy: A 5-step plan
/ Digital Transformation
June 8th, 2017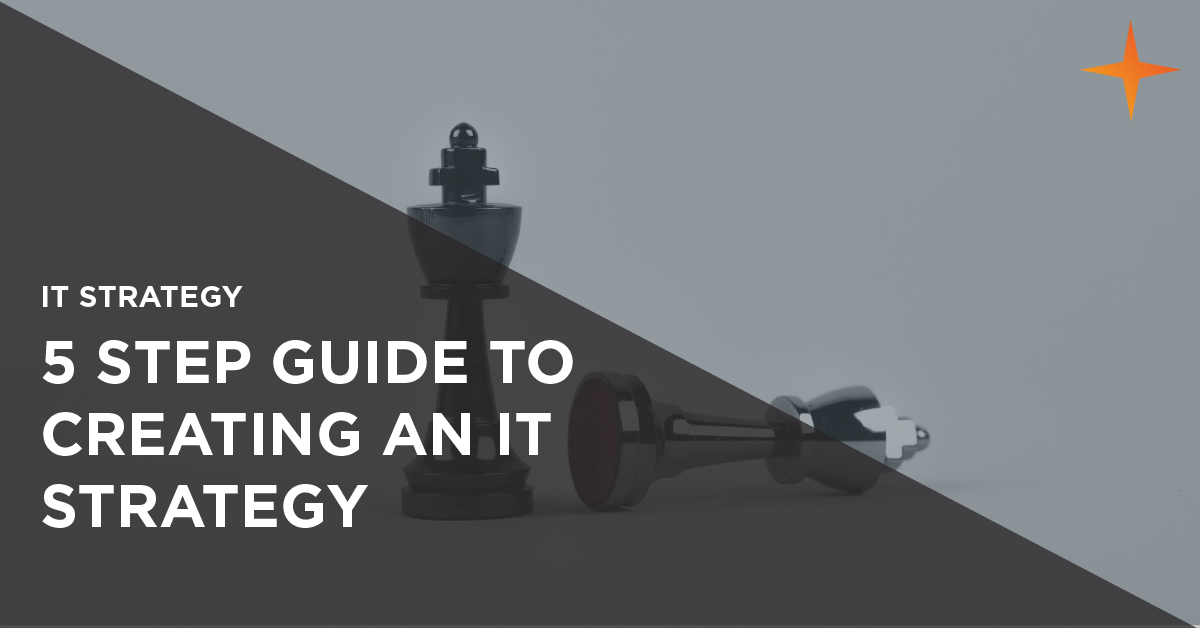 IT is a critical part of almost every department, yet many businesses are not taking full advantage of new technology or realising the full potential of their IT investments. This where an IT strategy comes in.
An IT strategy, when done right, is a powerful tool for driving growth, increasing efficiency, achieving goals and supporting staff.
Below we've provided an overview of the five key steps involved in creating an effective IT strategy. Whether you're completely new to the process or an experienced IT professional, this guide is an ideal starting point.
1. Outline business goals and objectives
In order to create an effective IT strategy, you must make sure it is aligned with your overall business strategy. This is because the primary function of an IT strategy is to support your business and help you to achieve your goals.
You should begin by outlining your business needs, goals and high-level objectives. Key areas to look at will include:
Your sales pipeline and targets
Future plans regarding partnerships, mergers or acquisitions
Growth strategies and plans for the company
Any other "actions plans" departments are working towards
2. Define your scope, stakeholders and timeline
Everyone must be clear about the purpose of your IT strategy, who is responsible for delivery and to whom it applies.
As part of this process, you should meet with key people from each department. They will be able to tell you how they're currently using technology and their future business plans. With their input, you can ensure that your strategy provides the right IT support for each business unit.
Just as you would define a timeline for achieving specific goals, your IT strategy should also have a lifespan. Most IT strategies are long-term, but you might want to review and refine your strategy more frequently. For example, you may have a five-year roadmap, which gives a high-level overview of what you are aiming to achieve, but it is reviewed annually to define key phases and projects (e.g. implementations, integrations etc.).
Technology develops at a rapid rate so it is important that your IT strategy is flexible so it can adapt not to new technologies but to new organisational circumstances, changing business priorities, budgetary constraint and available skill sets.
3. Review your existing setup
When developing an IT strategy it is important to review your current IT infrastructure. This will help you to identify current problems, see what's working and where resources are being used, all of which can be addressed by your strategy. Some key points to consider are:
How are teams and departments using technology
What tools, software and systems do they use?
Think critically about how IT is being used, and analyse what is delivering the most value. This will enable you to plan a strategy which utilises resources you already have and ensure better allocation.
4. Create a roadmap
This may appear to be the largest, most difficult step but as long as you have been following the right resource then it should actually be relatively easy to create a roadmap which defines resource allocation and architecture.
You should start by defining the overall technology architecture, this is made up of the major software, hardware and other tools you'll be using. Then break it down to department-specific technology which may be required to meet business goals. Finally consider how the different parts of your architecture fit together, and what processes govern their integration.
Keep all the information related to your technology architecture in a document or spreadsheet so you can easily review.
5. Establish your metrics
Measurement is an essential part of any strategy, and without it, you will be unable to identify any gaps or weaknesses. You need to make sure that the IT strategy is functional and cost-effective. In order to do this, you should identify KPIs you can use to analyse performance over time. It is important to track a range of metrics as this can help your business to be more proactive in identifying and solving issues (e.g. resolving performance issues before they impact end-users).
Some examples of metrics you may wish to track include:
Budget variance – Actual costs vs. budgeted costs
Resource cost – The average cost of a technology resource
Project delivery – The percentage of projects delivered "on time". You may also want to track project satisfaction by using a set survey to solicit feedback from business partners
Project cost – The percentage of projects delivered within budget
Production incident – The number of problems in order of severity
SLAs met – The percentage of jobs which finish on time
Application availability and performance – The percentage of time an application is functioning properly, and the average time it takes to render a screen or page
Employee satisfaction, feedback and reviews – Constructive feedback from employees can be highly useful for increasing productivity
Number of help desk calls
If your leadership team is not particularly technology-savvy, then metrics are a simple and effective way to demonstrate the success of the company's IT strategy, which will help to secure the confidence of management. Furthermore, being able to demonstrate that the IT strategy is aligned with the overall business strategy may assist in securing funding for future IT projects.