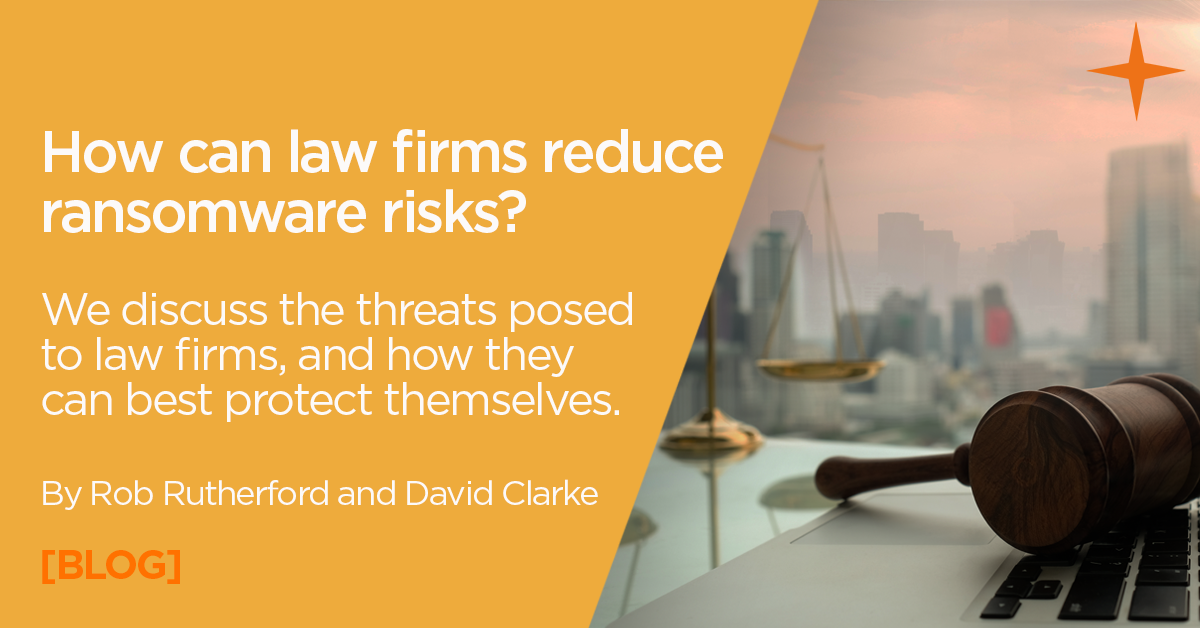 Ransomware risks are the largest threat that faces law firms today.
Ransomware attacks have increased by 288% in 2021. And, Reuters doesn't expect this to slow down any time soon – comically suggesting that "Like 'Terminator', high-tech cybercrime is expected to keep coming."
Any business can become a target to cyber criminals, but law firms are one of the top targets globally. Even a listed UK Law firm was hit by cyber-security a incident this year. It's obvious that law firms are lucrative and have access to money, so they are often able to pay a ransom where other types of businesses might not.
However, cash flow is not the only reason firms become a target. Law firms have many interaction points and are in effect a service business – service businesses live and die by their reputation. That's why they are a prime target.
Ransomware risks to law firms: why are they a great target for Ransomware attacks?
They have some great data, and that fits with the Ransomware business model. Ransomware is a revenue generator for cybercriminals. Ransomware encrypts your practice's electronic data, and takes a copy of the data, which can then be:
Sold to other cybercriminals
Held to ransom over public release of sensitive information
Assumes control of your social media and broadcasts your data and failings
Sell the exploit details to another cybercriminal
Use the same exploit again and ask for another ransom
Are law firms financially protected from cyber-attacks?
Typically, a paid ransom will be reimbursed by Insurance, but of course only if the right controls are in place from a cyber-security / risk perspective in the first instance.
Many firms think they are protected financially by simply having insurance in place to reimburse a ransom payment. However, if there isn't the right security in place, then insurance won't pay out.
Money isn't the only loss a firm faces when hit
Greater threats are posed, here are some other ransomware risks to law firms.
Some ransom groups will demand a ransom, but that will only be after they've posted all of the firm's sensitive data, and client data onto the dark web.
The firm may be able to get operational again, but the real damage goes beyond that, as their client's data is in effect spread globally for anyone to access. It's easy to see that the ransom payment is just a fraction of the real cost a firm could face.
A breach means letting clients know their data is 'in the wild', that other parties can access it and can, in effect, use that information to do much greater damage. That's big, it will seriously hurt the firm and all those they work with.
Regulators want to try to compound that damage. A firm is now looking at huge fines from the regulators, such as the ICO and the SRA. It's a horrible place to be, hence the focus from those in the global ransomware business, which is now bigger than the drugs trade (the global cybercrime economy generates over $1.5 trillion).
This year 4 New Square Chambers took an unusual approach this year after they were attacked mid-June. For damage limitation purposes they took out a court order demanding the criminals not to share the stolen data. The mystery hackers were ordered to hand over any information they may have obtained by 27 September 2021 or face possible contempt of court proceedings – but only time will tell how well this has worked.
Risk and IT security are not separate entities
Too many in the legal industry view the ransomware risks to law firms and IT security as separate entities. They simply put being secure from a cyber perspective and all those risks down to the IT team. That's just not going to wash with regulators, clients and very likely the media. Risk is a board responsibility/accountability, not IT's.
Of course, the IT team plays it part. However, like every important functional operation in a firm, you need governance. The whole firm needs to be aware of its role in controlling risk, especially as most IT breaches come from an employee doing something they shouldn't. The biggest threat to a firm's security is more often that not going to come from something simple such as someone unsuspectingly clicking a link or giving information out over a phone.
IT can only so go far
New and emerging threats are often targeted at the end-user sat at their laptop or on their phone. Sure, technology has its risks, such as unpatched software or a lost laptop, but people are always the weakest link. Although employees pose one of the largest risks with one of the biggest impacts, the threats are of course much wider.
The other big risk is vulnerabilities within IT systems that face the Internet, both those run internally and through third parties, such as a website host, an IT supplier, or some form of partner organisation that links into a firm's systems. Every link into a firm is risk. they need to be evaluated and tested. A firm should certainly penetration test their own systems, but they should also look at those they interface with, to ensure they also deal with their part of the wider risk piece.
So, how can the ransomware risks to law firms be avoided?
There are most certainly the basics that should be dealt with, especially where ransomware is concerned, such as:
Have you got an air gap in your backups?
Ransomware attackers want to encrypt your data. That may take you down for a few days. However, if your backups are also on the same network as your data they will be looking to ensure they are also encrypted. That leaves a firm dead in the water with no chance of recovery.
Do you have a rigid patch management policy?
Many businesses patch once a week, many once a month. That's not enough. The IT team needs to be continually aware of brand new threats and needs to deal with them quickly, or they need to rely on a specialist IT security partner to deal with it.
Do you use a VPN to protect endpoints on public networks?
Too many firms allow their staff to connect at home or in other locations, such as hotels, over unprotected networks. That's a risk that needs to be controlled via a VPN.
Do you consistently train and test your users how to spot suspicious email or call?
Again, staff are the weakest link and need to be able to spot suspicious behaviours online.
Do you control USB ports to ensure non-approved storage devices can't be installed?
You can't allow staff to plug anything into a work machine or a machine that accesses work machines without controls in place. For example, a Rubber Ducky Attack cyberattack, where a custom USB device emulates a USB keyboard to attack a workstation.
Do you have an email security protection system in place?
You do need an advanced email security protection system in place that checks both links in email and the attachments. You can't generally rely on email provider systems, not even Microsoft's.
Do you have next generation antivirus in place?
Traditional antivirus systems aren't enough to protect against ransomware. Once they've detected it with a scan it's too late. You need NGAV (Next Generation AntiVirus) which can spot ransomware before it does its damage.
Do you have 2-factor authentication in place?
This is probably one of the biggest protections against ransomware available. A third party can steal a password, but they cannot get access to systems without a known device.
Do you have a SIEM and a 24x7x365 SOC?
A SIEM is a Security Information and Event Management system. A SOC is a Security Operations Centre. If you've done the other points, then you need a system that looks for suspicious behaviour (a SIEM looks for it) and a team that can take that alert and respond (a SOC). These systems can be expensive, so you need to really make a judged call on how far you should go.
So how do you decide how far you take your IT security?
Well, first you really need to understand the all the risks you face. You need to understand what the likelihood of those risks being exploited, and you need to understand the likelihood of it happening. How do you do that?
You need a system, you need a framework. Too many firms think they have Cyber Essentials so they are secure. That's not the case. Cyber Essentials is the very basic and doesn't make you secure, especially not from the ransomware risks to law firms.
Have a plan for resiliency.
The only way a firm, particularly the leadership, can get a grip on IT security is to work to a governance level – to implement an Information Security Management System (ISMS). If you have an ISMS you are doing the right thing from a leadership perspective. You can know your risks, you know the controls of those risks and you can make a call on what you need and want to do – based on real knowledge.
An ISMS, such as ISO 27001 will give you complete knowledge of your risks and how you deal with them. It will also let you manage all of your suppliers and third parties, ensuring they don't pose a risk you are unaware of.
At Quostar we have a process called "Chain of Resiliency" which highlights the weakest links in your critical systems whether cloud or traditional server-based. This is so you can estimate the cost of lack of resiliency per system appropriate to your law firm, and do a cost-benefit realisation.
In short, a strong Executive action plan will:
Copy what the big tech companies do.
Enforce Backup and restore process (The important bit is the restore)
Implement an Information Security Management System (ISMS)
Use risk as a management tool not as a list
Implement Governance over risks with key stakeholders
Follow best practice
If you'd like any advice from our

CISO

on your firms cyber security set up

get in

touch

today.