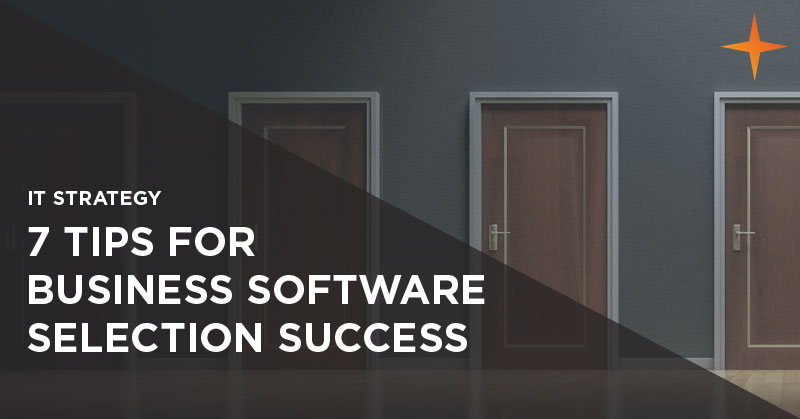 Software selection can be a daunting task. It's a process that all businesses go through, and likely more than once.
Having been involved in the software selection process as project lead, I can understand the weight of responsibility you may feel if you are picking up the reins for the first time. Making the wrong decision can sting, from disgruntled colleagues and the cost of running out the contract to then having to go through the whole selection process again.
Not only does your purchase come with a significant cost (where you'll need to prove justifiable ROI) but it will likely impact the business and its employees for several years.
However, when you get it right the results can be transformative. Increased productivity, greater visibility and better collaboration between departments are just some of the benefits, but to achieve them, you need to follow the right process. Below I've outlined some of the dos and don'ts when it comes to selecting the best software for your business. This can apply to any software, whether you're looking for a new CRM or marketing automation platform or you need to upgrade your accounting application.
7 tips for business software selection
1. Do involve your colleagues
Unless you're the sole employee your decision will likely impact others in the workplace, so it's only fair that they should get a say too. While you may have an idea of the overarching aim for each department, it's unlikely you'll know every single process, activity and feature they use on a day-to-day basis.
You don't have to bring them into every single conversation, but it's important that employees feel valued and that their opinion counts. For example, when viewing demos, I invited our Sales team into the portion of the meeting where we were reviewing sales tools. It took 20-30 minutes of their time and allowed them to see the software in action, ask questions and see if it lined up with their day-to-day activities.
It may seem like such a basic thing, but you'd be surprised how many businesses make the decision at board level without consulting their employees. Then they wonder why there are grumbles when the software is rolled out to those who have to use it day-in-day-out!
If you're working with larger teams you could nominate one person to collect requirements, feedback and questions on behalf of the department. That way you're still involving the relevant people without causing too much disruption.
2. Do fully understand your requirements
Before you even begin to contact suppliers, you need to understand why you're doing it, why you're doing it now and what your end goal is. This is your project brief and you need it to share with suppliers and to evaluate options. If you were looking for CRM and marketing automation software, for example, your brief may look something like this:
Issue: We currently use 7 different applications to run sales and marketing activity, but none of them integrates properly with each other. Marketing struggles to collect complete data and both departments are working in silos, unaware of the other's activity.
Timing: Both departments will be growing by 35% in the next 6-12 months, so the current issues will increase, and this will affect the ability to meet targets.
Aim: To find one centralised platform where we can run, analyse and report on all sales and marketing activity.
Goal: To align both departments and increase visibility, allowing us to improve lead nurturing through the entire sales pipeline.
On a side note, if your project brief contains anything like "we want to buy this software because all our competitors have it", then step away right now. This is never a valid reason for undertaking a project, whether you're migrating to the cloud, buying new accounting software or any other line of business software.
You'll also want to include relevant employees in the building of this brief, as you'll need to get their input on features. I'd suggest each team create a "needs and wants" list. Needs are the features or functionality that they absolutely can't work without, whereas wants are the ones they would like to have. Ask them to consider what works well with the current software, what issues they've run into already and any potential problems they see arising in the future. It doesn't need to be an in-depth list, but only the people who use the software every single day can tell you how they use it.
3. Do reach out to your network
When we purchase as a consumer, we're often quick to reach out to family and friends to ask for their recommendations – whether it's for a new bottle of foundation or deciding which car dealership to engage with. I would recommend bringing this buying behaviour into the workplace as well.
Speak with relevant people in your network and reach out to peer groups to ask their opinion on the applications you're considering. Ask them about their decision-making process, what applications they considered and why they chose that one. Did the software live up to expectations or are they now facing another brutal evaluation process? Ideally, you'll want to speak to those in a similar industry and of a similar size to yourself. An enterprise-level business will have completely different requirements to a growing one and what is suitable for one, is unlikely to be for the other.
However, on this note, I do retain a healthy level of scepticism when it comes to online reviews. For every positive singing its praises, you'll find a negative lamenting the software as the worst decision they ever made. One person will say the interface is simple and intuitive, another will say it's clunky and makes their job infinitely harder. Of course, some of this comes down to personal preference, but you've also got to keep the background in mind. You have no idea how this company went about their decision-making process. Maybe they were mis-sold or maybe their requirements list was inaccurate, so although the software lined up it wasn't what they needed?
Reviews are also likely the personal experience of a single employee who can also have their motives. Maybe they're resistant to change, fearful that the software will replace their role or just frustrated that they weren't consulted even once during the decision-making process.
At the end of the day you can consider reviews as part of the process, just take them with a pinch of salt and don't base your entire decision on them.
4. Do think long-term
Major software purchases are not a process you want to be going through every year, so you need to consider the future of your business. What are the long-term aims and how does the software fit into the achievement of these. You need software which is flexible and can grow alongside you, adapting to your changing needs.
You'll likely need your new software to integrate with existing systems, so you need to understand what is possible. Does the vendor have a limited library of integrations or an open API you could theoretically hook anything up to? Are they native integrations or do you need to involve third-party companies? Bear in mind this could come with additional costs, whether it's a one-off set-up fee, monthly charge or both. Depending on what software you're looking at you may even need to involve developers to create bespoke integrations and this can send things skyrocketing. That doesn't mean the software is automatically a no-go, again you need to relate to your project brief. Thinking long-term, what may seem like a big initial outlay could translate into huge ROI in terms of increasing productivity and capabilities.
As part of this, you should also establish how the pricing structure changes. For example, if the amount of data you needed to store increased or you had new team members who needed access to the software.
5. Don't get distracted by 'bells & whistles'
Working in the IT industry, I've come to learn that technology is the last piece of the puzzle. However, I also know how distracting 'shiny' features are. Some software will have hundreds of different features, and with these often presented in a tiered format, you can quickly become bogged down by the detail.
With the rise of automation and with AI being used for things like predictive analysis and decision making, software can do some really 'cool' things. So, it's important to take a step back and consider – is this feature necessary for my business? Yes, it may be cutting-edge, but how is going to help you achieve your goals and do you 'need' it right now? Always relate it to your project brief and your requirements list. If this is your first foray into automation, for example, do you need the ability to create advanced 60-step workflows with predictive analysis? Maybe in a few years' when you've proved the ROI of automated workflows and need more advanced segmenting features, but too much at once can be overwhelming.
Remember simply having the software in place isn't going to deliver results, it's how you use it that counts.
6. Don't rush to decide
Unless you have a business-critical issue – like a severe security flaw – you must give yourself plenty of time to decide. You'll likely be reviewing at least three options, which means you'll have a lot of information to review and pro and con lists to build.
We've all sat through 90-minute demos and by the time it comes to the Q & A portion you're so saturated with information that you can't think of anything. I like to give everyone a few days to 'digest', think about any questions they have and if they need a more in-depth demo of any of the features. That way you have one list to send back to the supplier, rather than ending up in a game of email tennis. "Oh, I've just thought of one more question…"
Do touch base with suppliers during this time, just to inform them you're taking a few days (or however long) to review the information and will be in touch with questions. Expect them to follow up – after all, it's their job – but don't let them pressure you into deciding.
7. Don't base it all on the flat costs
Moving to a more comprehensive platform is likely to come with a higher price tag than using a library of various applications and connectors, so don't be immediately put off by the proposal.
You have to consider the cost of time and resources, as well as the information your business is missing. Does your team spend hours each month collecting data from each source to produce a monthly report when it could be done at a click of a button? Do certain tasks get left undone because they're simply too difficult and painful to complete? Does each department work in silos with no clue what the other is doing – until they run into a problem? Issues like these can be difficult to quantify in terms of pounds and pence, but they will ultimately have an impact on your bottom line. You should also consider the impact on morale. If employees feel like they're constantly fire-fighting or they're overwhelmed with the sheer amount of 'join-the-dot' work between systems, productivity is going to go downhill quick.
A lack of connection between multiple systems also leaves you with knowledge gaps. How can you make effective business decisions if you don't have a clear picture? Is this strategy working? What was the return on that activity? Which invoices have been paid? Where are we spending too much time? These questions will only increase and become more pertinent as your business grows.
Key takeaways for effective business software selection
Firstly, don't let software scare you. There are some great tools out there which really can deliver for your business when utilised correctly. But don't be fooled into thinking that it has all the answers. Purchasing marketing automation software or migrating to a new CRM won't suddenly take your lead generation results from zero to hero, but it could help improve the lead nurturing process by giving you a clear overview of all your activities within one place, how they are performing and what is delivering the greatest return. Then you can direct more resources to these activities and improve lead generation as a result.
Just remember – know what you want to achieve, why you are doing it and to take your time. But if you do need a bit of help separating the marketing jargon from tangible business benefits, our consultants have helped many businesses with vendor selection, from practice management systems and ERP software through to cloud platforms and tools.