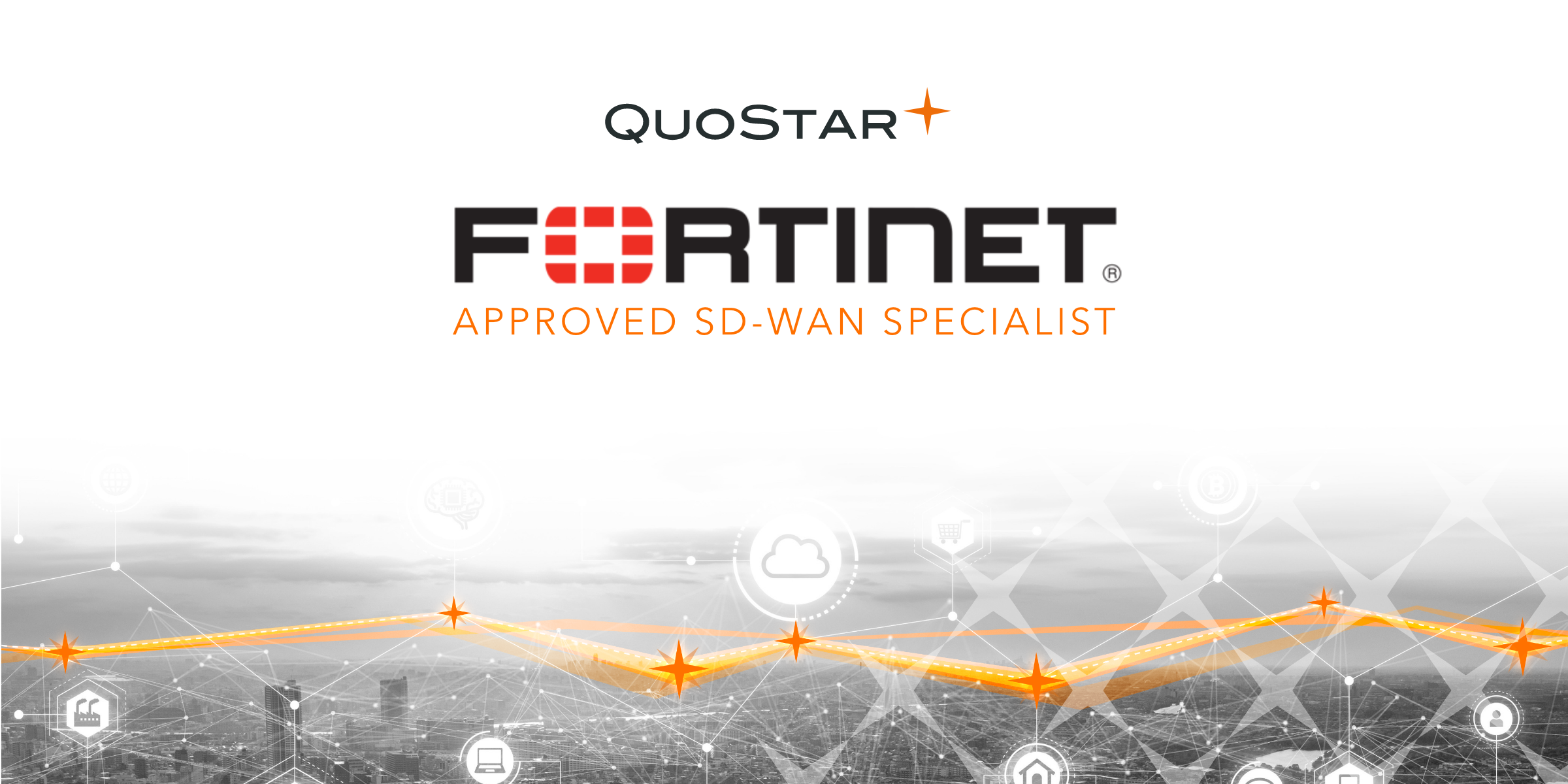 If your organisation is considering SD-WAN (Software-defined Wide Area Network), then effective networking and built-in security should be integral to your decision.
In partnership with Fortinet, QuoStar is one of 15 SD-WAN specialised partners in the UK. We offer a solution that achieves safer, more cost-effective and efficient SD-WAN implementation. Here's how:
SD-WAN explained
With dispersed workforces, new digital tools and cloud adoption at an all-time high, many organisations are turning to SD-WAN. This virtual WAN architecture brings together existing internet connectivity options, such as MPLS, Broadband, DIA and LTE, to securely connect users to applications, while simplifying the control and management of this connectivity.
SD-WAN solutions help to remove complex and expensive routing, cut down on hardware costs and remove expensive MPLS networks. They can also greatly enhance access to Software as a Service (SaaS) and other cloud-based services and help to minimise downtime.
The issue
However, many available SD-WAN networking solutions have little or no built-in security, which can lead to organisations adding a range of disparate tools to address these risks. This increases capital expenditure, raises complexity and creates potential gaps for cyberattacks.
A fully integrated, secure SD-WAN solution is the best way to ensure effective protection, operational efficiencies, and on-going readiness for evolving network demands.
QuoStar's SD-WAN solution
Working in partnership with Fortinet, who have been recognised by Gartner as a Leader in the 2022 Gartner Magic Quadrant for SD-WAN for a third year in a row, QuoStar's SD-WAN solution brings extra security protection and enhanced performance to the existing benefits of SD-WAN. These improvements include:
Protection at all edges
Native security for both on-premises and cloud-delivered services, to provide flexible, secure access for a distributed workforce working on and off the network. Unified orchestration capabilities further provide end-to-end visibility and control of the network environment.
A world-class user experience
Our solution overcomes WAN impairments at all edges using our comprehensive self-healing SD-WAN as well as AIOps and Digital Experience Monitoring (DEM). There are no network slowdowns thanks to our purpose-built security processing units, and application performance is maximised with artificial intelligence and machine learning.
Reduced costs and complexity
Significantly lower operational complexity and low total cost of ownership is achieved with converged networking and security. Our unified SD-WAN solution secures remote workers and on-premises users with consistent policies.
You should investigate SD-WAN if:
You're a largely distributed company experiencing network problems.
You're particularly vulnerable to internet outages.
Your internet connectivity costs need to be revaluated.
You want to simplify the branch architecture.
You're in the market to affordably expand your company's network.
Your company needs to scale quickly and easily.
You would like to enable reliable user experience on any transport with rich routing and advanced WAN remediation for self-healing networks
SD-WAN control and management across multiple locations is providing a challenge for businesses with IT resources facing skill gaps
Obtaining a Secure SD-WAN Assessment Report will give you unmatched insight into your current security posture and network activity. Learn more about your network by registering for a free assessment here.