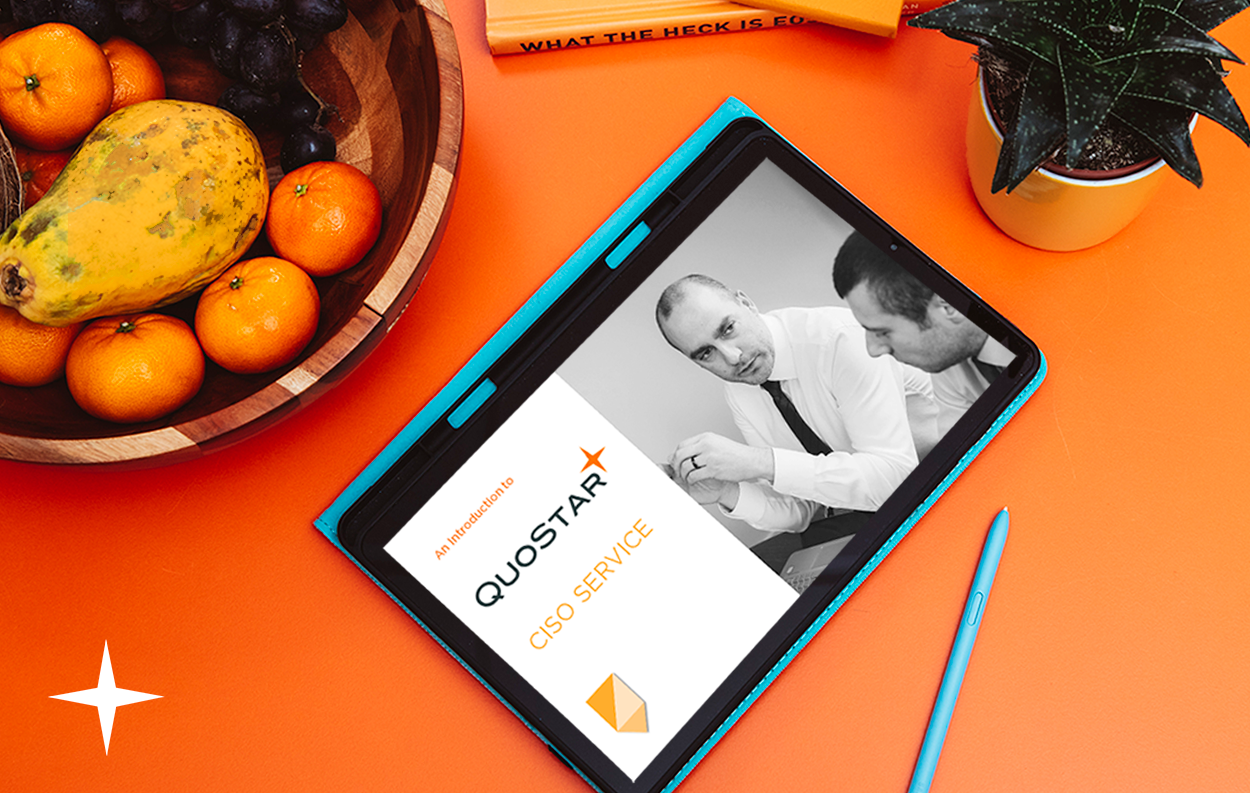 The flexible CISO service by QuoStar can help SME's navigate the ever changing cyber-security landscape.
Cyber crime is changing quickly, it's a global issue and its ramping by the day. The cybercrime industry is on-target to cost the world $6 trillion in 2021 and is forecast to cost $10.5 trillion by the end of 2025. Everyone is under threat. From the individual sat at home on their iPad or mobile phone, through to small, medium, and large-scale enterprises – even countries! 
So how do mid-market and smaller organisations protect against the clear and present dangers? Cyber Essentials? Without a doubt, cyber essentials 'does not' make you secure – it is the absolute bare minimum you need to be doing; look at it like locking the doors to your house. It is the same with anti-virus and firewalls – they are no longer enough. 
Does the board and IT team really understand the true level of risk they face in every area of the organisation?

How are those risks to evaluated and controlled?

Can they make the right budgeting decisions? 

How do they respond if there is a breach?

How do you do deal with regulators, such as the ICO (Information Commissioner's Office)?

Is their security stance continually improved?

 
That's where QuoStar's flexible CISO service comes in
As a Leading IT consultancy, QuoStar is offering you access to an on-demand CISO (Chief Information Security Officer) service that can provide organisations with flexible and cost-effective access to senior cybersecurity leadership as and when they need it – from a fully seasoned professional.  
Our on-demand service provides clients with ongoing senior IT leadership and guidance on cybersecurity strategy, management, and response from a certified and experienced CISO. They will be able to identify, control, and manage the multitude of threats and challenges businesses face in today's rapidly changing security landscape from the get-go.  
The on-demand service operates in close partnership with senior business leadership and IT teams to ensure both parties hold the relevant responsibilities and accountabilities. They will also help to run and implement Information Security Management Systems, such as IASME or ISO27001. This facilitates enhanced security governance, compliance, and ongoing continual improvement of an organisation's security position. 
The flexible CISO service is led by QuoStar's Head of Security, David Clarke, who has over 25 years of experience working in cybersecurity, formerly as Global Head of IT Security at BT and other FTSE100 companies. David currently oversees the development, implementation, and support of QuoStar's clients' information and security-related risks. 

David Clarke, comments:
"As a result of the pandemic, company boundaries have become much more fluid. So many employees now work from home. It's not always clear what belongs to the company and what is personal. Businesses are now having to manage different servers, cloud services, and access control issues. Their technology needs to be safe and compliant in all these areas before it can be performant.  
"Organisations need to adopt a multi-layer approach to security to manage these risks effectively, but that can be costly. With our on-demand service, however, businesses can truly afford to get the best protection possible, without putting undue strain on the bottom line." 
The on-demand CISO service follows the successful launch of our on-demand CIO (Chief Information Officer) service earlier this year. Our on-demand CISO service has already seen a rapid uptake of interest, with several businesses already taking advantage of the offering.  

"We are delighted to add the CISO service, alongside or CIO service. QuoStar gives mid-market and ambitious smaller businesses access to top talent at the level they need. We've always been passionate about delivering measurable business outcomes to our clients. Our aim is to reduce risks and improve the bottom line. 
We've always taken IT security extremely seriously. We have always kept up to speed with the technical controls to IT security risks. The evolution of the risk landscape, accelerated by COVID and the rise of hybrid working means we need to implement enhanced IT security governance into our wider client base. Relying on technology just doesn't cut it any longer – organisations need to be proactively managing risk, continually." 
F
ind out how your business could benefit from our CISO Service why not get in touch? Or request a free online consultation from our team today.