Blog
In the press: Seven ways to check your telco is fit for the cloud
/ Technical
March 20th, 2012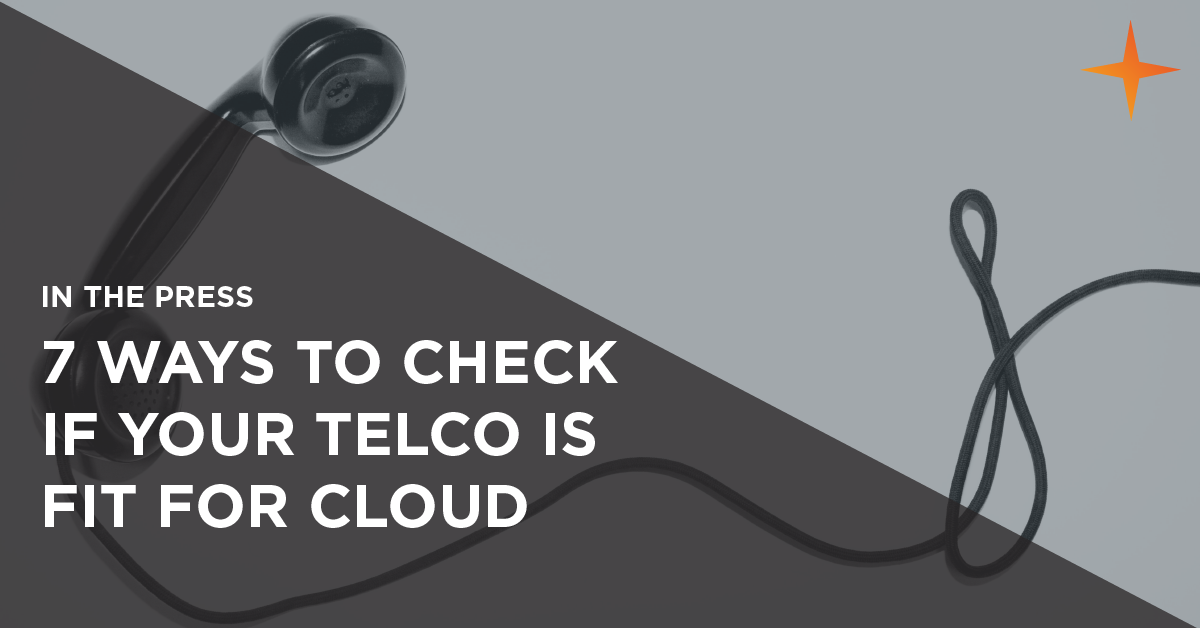 Carriers, telcos, CSPs all want to be cloud operators. But they need a complete structural overhaul before making that leap.
When they were telcos, communications services providers (CSPs) never quite convinced the market that they could offer application services. Now they want to be cloud operators. It's going to be a long way to go though.
Here are seven ways they need to change, according to our expert advisers. If you're talking to a telco, these are the areas that you need to explore carefully.
1. Demarcation
The CSPs need to be able to slice and dice their infrastructure more fluidly, which means they must be comfortable with a virtual line of demarcation. Most are used being organised into silos of information, on sales, support, billing and so on, says Charles Davis, CEO of telco aggregator The SAS Group.
"It is very difficult for them to get these silos able to work together in a virtual team and provide a solution for a client," says Davis.
The cost of funding organisational change, while revenue and margins on their legacy voice and data business falls, makes this a risky transformation.
All this means that CSPs are restrained from broadening their cloud horizons. So they can only launch the simpler, mass volume cloud solutions such as infrastructure as a service (IAAS) and co-location.
They could and should be more ambitious and offer better quality services, he argues. But telcos are typically mass market volume driven organisations, and they don't have the skill sets for anything else. "If they invested in a value solution business unit, the economies of scale – that the CSPs are used to – do not kick in," he says.
The results are very expensive cloud offerings that only the enterprise clients can afford. This is a gamble because at this level there are specialist companies who have the volume to provide the cloud services faster, better and cheaper. So how should they change?
2. Speed up
The CSPs take too long to launch new services. Sometimes it takes them two years to achieve what smaller competitors do in three months.
"Forget your Field of Dreams strategy," says Davis, "You can build it but there's no guarantee they will come. This unfocused model will result in a mediocre solution, at a poor price point with a bland service wrap."
"Speed comes from putting in the right foundations," says Natalie Duffield, director at managed IT service provider InTechnology.
The infrastructure foundations for cloud computing comprise four key parts, she says: a resilient next-generation network ring, energy efficient data centres, application platforms that sit in those data centres and UK-based 24/7 engineering support monitoring the full entity using advanced monitoring software.
What do telcos need to do to create those foundations? There are two distinct foundations that need to be built – infrastructure is one, but clarity is probably more important, says Duffield. As anyone who has ever attended a meeting with a telco with attest, CSPs don't do clarity.
A human culture change is needed says Duffield. If CSPs are to meet their promise building the delivery infrastructure is not enough.
"You have got to help senior decision makers understand the benefits," says Duffield. "That's where the need for clarity comes in, and the industry as a whole is woefully poor at translating technology into plain English business benefits."
3. Learn to work with partners
The right partner can align your product and service portfolios and make you stronger than the sum of your parts. (Conversely, the wrong partner will do the opposite.)
You can improve core networking products by interlinking them with cloud services and cloud brokering companies. But there is a drawback warns Davis. "The weakness of this approach is service assurance. You'll have to manage demarcations for complex lines of service," says Davis. "Who do you hold accountable for the incident and problem management?
This is still an afterthought for many cloud services today and a gap many customers are unaware of. A service assurance management overlay, that covers multiple suppliers, is needed. But most companies aren't comfortable with providing this, so they don't.
4. Diversify
If CSPs offer cloud services, they'll need to offer what clients want, in all its variety. Justin Fielder, CTO at managed services provider Easynet Global Services says they need to offer a range of options that customers or integrators can tailor.
Each customer will want a range of different cloud options, some based on public clouds like Google or Amazon, others using private clouds, or virtualised private servers, or a mixture of the two.
"It's much better to let customers retro-fit the network to their specific requirements, once it has fully developed and defined its cloud strategy," says Fielder.
5. Prove your SLAs are credible
Many organisations still rely on a single leased circuit or just ADSL lines alone. "This is just negligent," says Robert Rutherford, MD of QuoStar Solutions, "particularly as SLAs on network connectivity generally aren't worth the paper they are written on."
Analysts agree. "We expect more maturity and pragmatism from operators and fewer demands that everyone must play by their rules," says Steven Hartley, telco strategy analyst at Ovum.
6.  Move to the rhythm of BYOD
CSPs must plan for a world where access to service comes via a mobile device. Without the right infrastructure, this will crush most enterprise stacks. But your networks need to be latent-intolerant.
Real-time access means connection without any latency. So telcos and CSPs need to use infrastructure that can hold up to the real-time demands and activity bursts that come with BYOD crowd, says Jason Hoffman, founder and CTO at Joyent.
Slow response times make for unhappy customers and the wrong kind of turnover as customers desert you. "To nip this common problem in the bud, operators must have full visibility of their entire stack and infrastructure," says Hoffman. If you see a bottleneck, smash it, he advises, by quickly identifying and correcting latency problems in applications.
Most telcos would assume latency only happens in the network, he warns. "But in fact, the server can be the slowest part of a service. Telcos and CSPs have to think differently and act differently if they are to offer low or no latency apps and services."
7. Your data centre must move like an iPhone
For apps running in the cloud, telcos and CSPs need to think of their data centre as an integrated device that is designed like an iPhone that other devices talk to.Think iDatacenter: "They need to create a logical, multi-tenant software layer that will run apps extraordinarily well," says Hoffman. The iDatacenter needs to be independent of what is run in it. This gives telcos and CSPs full participation in the world of devices.
The path to full cloud delivery is not going to be an easy one for telcos to make but they do have certain elements on their side: the understanding of the importance of connectivity, the means to ensure delivery and highly granular billing systems that can be adapted for a pay-as-you-go model. These are not be sniffed at but there's a lot more to cloud than this and customers need to ask all the right questions.