Blog
In the press: Businesses must prepare for IT upgrade
/ Managed IT Services
November 19th, 2013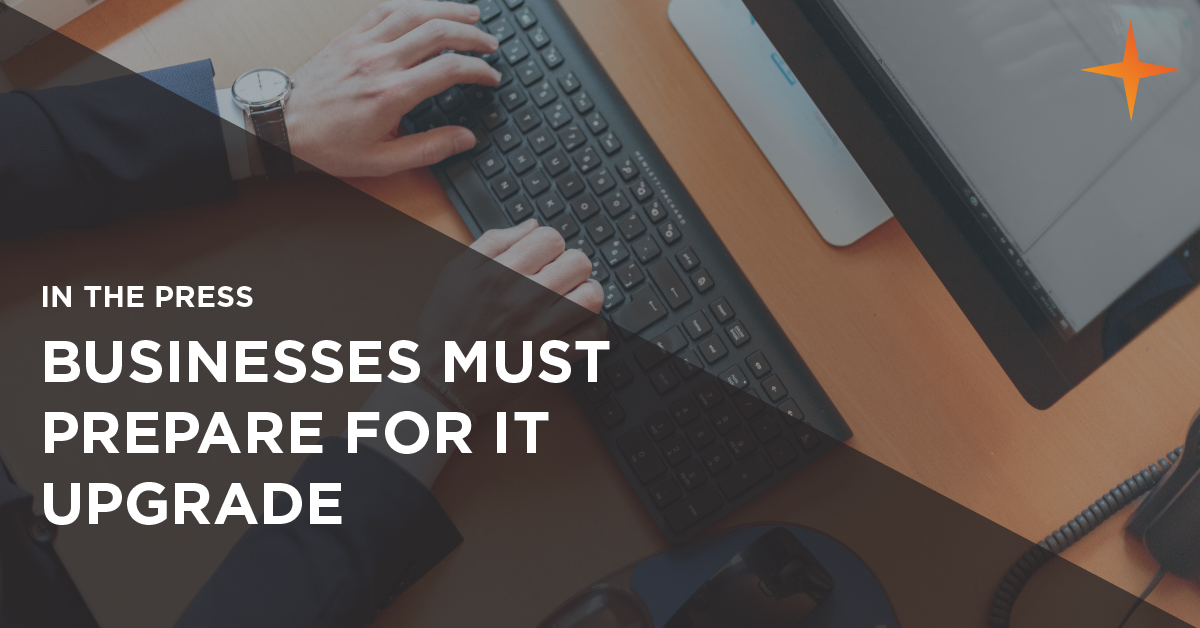 As we approach Christmas and business planners cast their thoughts ahead, it can be easy to overlook the IT hurdles that many managers will face after the break. In fact, for many in the technology industry, 2014 should be the focus.
In April, businesses will face a serious threat to their IT security and functionality due to the first major software expiry of this decade. Six versions of the most popular Microsoft products will go 'end-of-life', meaning that Microsoft will no longer release or support updates for these products.
Without updates, this software will rapidly become vulnerable to outside dangers. These dangers can range from hacking and invasive malware which can steal data and spy on activity through to highly destructive viruses like 'worms' and 'Trojan horses' which can wreak havoc on unprotected IT infrastructure.
Any systems, information and processes connected to the software will also be vulnerable to these outside dangers.
Finally, it should be noted that failure to upgrade will typically be recognised as a control failure by an internal or external audit entity. This could potentially leadi to the suspension of certificates, and possibly public notification of the organisation's inability to maintain its systems and company information.
Should my business be concerned?
Possibly. If a company has any of the below Microsoft software, then it needs to take action quickly:
Windows XP
Office 2003
Exchange 2003
Live Communication Server 2003
SharePoint Portal Server 2003
SBS 2003
The looming upgrade issue is one that every business needs to be aware of. This topic has been brushed aside as an unwelcome expense, but time has now elevated it to 'business critical' status. There are thousands of companies in the UK that are unknowingly steaming towards this iceberg and by the time the dangers have presented themselves, it will most likely be too late to prevent any damage. This is not scare-mongering; these threats are real.
Depending on the size of the environment, upgrading could be complex, as the problem extends beyond a new software purchase. Below are a few questions that may help businesses to outline the implications:
Questions to ask
Will your existing hardware support new operating systems and/or software?
Will your other applications work on the new operating systems and/or software?
How will you overcome any compatibility issues?
Will your employees need training to use the new operating systems and/or software?
How long will it take to roll the new software out?
Whilst the list above is not exhaustive, it helps to explain why you cannot put off the problem any longer. There are other options, such as thin-client or moving to the cloud, but you cannot implement these changes overnight.
At this stage, the problem is one of urgent budgeting pressures. Businesses need to assess to what extent the expiry will affect them and what money they will need to divert for replacement software – and supporting hardware. However, over the next 6 months, the problem will develop from one of "budget" to one of immediate security and reputational threats.
Source: Business Computing World