CISO Service
QuoStar provides business executives and IT teams with a dedicated Senior Information Security Professional, on a cost-effective, flexible basis.
Every

single

business is a target for cyber-criminals.
In the wrong hands, business data offers the malicious actors the opportunity to inflict significant reputational damage while reaping financial rewards. Customer data, financial details, business strategies and intellectual property can all be monetised. Plus, with increasingly sophisticated methods of attack, it's becoming even easier for unauthorised parties to gain access to this data.
New threats are constantly emerging and, with more businesses embracing hybrid and remote working, the attack surface area is only widening. Even with an IT team in place, it's nearly impossible to keep up with security events, while also delivering daily support and business improvement projects.
However, with a global shortage of senior cyber-security professionals, coupled with the prohibitively expensive costs of retaining a full-time, dedicated expert, many businesses may struggle to access the appropriate level of support required.
QuoStar designed the CISO Service to address this exact problem.
Businesses get access to a dedicated Chief Information Security Officer who will provide senior security leadership and take responsibility for identifying, controlling and managing risk. Making sure the business's security posture is strengthened.
Where a business already has an IT team in place, the CISO will work in partnership with them to deliver the service. Ensuring knowledge sharing and continual development of internal capabilities.
WHY SHOULD YOU PARTNER WITH QUOSTAR?
We're focused on consistently delivering excellent client service
To date, this year, we have consistently received positive feedback from all our clients regarding our service delivery.
We've retained nearly 100% of our clients since our inception in 2005
Every service, every project every interaction is backed by our Outcome Assured guarantee. We promise to deliver the results expected.
WHAT'S INCLUDED?
The core deliverables of QuoStar's CISO Service
Ongoing senior IT security leadership and guidance

IASME or ISO 27001 implemented and managed

The ability to manage and respond to cyber-security threats

A defined, ongoing roadmap for cyber-security protection

All key documentation agreed and in place

All key parties engaged in security standards implementation
An overall cyber-security strategy and tactics

All key stakeholders understand the business objectives 

The ability to formally evidence management of cyber-security

Continual review & evaluation of the threat landscape to control your risk profile
THE BENEFITS
Why should you choose QuoStar's CISO Service?
MEET THE TEAM
QuoStar's Head of Security
In his role as Head of Security, David leads the CISO Service for QuoStar. He's backed by a team of expert security consultants, technical architects and engineers, ensuring businesses have access to the appropriate information security skill-set, knowledge and development.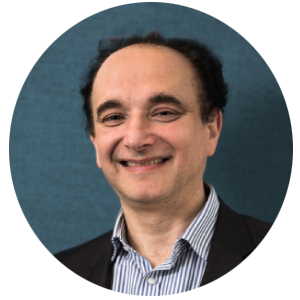 David Clarke
David is a highly experienced cyber-security consultant, who has worked with clients ranging from the FTSE 100 through to SME and start-up level. Previously holding Global Head of IT Security roles at BT and Radianz (formally Reuters), he has been responsible for managing the security infrastructure and delivery of ISO 27001 for multi-billion/trillion-dollar environments.
With over 25 years' of cyber-security experience, David has worked across multiple sectors, including financial services, government, utilities and FinTech. He is responsible for implementing change, awareness, and maintaining information security-related risks for clients, with a focus on reducing operational risks and improving ROI.
WHO WE WORK WITH
CISO Service is a great fit for businesses looking to demonstrate a strong commitment to security
HOW WE WORK WITH YOU
CISO Service Framework
YOUR BUSINESS
Do we need a CISO?
If any of these common pain points resonate with you then you could benefit from the CISO Service
The company deals with any sort of personal or sensitive data (e.g., client data, financial details, intellectual property, business strategies etc.)

The business has previously been a victim of a cyber-attack or had a close call with an attempted breach

The IT team lacks the capacity to focus on security events, on top of managing BAU operations and project delivery
Security leadership is required, but a permanent hire is not financially or operationally viable

The senior leadership team are unsure of all the IT Security risks and how to quantify them

The business needs to evidence best practice security measures to prospective clients and regulators

The business or its clients, operate in a highly regulated industry
F.A.Q
Common questions about outsourcing the CISO role
What is a CISO?
A CISO (Chief Information Security Officer) is a senior-level executive who is responsible for an organisation's information and data security. They establish and manage the strategy, frameworks, and policies to ensure information security and technology assets are adequately protected.
What does a CISO do?
The role of the CISO is widening, but essentially, they are responsible for the strategic, operational, and budgetary aspects of information security management and protection. They provide a focal point for all IT security-related measures, driving the business forward in a balanced and measured way by ensuring the risks are continually reviewed and security is embedded into day-to-day operations.
We already have an internal IT team, is this a good fit?
Yes. CISO as a Service is not designed to replace any member of an internal IT team. Instead, it bolsters capacity and provides businesses with a much-need specialist security skillset. The threat landscape develops so rapidly that it is nearly impossible for IT teams to keep up with all the new and emerging security events, while also delivering day-to-day support and improvement projects. Engaging with CISO as a Service removes this burden from your IT team, allowing them to focus on core areas, while still ensuring your business is protected. 
Why shouldn't we just hire our own CISO?
Of course, this is an option, but most mid-market businesses don't have a requirement for a full-time CISO. Plus, with a global shortage of information security professionals, it can be difficult and prohibitively expensive to hire and retain someone yourself. With QuoStar's CISO as a Service, you get access to the same technical and strategic skillset, but on a cost-effective, flexible basis.
Who delivers CISO as a Service?
You will be allocated a dedicated Senior Information Security Professional who will act in the capacity of a CISO. They will take accountability for IT risk management and ensure the senior leadership team fully understands the risk position of the business. The CISO will ensure the company can respond to any potential cyber-security issues and can evidence best practice standards, by ensuring the appropriate strategy, frameworks and documentation are in place.
We outsource our IT support, can we still use this service?
QuoStar's CISO as a Service is a completely independent consultancy service, so there is no conflict with existing IT support provider contracts. We assess your IT security risks in the context of your business position and the threat landscape, so we can identify threats and recommend mitigating actions in line with best-practice information security standards.
Does your business take security seriously?
Demonstrate your commitment to security to your clients and prospects by engaging with CISO as a Service. Book a free initial review with our IT Security Consultants and see how we will help you to strengthen your defences.
For more tips and advice on how IT Security and effective Risk Management, check out our blog