Blog
Are you using WhatsApp for business communications? 2021 is the year to stop
WhatsApp is one of the most popular messaging apps worldwide. Offering all the tools you need to stay in touch, completely free, it's easy to see why it has over 2 billion users worldwide. Plenty of businesses have turned to WhatsApp as a communication channel, but thanks to the latest privacy policy update – not to mention existing security issues – 2021 should be the year to ditch it.
/ IT Security Services
January 13th, 2021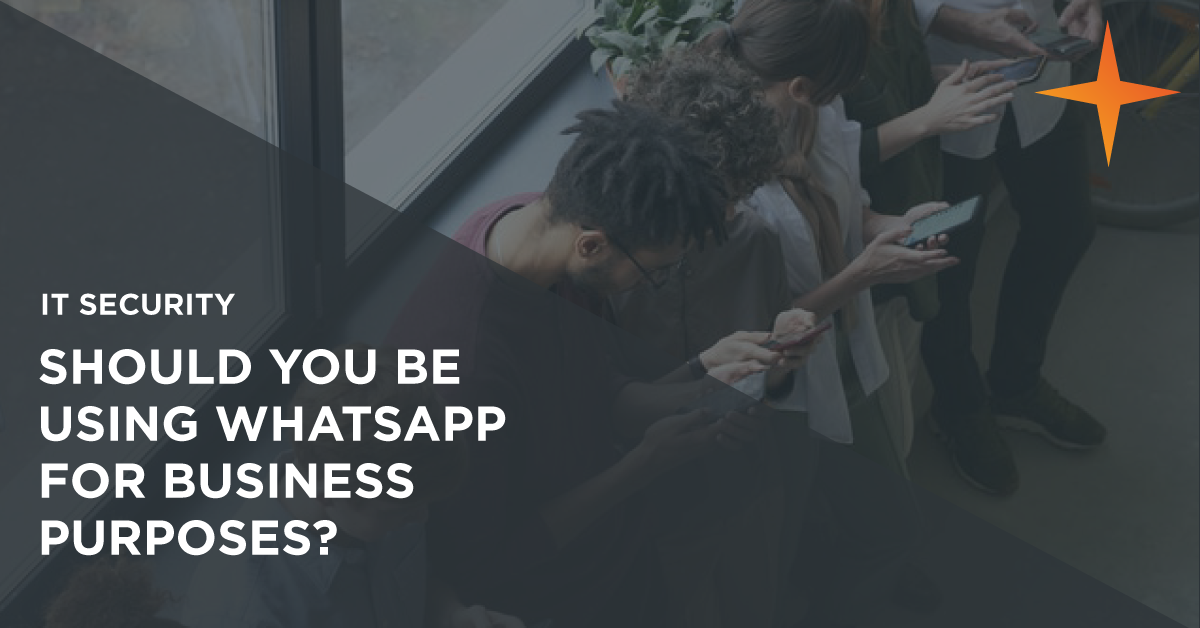 While WhatsApp is a consumer-grade application, many people are using it for business purposes. It's free and it's easy to use – most people are probably already using it – so it seems like the ideal communication tool, particularly now many employees are working remotely. 
But is 

WhatsApp

 

really suitable

for business communication

?
Privacy Policy Updates
WhatsApp was acquired by Facebook in 2014. At the time, CEO Jan Koum stressed how deeply he valued the 'principle of private communication'. However, just two years later, in 2016, both apps announced they would be 'coordinating more'– but did give users the option to opt-out of sharing their personal data with Facebook.  
This time around, there is no opt-out. 
Users who want to continue using WhatsApp after May 15th 2021, have to agree to the updates made to its terms and privacy policy. This means being prepared to share their personal information such as names, profile pictures, status updates, phone numbers, contacts lists, and IP addresses, as well as data about their mobile device, with Facebook and its wider companies. Users who don't accept the new terms will be blocked from using the app. The new policy, which applies to all users outside of Facebook's European Region (including the UK), also means that simply deleting the app from the device will not prevent WhatsApp from retaining a users' private data.  
Since the privacy policy changes were announced, WhatsApp has now said that it will not be sharing personal data from people who previously opted out of sharing their information with Facebook. According to The Register, this setting will be apparently be honoured going forward next month, even if you agree to the new policy. For all other users though, there is no opt-out.  
A WhatsApp spokesperson also said this update 'primarily centres around sending messages to businesses to get answers and support', claiming there will be no change in data-sharing for non-business chats and account information. However, there has been much criticism and concern about the update online.  
Update: 12th May 2021
Originally, WhatsApp planned to roll out its privacy policy update on February 8th 2021. However, due to huge public backlash and confusion, they opted to delay until mid-May. Through a series of updates, WhatsApp attempted to clarify its position, reiterating that the update is mainly meant for businesses using its messaging platform. But nonetheless, WhatsApp stated that the change would not impact "how people communicate with friends or family" on the platform. The company also specified in a blog post that it would continue to provide end-to-end encryption for private messages, and it didn't keep logs of its users' messaging and calling.
However, despite the clarification around data sharing, there are still plenty of reasons why businesses should stop using WhatsApp for business-related communication
GDPR Compliance and Liability
WhatsApp makes it abundantly clear that the app is designed for personal use in their Terms of Service. 
"Legal And Acceptable Use. You must access and use our Services only for legal, authorized, and acceptable purposes. You will not use (or assist others in using) our Services in ways that: … or (f) involve any non-personal use of our Services unless otherwise authorized by us." 
After installing WhatsApp on your device, you'll receive a pop-up asking for your permission for the app to access your contact. It requests that you 'Upload your contacts to WhatsApp's servers to help you quickly get in touch with your friends and help us provide a better experience". Agreeing to this means that all your phone contacts are accessible in the app. The problem is, it doesn't distinguish between personal contacts and business ones. Your contacts haven't given permission for a third party to access their personal data, which could be a potential breach of GDPR.  
WhatsApp has been clear that is for personal use. Users must agree to these terms and conditions before they can access the service and WhatsApp can access the users' contacts. Therefore, the responsibility for GDPR lies with the user, not the app. 
Individuals who use WhatsApp for any business communications are in breach of the terms of service. This limits WhatsApp liability for GDPR because they have given the user all the responsibility for seeking the permission of their contacts.  
Security Risks of WhatsApp
Using WhatsApp for business communications is fraught with security risks too. While the app famously boasts security due to its end-to-end encryption, there have been plenty of reported hacks and flaws.  
Just last October, security researchers revealed that links to thousands of WhatsApp chats were accessible online. Although there was a quiet change to stop the links from being indexed by Google, the information was still readily available on other search engines. The group's title, image, description and owner's phone number were all readily accessible, you didn't even need to actively join the group.    
WhatsApp communications are also notoriously difficult for companies to monitor. It may be possible if they are taking place on a corporate-owned device, but even then, there are multiple hoops to jump through. Companies could require the employee to surrender the device, but to access the content itself, there would need to be an IT policy that states WhatsApp as an acceptable communication channel for business purposes. Although, this policy would be in breach of WhatsApp's acceptable usage policy. The IT policy should be crystal clear about the firm's right to access and for what purposes (ensuring these are proportionate), so the employee has no expectation of privacy.  
Things get even more complex if the employee owns the device and WhatsApp has been installed outside of a mobile device management (MDM) container installed as part of a BYOD policy. The same policy that applies to the corporate-owned device could be extended to employee-owned ones as well. However, given the device is owned by the employee and used predominantly for personal use, it is doubtful whether a forced surrender and access could be seen a legally proportionate.  
If there's no BYOD policy in place? Access is near impossible. As a personal device, the employee would have much higher expectations of privacy and there would need to be an extremely compelling reason, akin to a criminal offence, for an employer to try and obtain access.
What should you use instead of WhatsApp?
While you could write WhatsApp into your IT policies as an acceptable communication channel for business communications, you would knowingly be in breach of the app's acceptable usage policy.  
Plus, even with that in place, there is still a myriad of security, privacy, monitoring and accessibility concerns linked to the app's business usages. That's before you even begin to factor in cultural problems potentially caused by the informal nature of the app. Employees could post personal messages to work chats by mistake, accidentally share their live location, or information could get lost between multiple group chats. 
Instead, it's much better to opt for a business-grade secure communication solution. Many of these solutions function in the same way as consumer-grade apps, giving users a familiar interface so they can get started immediately, but with much stronger security. Solutions are available across multiple devices and will protect your voice, video and text data in transit and at rest, preventing accidental leakage or malicious attack.  
Join the Business & IT Leaders Forum
Do you want to receive more content like this? Then join our Business & IT Leaders Community. Not only will you receive our monthly briefing with more business improvement tips and advice, but you'll also get exclusive

 access to virtual events 

designed for leaders who want to make strategic improvements and get ahead of the competition.