Blog
The top 5 IT support problems for growing businesses and how to fix them
/ IT Support
Last updated on April 15th, 2020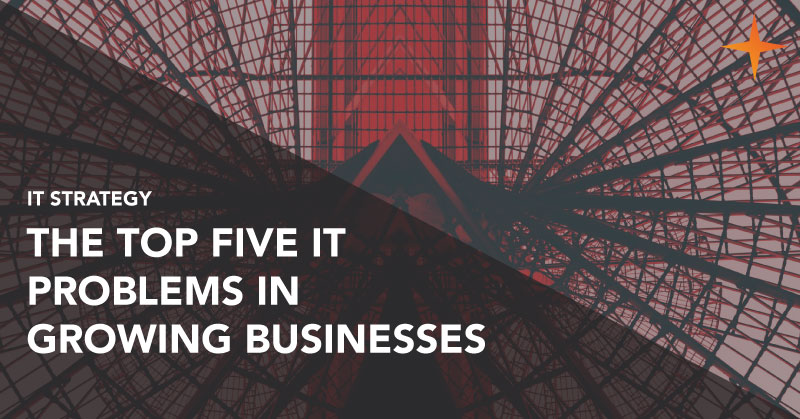 IT is critical for the day-to-day operations of the majority of businesses, and when used effectively it has the potential to drive dramatic growth. Though small businesses often do not have a large budget, there are areas of their IT management which can easily be improved – without the need to invest a lot of financial resources. Here are five common IT problems facing SMEs, and how to resolve them.
1. Migration and integration pain
New technologies do not always slot in well with older systems and applications, and this can result in duplicate data entry and other inefficiencies. If you don't have the time, experience or resources to deal with more complex migrations then the IT project that was supposed to transform your business can end up being painful and time-consuming. Thorough planning before an implementation and a migration strategy can help your business to avoid these issues. Alternatively reach out to a provider who specialises in zero downtime migrations, and who has the experience and dedicated resources to make the change as painless as possible.
2. Reactive approach
"If you're proactive you focus on preparing. If you're reactive you focus on repairing". Systems need regular maintenance to ensure they run properly and securely, and without that issues can quickly turn into expensive and time-consuming emergencies. When there is a process for tracking issues, it allows IT teams or providers to analyse and identify trends. Upon further inspection of a trend, they may find that the issue is a symptom of a greater problem. Instead of solving the same recurring issue every time it crops up, take a proactive approach and find a solution to the root cause. This would make the issue go away for good, and allow your business to be more productive – instead of firefighting problems.
3. Business strategy is disconnected from IT
Business leaders are often disconnected from IT and can fail to see how technology fits into the bigger picture. Other can go even further, viewing IT simply as a necessary evil which demands spend without delivering any real value. If your business views IT in this unfavourable light then you are missing out on a world of potential, likely making it harder to achieve your goals. If you're planning on doubling the size of your business in the next three years but don't inform IT, how will you ensure you have the infrastructure, systems and processes in place to support that growth, in that timeframe. When IT and business strategy are truly aligned, and working in partnership, a business can scale without limits.
4. Increasing security risks
Although technically not an issue only facing SMEs, the number of security threats directed at small businesses are rising. SMEs are often more at risk simply because they don't believe they are a target for a cyber-criminal. Trade secrets, confidential communications, customer information and HR records are all of interest to hackers, as they can exploit them for financial gain. The reputational damage a successful breach causes is enough to severely weaken – and in some cases permanently destroy – even the strongest of brands.
Of course, there's a number of security solutions to consider, but in order to truly mitigate the risks, you need to think beyond technology. Staff training is one of the most valuable investments a small business can make. Your people are your first line of defence and if they know how to recognise the signs they can be an effective barrier against cyber-criminals. You should also look at undertaking certifications such as Cyber Essentials, Cyber Essentials Plus and if you're really serious about security, ISO 27001 accreditations. These certifications will ensure your business has the appropriate security measures in place and demonstrates to customers that you take cyber-security seriously.
5. Keeping up with change & innovation
The pace of change in the IT sector is incredibly fast. It seems that every day there is a new product, solution, piece of software, best practice update that will not only transform your business but is essential if you want to keep pace with the competition. The difficulty lies in not only keeping up with all these changes but also being able to identify what is a necessity, what is a worthwhile investment and what is a gimmick.
Ideally, you need to have someone in a management role who deals directly with IT advancement and works consistently with other departments to ensure seamless integration. However this can be a challenge for small businesses who lack resources, so another alternative is to work with an IT support provider who have the resources, expertise to keep up with technological change and who can advise you on making the right investments. A quality IT support provider will make recommendations backed by a clear business case, rather than just using a new release as a sales opportunity.