Blog
8 IT predictions for 2011 and beyond
2010 feels like it's been a more or less a treading water year within IT, but there is a lot bubbling that could make 2011 relatively exciting. Robert Rutherford shares his IT predictions for the year ahead.
/ Technical
December 30th, 2010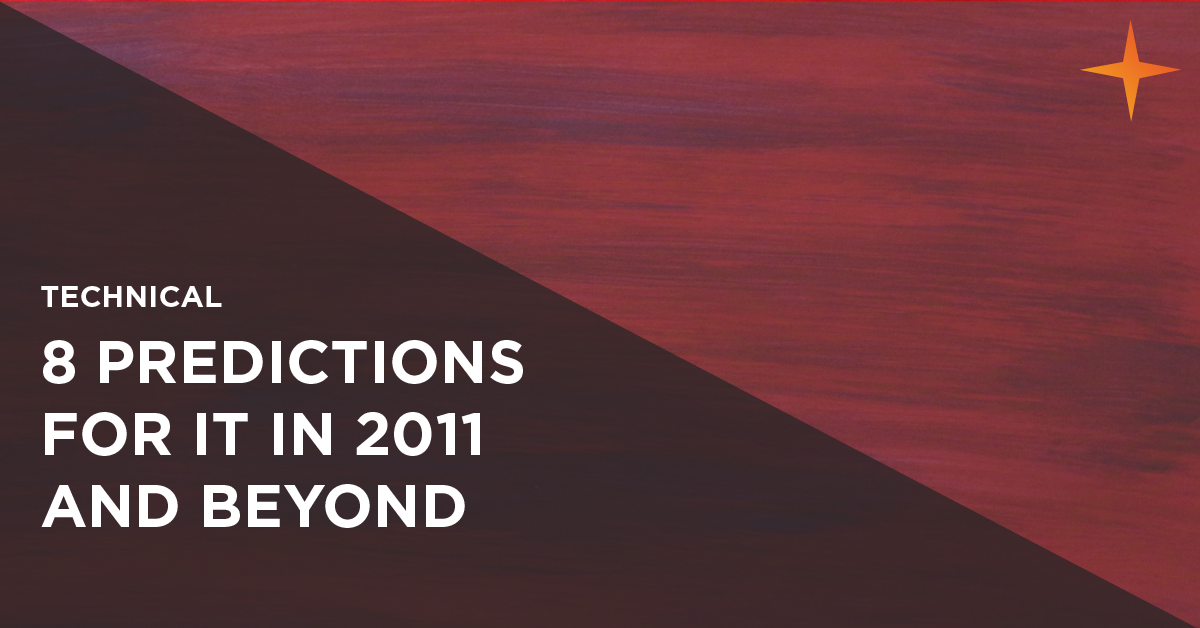 Well, 2010 has been a fairly interesting year. We've seen the mobile phone market develop, the iPad launch, storage bulge (as always) and huge marketing of 'the cloud'.
Obviously, times have been difficult but that's what makes IT interesting. Using technologies and systems to improve business on whatever budget you have (or don't have).  I've put down a few of my predictions for 2011 and beyond.
My IT predictions for 2011
1. An increase in cyber-warfare
Be it from state-sponsored departments or activists we are waiting for the big one. The big one being the taking down of a corporate or a major utility within a country, for a substantial amount of time. As I've stated before we'll see governments taking greater control of the major IT assets of the internet to try to protect their citizens and businesses. This will undoubtedly cause an uproar but in my opinion, it is necessary.
2. An explosion in IaaS/PaaS
'The cloud' in general has been growing as we all know but I'm sure you'll see an even faster rise in the IaaS and PaaS space. The biggest drive coming from internal IT teams building their own private clouds, thus gaining the benefits of the cloud but still retaining control they all desire.
3. The second coming of CRM
The first coming of CRM back in the 90's hurt a lot of businesses and careers. Many organisations just ended up with a large and expensive customer database that quickly went out of date.  10-15 years is a lifetime in IT and the new products and technologies really make CRM work. The cloud, demonstrable ROI and per user per month payment models remove much of the doubt and risk for companies wishing to realise the potential benefits. I believe we'll also see these models push the ERP and Business Intelligence markets on in 2011.
4. The new IT manager/director
IT is no longer just a supporting function to a business – it is the business. The technical part of IT is often the easy part and there is no longer room for a pure tech head leading IT in any sized organisation. I should state that I'm not saying that you need someone without any IT background as I believe that the strongest leaders within IT have a technical/systems background. We all know that IT can deliver huge advantages to an organisation, and the department heads with broader business skills are going to be the new stars of the boardroom and the business press.
5. Security issues on smartphones
Without a doubt, we are just waiting for a big security vulnerability to be exploited on one of the major smartphone platforms. The opportunity for cybercriminals is vast and the rewards too great to be ignored. It's stunning how many organisations close their eyes to the risks. You'll certainly see the mobile security market boom as soon as any major flaw is exploited.
6. More data leaks
Many organisations are still closing their eyes to the risks from data leakages, particularly where encryption is concerned. This will certainly lead to more 'lost laptop' scandals. I do also predict a rise in the Data Leak Prevention market, as the volumes of data within organisations are now typically large and difficult to control, thus all-encompassing and inline protections are required.
7. A big growth in IT spend
Organisations have sweated their assets for too long and they are either at risk of failure and/or falling behind their competition. Investment in new hardware, software, systems and services will be on the cards.
8. Mergers and acquisitions
We'll see significant mergers and acquisitions, particularly within the storage and cloud markets. We've already started to see it to some degree this year but expect more in 2011.
A few bonus predictions…
You'll see lots of tablet devices come onto the market – surprise, surprise!
The big battle of 2011 will be between Apple and Google in the consumer market.
You'll see a bigger push to IPV6 due to the number of devices connecting to the internet.
Let's see what happens over the next 12 months. I'm sure it's going to be very interesting when mixed in with the global shifts and financial woes.
Whatever happens, I wish everyone a successful 2011.