Blog
Migrating to Windows 7 or 8
/ Technical
October 9th, 2013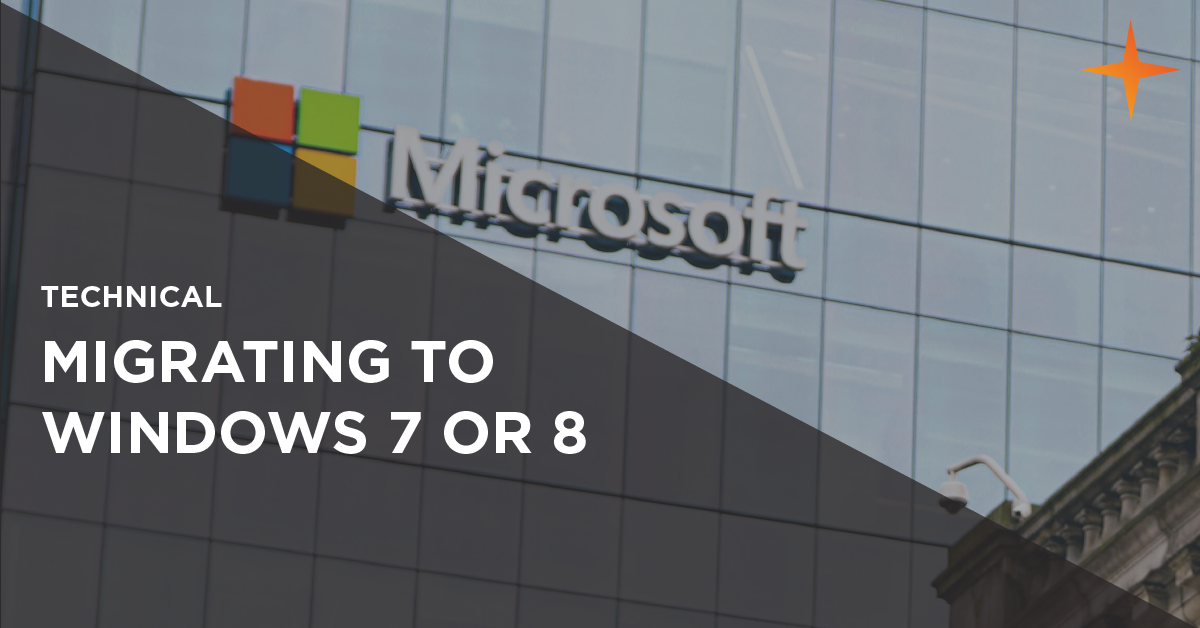 "Microsoft 'U-turn' sees Start button back on Windows 8" – BBC.
"Windows 8 'sales' barely half as good as Microsoft claims" – The Register.
"Microsoft Surface tablet 'fire sale' now underway" – InfoWorld.
Based on these headlines, you'd think Microsoft is dead in the water, Windows 8 a flop and its Surface computer finished.
In reality, headlines like these simply sell newspapers and allow some journalists to carry on their anti-Microsoft feuds. They do not reflect Microsoft's current position in the market. Nor do they do anything but distort the contribution to productivity that the latest iterations of Microsoft's foundational operating system could make to your organisation.
Indeed, some might question why organisations still retain older versions of Windows at all. The answer comes down to two legitimate business reasons:
Past upgrades from one version of Microsoft's core platform to another have not always been smooth. And in some cases, the replacement versions have not have warranted the effort.
The CFO, quite rightly, will look in a time of economic restraint to sweat assets for as long as possible so as to curb needless expense.
A notorious example of the first issue, which is probably still in many CIOs' minds, was the jump from NT to Windows 2000, or even Windows 2000 to Windows XP, which resulted in a great number of compatibility issues and driver hassles.
However, Microsoft learnt its lesson and the transition from XP to Vista to Windows 7 has been progressively smoother. This is also the case in the shift from 7 to 8, though some people reading this will still be leveraging their investment in one of the older versions of the operating system.
So –why should you move? Well, because it's not only easier this time, it's also worth the investment. For example, with 7, Microsoft has invested in dealing with the backwards compatibility issues that so bedevilled earlier transitions.
However, it is worth saying that there is not a huge gulf between 7 and 8, despite what you might have read. And with the first Service Pack, 8.1 (with, yes, the 'Start' button's return) this is even less of an issue.
As a result, version 8 is also a legitimate destination. Given what it can offer in terms of cross-device support and compatibility, it could be a good option if you are evaluating a move to the cloud.
Many employees are increasingly not using their PCs or laptops to do much local processing, but rather as a jumping-off point to access cloud-based and thin-client services. Windows 8 could be seen as a portal to the cloud. The fact that its 'Metro' interface has been built specifically for tablet and mobile devices also offers potential productivity gains.
Of course, it may seem a 'bridge too far' to go to 8 or 8.1 if you are still mostly an XP shop. Though Microsoft is almost forcing a choice on you, as XP is near end of life anyway. It's also undoubtedly true that in this tough economic climate, a blank cheque for a desktop refresh is hard to justify. Even though many organisations will tend to accept that a five-year cycle onto new hardware is economically sensible.
Nonetheless, a migration to Windows 7-8.1 can still offer enough benefits to make it a serious proposition. Especially if you have the hardware in place to accept a shift to these versions but have not yet done so.