Blog
Looking ahead: Business technology trends for the mid-market in 2019
/ Technical
December 17th, 2018
There is no doubt that technology delivers advantages to every practical area within a business. It's the main battlefield for getting a competitive edge and businesses are clambering to reap a reward for their investment in IT.
So, what is going on and what are the coming trends for 2019? Unlike in previous years, it's not all new developments. This is partly driven by the reluctance of businesses to adopt new technologies and partly because we are in a period of consolidation, where existing technologies are being improved rather than new business-applicable technologies emerging.
But although many of these trends will be familiar to the astute business leader, some come as quite a surprise.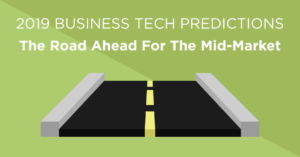 Automation
Automation is everything. If you are already automating you should certainly be reducing costs through the streamlining of operations – especially in task-based work. Every click, every mouse movement, every call and every walk to the printer costs time and ultimately money.
Automation is now on the rapid rise in marketing and customer service – improving the customer experience by automating elements of your engagement with them.
The rise of technologies, such as artificial intelligence, chatbots and behaviour-triggered tasks is revolutionising the level of service a business can deliver for its customers. It's ensuring that a customer's expectations are met or exceeded, leading to increased client and prospect satisfaction.
If delivered correctly you should be both attracting and retaining more clients right now. The size and pace of change in this space is now so huge that you can't avoid investment here – it's now expected.
Portals
Client portals are useful and can provide significant returns on investment in both B2B and B2C. People are tired of paper-based communication and don't want to ask every time they want to access information. Customers and partners want to go online as and when they want and get access to data and information on demand.
Portals improve customer retention and reduce communications and time spent retrieving information. When teamed with automation, portals can be extremely powerful.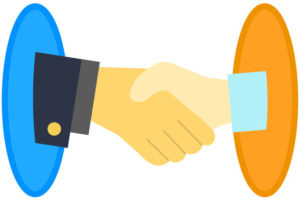 BI (Business Intelligence)
Computing came into wide adoption across businesses as it helped improve productivity around task-based work. It also gave financial and management information that drove business decisions.
Over the last couple of decades, both areas have slipped, and IT has simply been seen as a cost by many. However, BI is really making a comeback. Giving both small and mid-market business access to valuable data that can deliver much-needed insight.
This has been driven by the maturity of the software products and the dramatically reduced cost of computing and storage costs, which is in turn driven by the rise of the cloud.
IT is generally the main way that businesses can gain a competitive advantage and BI is playing a big part in that. Leaving businesses that are yet to adopt it at risk of missing out.
Security Basics
Finally, more businesses are taking their IT security seriously.
Much of this has been driven by the increasingly real threats in Ransomware, Phishing, Cryptojacking and the like. With malware becoming easier to acquire and distribute and the payouts for breaching a business growing ever larger. It's simple to see why businesses are taking the threat of a cyber-attack more seriously.
Although some businesses just pay lip service to security, many are now covering the basics with security standards, such as ISO 27001 and the UK government-backed Cyber Essentials and Cyber Essentials Plus accreditation.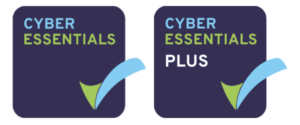 It's bewildering to see the percentage of businesses that still don't at least follow the Cyber Essentials guidance, as it's free to download. Perhaps it would have been adopted wider if they called it Cyber Security Basics – as that's what it is.
Get Cyber Essentials certified here
DRaaS
The cost of delivering Disaster Recovery (DR) and business continuity services to businesses is now a fraction of what it was 5 years ago. This has in the main been made possible through the rise of the cloud and the switch to subscription licensing from most software vendors.
IT is now the heart of most businesses and downtime really costs – in monetary terms but also in reputational damage. Now in most cases, there's no reason for sustained outages as most IT environments can be replicated to another site cost-effectively, typically in the cloud.
Gone are the days when businesses need to invoke mammoth DR plans to rebuild whole IT infrastructures from scratch. Now a mirror image of the IT system is sat there ready to go 24x7x365.
Agile Working
It's been a buzz word for a long-time, years even. However, there has been a definite shift over the last 18 months that will likely continue into 2019 to a more agile work setup. This is due to significant changes in technology but also cultural shifts in the work-life balance.
It's much simpler to work from home and to be productive than it has ever been. Even working from a mobile phone is possible for many positions. Mobile applications have massively improved since the rise of the iPhone, Android and applications such as Microsoft Office 365.
But agile working doesn't just mean working from home – it's about working where you are most effective.
If your role involves lots of communication with team mates and other departments then you probably do need to be in the office most days. However, some days you may need to catch up on an important project and need to focus. In this case, working from home may be a sensible option – away from distractions.
Hybrid Cloud
The cloud revolution is still going in one direction. Upwards.
In the main, most mid-market businesses are using some form of hybrid cloud solution to deliver IT service. This will generally be a mix of private cloud, on-premise and public cloud, such Azure and AWS.
Most businesses are now in their 2nd-generation cloud platforms and it's most certainly the norm. The main difference now it that many are using the public cloud more, particularly for DR and backup services. Traditionally the public cloud has been expensive for this use. But Microsoft and Amazon have made a real effort to get more enterprises onto their platforms.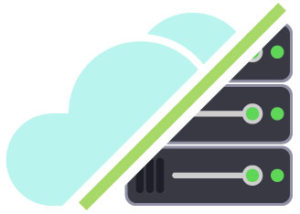 Conclusion
Despite the term 'trend' these areas should not be thought of as fleeting, popular things of the moment or hype. Many areas, such as DRaaS and security basics, are already essential to business. And others will only become more so – whether that's down to client demand or the need to compete in a crowded marketplace.
Hopefully, as businesses begin to better understand these trends and evaluate the business case based on the returns they could deliver, rather than the flat initial financial outlay. We will start to see a wider adoption. In turn, we would expect this to lead to better service, security and performance all round.
Obviously, there may be other trends which may arise. But, based on what our team have seen in the last 18 months, these are the key areas we expect businesses to adopt and develop further.
We'd love to hear your thoughts on predictions for 2019. Do you agree? Disagree? Think we've missed out something vital? Tweet us your thoughts @QuoStar
Robert Rutherford, CEO of QuoStar