Blog
Is VDI the answer to the current desktop challenges?
/ Managed IT Services
July 7th, 2011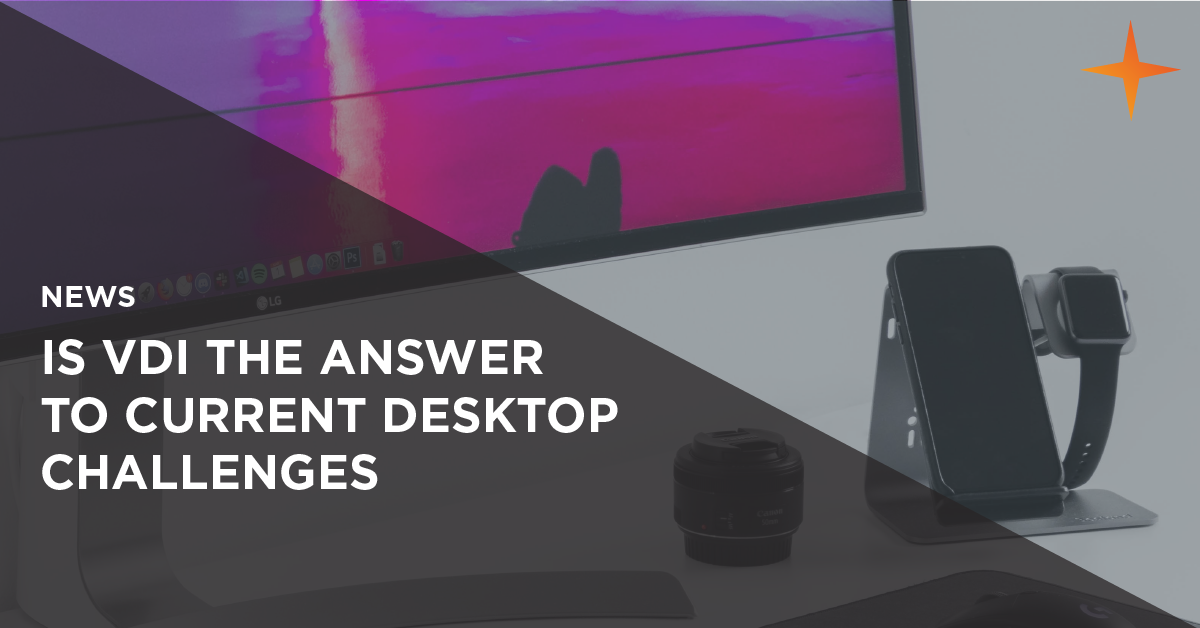 I was recently asked a number of questions by a journalist, revolving around whether virtual desktop infrastructure (VDI )was the answer to the current management challenges facing traditional PC based environments. The questions and answers are shown below.
What are the challenges of managing desktops today?
Hardware failures are still a pain in an environment when they occur, it's difficult to avoid though as PC's are still electrical devices and have moving parts that do fail.
Patch management has eased but is still a bit of a pain, as are general software installations and updates. When you are pushing updates to a whole estate, if an issue occurs that affects every machine then that can hurt. It hurts that much more if you can't reverse the update and have to visit every machine by hand.
Hardware updates, in general, can be a pain in some environments, i.e. a company has 7000 machines across 40 offices that need a memory upgrade to support a new piece of software.
The threat surface in a desktop environment is obviously an issue. You have all of those endpoints out there and a breach of one could turn into a breach of all, typically fairly easily. The more desktops the greater the risks and the more expensive systems you need to implement for control. Also, the level of complexity naturally incurs greater costs.
The fork-lift upgrade of whole PC environments is relatively costly in terms of time and money. You have the capital costs in terms of hardware and software along with the rollout and associated costs.
Rebuilding and reimaging PCs is probably the most hated of all the jobs undertaken by a service team.
How can desktop virtualisation mitigate those challenges?
Desktop virtualisation removes the reliance on desktop hardware. If there is a failure on the desktop device then it can be simply be swapped and the user is away and working quickly.
It's also typically easier to manage and support a virtualised desktop environment due to the single platform and the management tools and utilities available.
Generally, it's considerably easier to push out updates and new software on a virtual desktop platform. It's certainly easier to roll back the whole estate with relative ease.
It is easier to manage the security of a virtualised desktop environment as numerous entry points are realistically one
The desktop estate's upgrade cycle is often pushed out for at least two years and upgrade costs are generally cheaper in terms of the hardware itself. It also dramatically reduces the man-hours involved in future upgrades as it's just a matter of swapping a device, which does require IT knowledge.
The beauty of the virtualised desktop platform is that it's relatively simple to migrate to as the process doesn't need to be a big bang approach. It can also be trialled without charge.
What other challenges does virtual desktop infrastructure introduce?
Some organisations will implement VDI as a pure cost-saving exercise in terms of capital expenditures. Often this isn't the case and some organisations take shortcuts on the back-end infrastructure to increase their savings. These short-cuts are often a false-economy, take proper care and consideration in the design and specification.
If you have users working with large graphics files then don't expect to put them on a virtualised platform. There are technologies that can make some applications work acceptably but the market's relatively immature and they often create more issues than they resolve, or the costs negate the benefit.  Most environments simply leave heavy graphics users on traditional desktops.
Obviously implementing a virtual desktop environment brings training requirements. The first being that the IT team needs training on the systems – don't take risks with a 'how hard is it' attitude. A virtual desktop environment pushes bottlenecks around an IT infrastructure as it touches as all the main elements.
Also, don't forget to train the user base. Often a move to a new virtual desktop environment brings a change in the operating system, applications and methods of working. If you don't spend time training users and managing expectations then expect to negate a lot of the initial benefits.
What can IT departments do to change their approach to cope with the transition?
Change, configuration and release management are essential when moving to a virtual desktop environment. Implementing proper controls, policies and procedures will make all the difference during the project and throughout the life of the platform.
Don't take redundant and legacy software into your new environment if possible. Yes, the business will probably want to but do your utmost to fight when the software is unnecessary. A friend at board-level championing the project will always ease this process.
Train your staff on the new infrastructure and how to support it way before you go live. As with any major infrastructure and systems project move forward with care. The beauty of a virtualised desktop project is that you can usually move gradually, i.e. one department/office at a time.
What are the ROI implications from a management perspective?
It completely depends on the size and nature of the environment. I'd typically say through experience that back-end management costs stay the same at first but will carry a little slack. However when a business grows and develops the costs don't tend to rise at the rate that the older models would have. You should also see front-end support drop relatively quickly.
To be honest I'm generally not seeing many cases where VDI delivers a sensible business solution. It may form a small part of the infrastructure but more often than not thin-client solutions, such as Citrix and Remote Desktop Services (Terminal Server) will often deliver a much better ROI – in terms of upfront costs and ongoing management/support.