Blog
How increase value and reduce costs with IT
/ Strategy
October 31st, 2013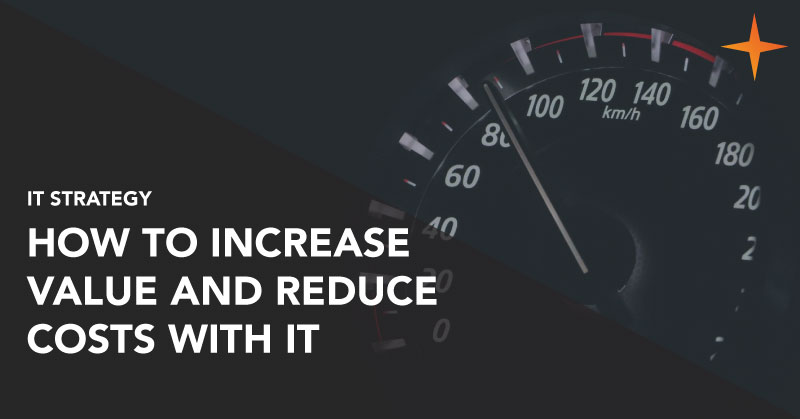 Ensuring that you are getting the most from your IT environment is always a high priority. So, we've put together a list of quick things for you to consider to reduce costs and increase value in your business. Although this is a relatively basic list, and not exhaustive, it's a good place to start.
1. Focus on Productivity
Training
Pull out data from sources, such as your IT service desk, to analyse which staff could be having productivity issues that could be addressed through training. Also, consider testing the competence level of a selection of your employees using your key applications to understand if training would be of benefit on a wider basis.
Understand your downtime costs
Do you know how much it costs your business, in pounds and pence, for every minute you can't work or communicate through your IT systems? If you have this figure, along with knowledge of historic outages, you can make an appropriate investment into your business continuity.
Don't sweat assets (for too long)
If you have IT equipment and software systems that are over five years old, you aren't going to be working at anywhere near 100% efficiency. Review your options to understand your risk and any potential opportunities.
Maintain your servers
Ensure that you're keeping on top of your maintenance and that you have the right resources allocated. A server outage won't just cost you hard cash, but productivity and reputation as well.
Remote working
Enable, or improve, remote working to help your staff to work more effectively while away from the office. You may have remote access, but is it efficient? Is it easy? Is time productive? Answer all of these questions to get a better picture of how well remote working is working for you.
The speed of PCs
If your PCs are slow, it may be worth doing a clean-up: i.e. remove unnecessary applications, run a hard drive defrag, remove old files. You may also find that small upgrades, such as memory, may make a measurable difference. If PCs are slow and old, it's time to look at a refresh or even a move to thin-client solutions.
2. Printing
Pay-per-print
Are you paying per printed page? If so, review the costs. It may be more cost-effective to switch equipment, switch suppliers or negotiate a better deal.
Black and white
Set your default printing mode to 'economy' for general everyday printing. If you have a duplex unit then use that to print double-sided by default.
Education
Educate your user base to print only when necessary. Do they need to print every document and email? Would a photocopy do, rather than printing 50 copies in colour?
Paper
Be sure that you are buying the right paper and that it's used appropriately, i.e. that you aren't printing meeting agendas on the paper you'd use for printing customer proposals. Also, check that you aren't buying excessive amounts of paper in bulk just to get a better deal.
Printer placement
Do take into account where printers are placed. It's often worth undertaking analysis on the amount of time it takes to get to a printer, to return to a desk and to be productive again.
Invest in print management software
These software solutions give you complete control over the print within your environment, i.e. monitor, quota, bill, and report.
3. IT Power Consumption
Power settings
Configure power-saving settings on PCs and screens so that they go into a low-power mode when left idle. It's simple to set up and is configurable through the Microsoft Windows platform, but it's rarely done.
Virtualise
If you have internal servers and haven't used any virtualisation you're missing out in several ways. Virtualisation offers reduced costs and increased resilience to failure at a bare minimum. If your budget doesn't stretch then most virtualisation software vendors also have a free edition.
Data centres
If you occupy space in a 3rd party data centre then cut your power usage by virtualising servers or consolidating services. Also, ensure that you are only paying for the power you use.
Age of equipment
New equipment is often significantly more cost-efficient in terms of power usage. Take the time to evaluate what it's costing you to run your ICT equipment. Also, don't forget to include how much it costs you to mitigate the heat generated, i.e. through air-conditioning systems.
Server room temperature
In the past, server rooms were kept around the 18 degrees mark. This is an area of contention, but you can generally run a server room at 25 degrees without issue. Be sure to check that your UPS and servers will support a higher temperature and that you don't invalidate your warranties.
Thin-clients
Consider using thin-client technology to slash power costs on the desktop by up to 70%.
4. Communication
Web conferencing
Video and web conferencing is a great way to reduce travel expenses, shorten sales cycles and to improve team collaboration. If you aren't using web conferencing then ask yourself how could it help your business, how could it cut costs? It's extremely cost-effective and you'll often get loan equipment and free online trials.
Phone systems
Look at your spending on calls, lines and maintenance costs for your existing system. It may also be worthwhile to consider VoIP services to see if they fit with your operations. However, don't move to VoIP for the sake of it – standard call rates on traditional systems are often comparable.
Mobiles
Speak to your current provider to get a real understanding of where you are spending (what type of calls, call destinations, durations, e.t.c.). Armed with this information, you can probably negotiate a better deal with your current or another provider. Don't choose or stick with a provider based on historic experiences. The mobile space is shifting at a rapid pace, with many carriers sharing network capacity to increase coverage and reduce costs.
Connectivity and Broadband
Review leased lines to the Internet and between offices. Technology in this area moves significantly over 12 months and it's likely there are new ways to achieve your business objectives at a reduced cost.
What else could you look at?
Do you document internal operations and processes, and review to look for increased efficiency?
Have you got the right people doing the right jobs on the IT systems?
Are your employees using your systems effectively?
Could new technologies and systems deliver a measurable return?
Are you using the right technology and systems to fit your operations and corporate objectives?
Have you measured the impact of IT and non-IT related events that could impact your business?
Have you identified and, where necessary, mitigated risks within your business?
Are you capturing all billable time/products through your systems?
How are you measuring the performance in all areas of your business? How are you interpreting that data and acting upon it?