Blog
Tips for managing multiple devices for IT teams
/ Managed IT Services
May 22nd, 2012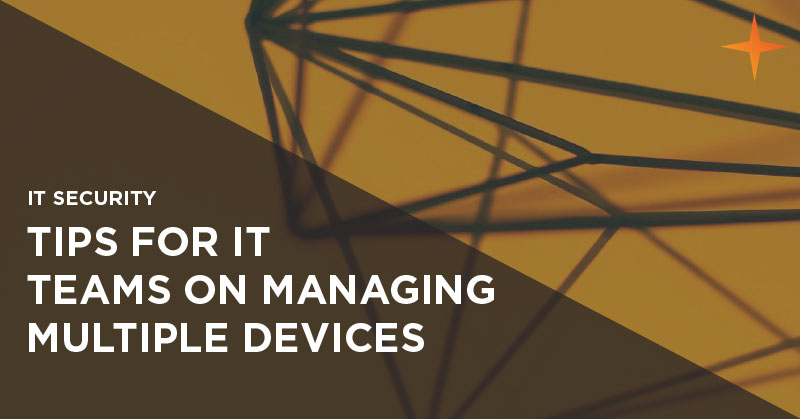 BYOD, CYOD, IaaS and SaaS may have been buried under waves of new acronyms, but although they're buried, they can't be forgotten. These four acronyms changed the way businesses' networks are structured, they multiplied the complexity of connectivity, they incited the development of mobile apps for traditionally desktop software and, along with cloud, gave life to agile working.
But big changes often bring challenges and these need to be addressed before the full benefits can be gained.
What challenges do multiple devices pose for an IT team?
1. Security
You must first think about your OS and web browser security. Most mobile applications will be delivered via a web browser, and all web browsers and operating systems will have their own security vulnerabilities. However, if you can isolate the application delivery against these vulnerabilities, that's a very good first step.
Network security will be another key area to consider.  For a start, traffic will need to be secured between the device and the delivery platform in order to protect against man-in-the-middle attacks such as tampering and sniffing. To be safe, you should automatically assume that any network outside of the building is insecure and therefore make sure that appropriate controls (such as encryption) are put in place.
Of course, the BYOD trend raises additional security issues.  Truthfully, if a specific technology is really beneficial to an employee's work, the company should supply and control it. People have always been the biggest risk to a business in terms of IT security. BYOD only exacerbates that fact.
However, IT teams will nonetheless need to address this issue. Isolation of the consumer devices from the corporate network will be key. If you need to open particular ports – ideally just standard web ports for access – then so be it. Thin-client and VDI solutions can also work well to aid isolation from the corporate LAN. Even so, you will require two-factor authentication as a bare minimum, and, ideally, prevent the storage of company data on the device itself.
2. Network performance
Along with security issues, you also need to consider managing network performance when delivering enterprise applications to devices outside of the delivery platform. Sure, it's great to have numerous xGbps connections into the data centre, but if the CEO is in a far-flung location, and an application doesn't perform as it should, the repercussions can be serious. It's essential to also factor in latency here, especially when using thin-client technologies to deliver your application services.
Network resilience at the client end is also an important area that resellers need to think about. While your cloud delivery platform may work well for the 50 task-based workers in a remote office on a bonded SDSL service, but when that local line goes down with no viable SLA, it's going to hurt. It may not be your fault, but any issues with service will affect the internal customer's perception of your team.
3. Preparing for the future
In order to add value, IT teams need to balance current needs with what's likely to come next.  Application delivery systems, cloud services technologies, and end-user device developments are fluid and changing rapidly. Therefore future-proofing is another important part of any mobile solution that you plan to deploy, manage and/or update.
4. The right support
Finally, it will be essential to provide adequate support for projects like these, either internally or with a third party. A lot of IT providers are jumping in, particularly from the 'comms' and 'print' side of the track, with a variety of Software as a Service (SaaS) and other cloud-based solutions. There are also a lot of IT companies pumping device control solutions that are too immature. This area is a whole new ball game, definitely not just a matter of hiring some extra skills.
New devices and apps will soon feature in IT environments to help deliver operational and productivity enhancements.  As a result, it's essential that you're able to support the rise of these devices and related technologies adequately. The potential benefits and opportunities these tools can provide are too significant to ignore.