Blog
Are cloud and hosted desktop services trivialising IT?
/ Technical
February 19th, 2010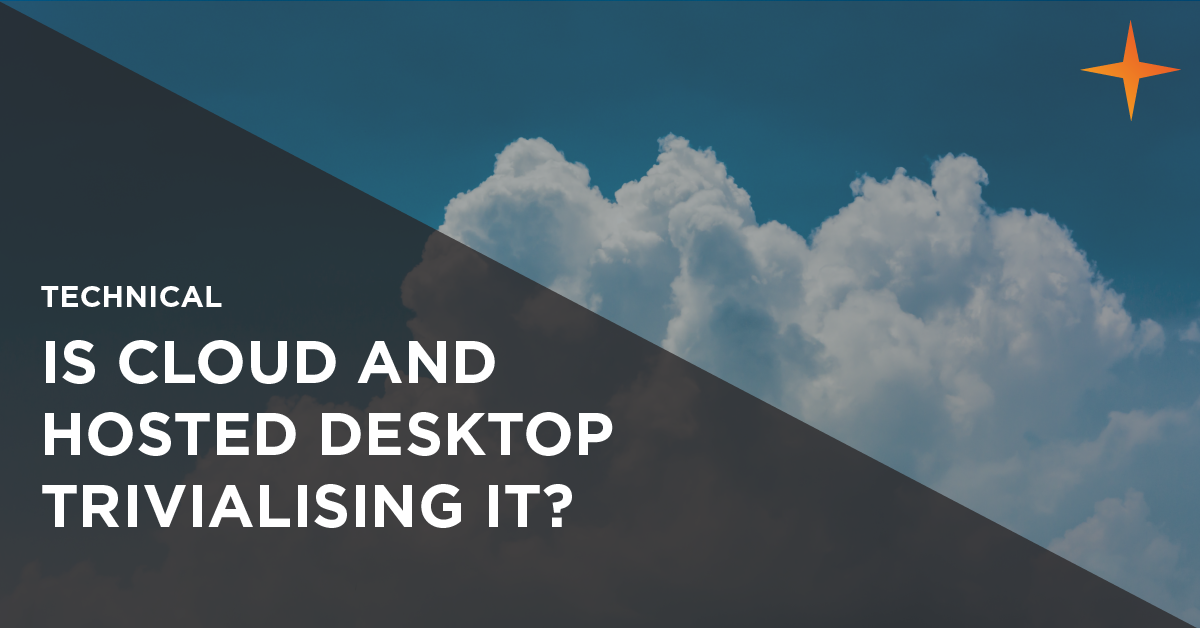 As we are now all on the cusp of the new marketing wave that is Cloud Computing and Hosted Services. I'm seeing fairly worrying trends that are going to impact the end-user of these services, particularly in the SME market.
Don't get me wrong I fully appreciate the benefits of hosted and cloud-based services – a large percentage of our business lies in this area. It is just frustrating seeing services that can bring measurable business benefits when implemented correctly, crowbarred and deployed without proper analysis.
I'm in no way saying that all hosted service providers are putting their customers at risk as they are not. There is, however, a significant and growing number of providers that are creating serious issues for their own customers and ultimately the industry as a whole, particularly in the hosted desktop area.
The main issue issues I'm seeing are:
1. IT as a commodity
So many IT service companies who are just selling hosted services, particularly hosted desktop services, as a one size fits all solution and without any thoughts on how it will serve the customer in the longer-term, i.e. how they will integrate other software and services now and in the future. There are also many companies who neglect to undertake a proper analysis before implementation, leaving the customer with a solution that doesn't work for them.
At the end of the day when you're only chasing profit, something has to pay for that increased margin. This typically results in reduced resilience, service or security.
2. Inadequate infrastructure & skills
To setup hosted services that perform well, are secure and resilient is a very expensive exercise. Running costs are also high due to the high-end services and qualified personnel required. It's not too difficult to set up a low-level hosted infrastructure to provide services to customers on a shoe-string without the necessary levels of protection and service.  It does, however, take a significant amount of technical experience and skills, operations experience and money to do properly.
3. Security concerns
To keep systems secure is expensive and management can be a little cumbersome because it's all about details. It's easy to cut corners on security budget and not work to recommended best practices. This is downright dangerous and the likely breaches in security will damage the industry and the goodwill built up.
4. Disaster Recovery
Backing up data to a separate data centre is not the same as having a real DR solution in place. Many providers are selling their services on the fact they backup to another data centre. This maybe protecting data is it protecting operations. In the unlikely event that they lost the data centre, it could take days to restore systems and data. To keep operations running in the event of a disaster then they should be specifying high-availability and replication solutions between data centres.
The above list is not exhaustive but it does give you an idea of some of the problem areas. I understand that it's all new for the customer but never be afraid to ask questions. If you don't understand the answer then ask them to rephrase it and, even better, to put it in writing. I always like to hear claims and do enjoy asking difficult questions so feel free to send them to me to look over for you.