Blog
8 predictions from Gartner for IT in 2011 and beyond
Gartner has recently released a number of predictions in relation to IT for 2011 and beyond. QuoStar CEO, Robert Rutherford, shares his take on the predictions.
/ Managed IT Services
December 1st, 2011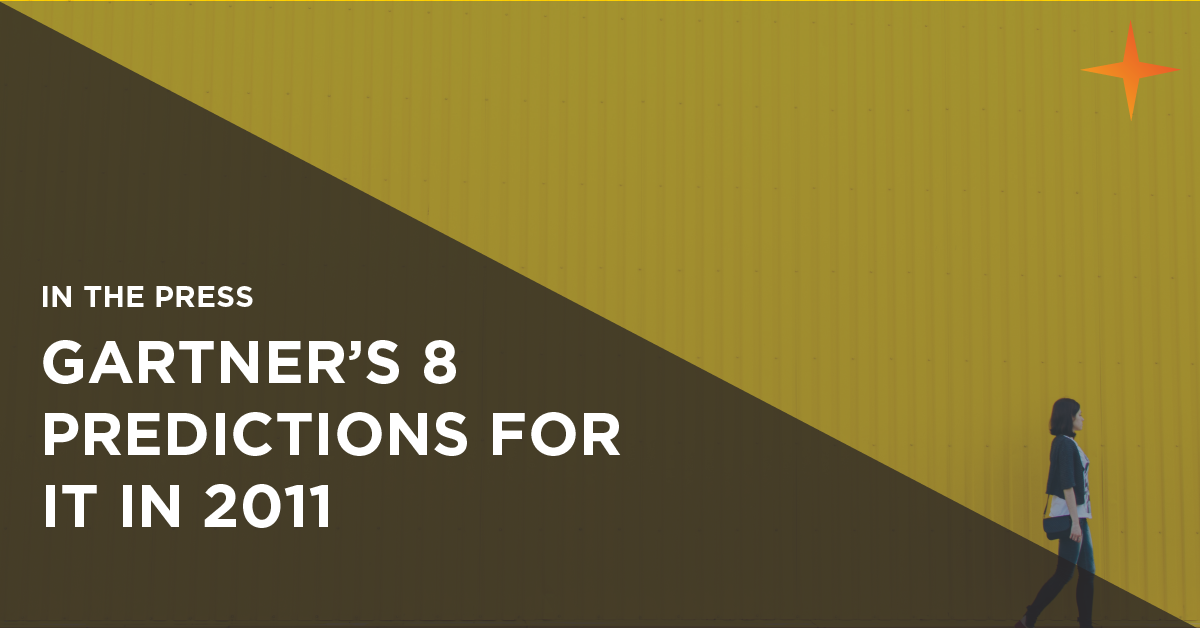 1. By 2015, a G20 nation's critical infrastructure will be disrupted and damaged by online sabotage.
This is a real danger now and it's just a matter of time before something catastrophic happens. I can certainly see governments taking greater control over the internet in the coming years to protect their nations. I believe the days of a completely open internet are over; the world and the internet are different places to what they were 10 years ago.
2. By 2015, new revenue generated each year by IT will determine the annual compensation of most new Global 2000 CIOs.
The role of a CIO will certainly become more prominent going forward. This trend has been growing over the last 10 years but specifically within the last 5 or so as you have new-blood change agents entering senior 'C' level positions within organisations. IT is not about technology, and the new breed of business-focused CIOs know that and are going to be the stars of the boardroom. Organisations should certainly be rewarding their CIOs on the impact their IT initiatives make to the bottom line, as this will attract and retain talent.
3. By 2015, information-smart businesses will increase recognized IT spending per head by 60%
I see this as a realistic figure. There is obviously a balance and the additional expenditure needs to be measured against the returns. I am passionate about the difference IT can make but at times I despair at the levels overinvestment I see.
4. By 2015, tools and automation will eliminate 25% of labour hours associated with IT services.
This could be realistic but that may not necessarily equate to a cost-reduction. Organisations need to be smart in how they implement new technologies and systems to ensure that they aren't just moving costs around.
5. By 2015, 20% of non-IT Global 500 companies will be cloud service providers.
I'm not really sure about this one in terms of 'non-IT' companies. I'd be interested in discussing these further and seeing/hearing examples. I've certainly seen it in the public-sector, i.e. where a council supplies IT service out of its data centre to other councils and public sector organisations – to the detriment of private businesses I should add.
6. By 2014, 90% of organizations will support corporate applications on personal devices.
I don't really agree with this point. I just see the security risks, even if users are mainly accessing 'cloud-based' services.
7. By 2013, 80% of businesses will support a workforce using tablets.
If 'support' simply means that a company has a relatively small percentage of tablet devices that IT supports then that's realistic. If there is an expectation that the majority of users will be using tablets then it's not. In all honesty tablet machines aren't anything new – the iPad is. The iPad or any other tablet device is not going to revolutionise business but they obviously have their uses in specific circumstances.
8. By 2015, 10% of your online "friends" will be nonhuman.
Gartner suggests that by 2015 we'll be talking with social bots in communities. I think we'll certainly see an initial rise in this area but whether it can be sustained will be interesting, i.e. will it just turn into another form of SPAM? I think we are getting close to information overload and we all just want to speak to people at the end of the day.
I'm certainly looking forward to seeing what happens over the next few years when we raise out of this global crisis.