Blog
10 benefits of enterprise resource planning for manufacturers
/ Strategy
August 10th, 2015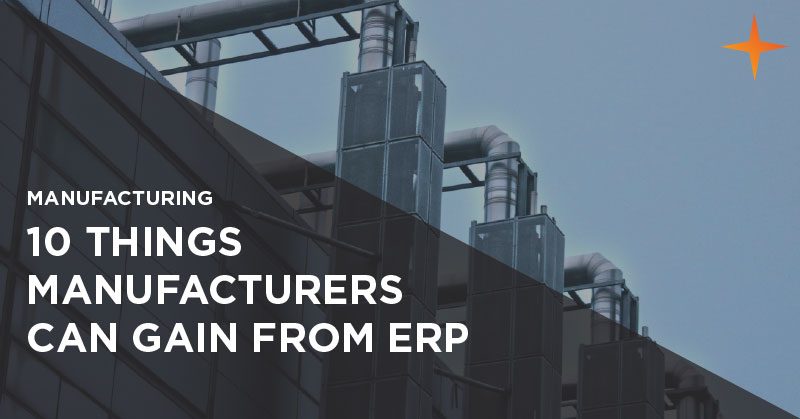 It's interesting that many small and mid-sized manufacturing and engineering firms still don't use enterprise resource planning (ERP) systems. It can be for a number of reasons, often the key ones being around; a belief that they don't need ERP, a fear of what they don't know IT wise or a tainted installation in the past. However, ERP is more or less essential for manufacturing and engineering firms due to flexing global markets and the ever-growing demands from customers. There's certainly a rise in customers requesting – even demanding – vision directly into their supplier's ERP systems – that's for another day though.
If you're not already using ERP then here are 10 good reasons why you really should.
1. Real-time information improves decisions
Having real-time information and data at your fingertips allows you and your teams to make decisions at the exact moment they are needed. There is much more value, for example, in stopping a job or project part way through due to profitability or deliverability issues rather than letting it run through to the end and then realising you've lost significant resources or potentially a client. You take a lot of the guesswork out of decisions by having live data, feeds, dashboards and reports on demand.
2. Adhere to process
Having an ERP solution will go a long way in improving and enforcing policy and process within your business. This drastically improves management, increases efficiency, reduces defects and just makes the whole operation run smoother. If you have a process you also have something tangible that you can improve in a controlled manner. Also, having a systemized process goes a long way in stopping anything slipping through the net or being dropped, especially in multi-site or international operations.
3. Start with the best practice
Many ERP systems have either been built for a specific market or niche within that market. Other ERP solutions are highly configurable and can match numerous markets with 'relative' ease. As these providers and their partners pick up additional customer they learn more and more about that sector, niche and specifically the operations within them. They learn best practice and then build their systems in a way that gives any new customer those best practice solutions straight out of the box, saving significant resource and almost instantly making the customer more effectively.
4. Deep Vision
If you need to know where a particular job is in a process, if you have enough resource to deal with an urgent order, or perhaps a client wishes to know when their order is likely to ship you can drill down quickly to the answer with an ERP system. A well-implemented ERP solution will give you instant, or near instant, visibility into your operations and supply chain.
5. Close month-end faster
Closing down month obviously allows you to know the health of your business. The faster the close, the quicker you know. ERP solutions should automatically process transactions, generate reports and lay down audit trails. They should also flag anomalies and be able to simplify repetitive journal entries which can slow down the closing process.
6. Happier customers
Customers like to be kept up to date, especially where costs and delivery dates are concerned. ERP can deliver improved inventory and visibility of the shop floor which should, in turn, lead to DIFOT (Delivery In Full and On Time) through the increased accuracy and visibility. With tight integration with CRM (Customer Relationship Management) an ERP solution can further improve the client experience and your data/information/insight on that client.
7. Improved Cost Control
ERP Systems calculate and clock costs to give you an accurate view of your product costs and associated margins. This goes beyond inventory and right into the shop-floor and back-office areas of the operation.
8. Accurate Records
As all information entered into the ERP system has to conform to a standard format and process. This goes a long way in ensuring that your records are accurate throughout the business. Which, of course, helps throughout the cycle of a particular job, the lifetime of a client or product and so on. Records also give you data, information and then ultimately intelligence. Intelligence should then be able to reflect on the bottom line.
9. Managing supply and demand
MRP (Materials Requirement Planning) is a core component of ERP, allowing you to keep your inventory as low as possible whilst still satisfying the demands of your customers.
10. Reducing lead times
Improved scheduling ensures that your operations are streamlined. Your lead-times can reduce through better prioritisation of tooling and parts. This all drops out to a decreased order-to-cash cycle, being what everyone wants and needs.
It's important to reconsider ERP if you haven't looked at it for some time. It's evolved rapidly over the past few years. And with the incorporation of cloud technology, ERP is capable of much more than before. Being able to deliver a big performance boost for your business whilst costing and being far less complicated to install than before.
With the past cost and sizing issues having been alleviated, cloud-based ERP solutions now fit any size requirement whilst coming out at a fraction of the price. Meaning businesses from small to large can now enjoy the benefits. We all know how fast technology moves and ERP hasn't stood still.