Blog
7 things to consider with a hosted server solution
/ Technical
March 4th, 2010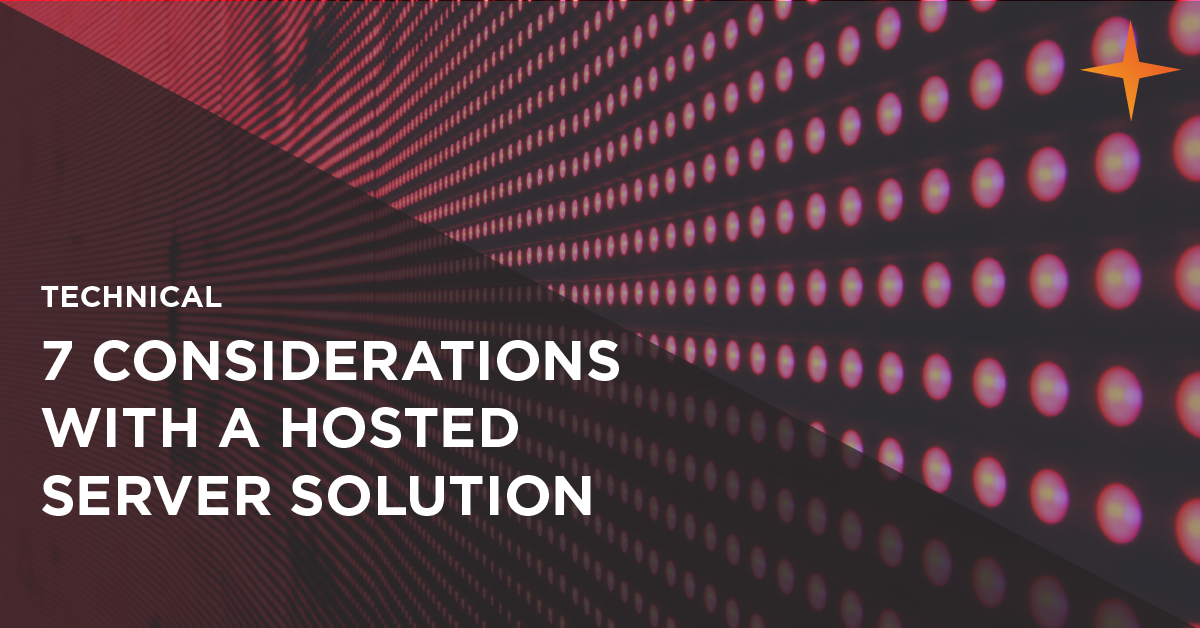 Due to all the current marketing spin on 'Cloud Computing', I am often asked questions by business owners, Financial Directors, Managing Directors and IT Managers about whether their company should now keep their servers in-house, or if they should use an external provider to deliver a managed service in a data centre.
A managed service is simply where the provider rents server resource, disk space, internet bandwidth and software to a company on a monthly basis. Typically you get an enterprise-class IT infrastructure and systems without the up-front costs.
In this short blog, I've detailed a few factors for you to consider when looking at moving to a hosted server solution. All businesses are different, as are the technical and operational requirements. The points stated here are just as a general guide and are not comprehensive.
Just to note, I'll often interchange the term 'data centre' and 'managed hosting provider'. This is because the areas of coverage may blur at times, i.e. a managed hosting provider may own the network equipment, security systems and servers within a data centre.
7 things to consider with a hosted server
1. Network Resilience
Generally, a data centre and the managed service provider will have a far greater level of resilience built into the network than an SME could justify implementing. There are numerous ways to achieve this, but typical areas are:
Multiple Wide Area Network (WAN) providers – In short, there are usually multiple Internet Service Providers (ISPs) delivering internet connections into the data centre, i.e. if one ISP goes down there should be an automatic failover to a second. The data centre will often also have the connections enter the data centres from different ends of a building, i.e. no more 'workmen dug through the cable with a digger' scenarios.
Redundant network equipment – The data centre and/or the managed service should have full hardware redundancy built into their network. This basically means that they should have more than 1 router, more than 1 firewall, more than 1 network switch, etc. The network should be set up so that a failure of a piece of hardware would go unnoticed by the customer.
2. Server/Storage Resilience
A hosted service provider's server and data storage infrastructure should be bomb proof. Many won't provide a fully resilient solution for you without you choosing and ultimately paying for the additional options. There are a number of things they should be able to do, here are a few:
Back your systems up once a day or continually, i.e. every time a file is changed.
Store backups off-site (out of the single data centre) securely.
Provide high-availability solutions to minimise or eliminate downtime.
Replicate your servers, services and data to another data centre.
Store your data on enterprise-class storage systems, i.e. on a Storage Area Network (SAN).
Provide a service level agreement for hardware replacement in the event of a failure.
You do, of course, need to look at your business and its operational requirements before making a decision on the above.
3. Server Environment
It's expensive to build and run the optimum environment for servers. You need to ensure that the power is clean, it is protected by resilient UPS system, it is backed up by a diesel generator, the area is cooled, it is secured – right through to fire protection systems. Also in an ideal world, you'd make sure you had a backup for most of the systems, such as carrying redundant UPS system in case there is a failure and having a contract to supply additional fuel to the generator, after say four hours.
4. Technical Skills
Typically, managed hosting providers will have a greater level of technical skill than that available in-house. This may not be the case, but generally, due to the volume and variety of systems and technologies, the hosting provider's staff will hold more relevant and hardened experience. They should of course also be certified on the technologies they are using to deliver their service.
5. Working Hours
Typically a managed service provider will be available for extended hours. They may also perform maintenance on your systems outside of business hours without additional charges.
6. Security
Security is often the primary area that will sway a decision to outsource or not to outsource to a hosting provider. I have literally seen the terror in some people eyes when they realise that their data would be stored outside of their network. In most cases, and if you go with a reputable hosting provider you should find that their security systems will be far superior to your internal security systems.
Simple things to consider are whether the firewalls and other security systems you internally are of the same specification and as resilient? Is internal resource as experienced as the 3rd-party's? Do you operate your internal IT operations to the same security standards, i.e. ISO 27001?
7. Costs
The cost of a solution needs to be carefully analysed. Not just up-front but over a number of years, typically three years. There are so many costs involved, those that are clear and those that are hidden, including:
Hardware
Software
Support services
Internal training
Power usage
Cooling costs
Security services
Internet connectivity
More often than not I see a hosted solution coming in at the same price or cheaper than an in-house solution over a three year period. The beauty of the hosted server solution is that you don't have the CapEx. You don't need to buy servers, software and other infrastructure up-front.
Obviously, costs should also be balanced and measured against the functionality, i.e. a company may already have internet connections, but are they as resilient as those provided by the hosted provider? Is the hardware platform as resilient? The list goes on.
Is it always best to move to a hosted server solution?
No, not always. IT is not a commodity and one system, technology or solution rarely fits all. Your software, systems, security requirements or business operations may not fit the model. However, if you are going to make any investment in hardware or business software then do evaluate a hosted server solution. You may actually find that you should investigate it anyway for potential cost savings.
How to choose the right managed services provider
When the time comes and you start selecting the right managed hosting provider for your business, make sure you choose a company that truly understands your requirements. They need to understand your business and operations first, almost before anything. I see companies choose a provider based on price or technology, only to end up with an unworkable system.
At the end of the day, it's all very well having the tools but they must be able to understand your business to make sure the technical solution fits. This comes with experience and most importantly a genuine interest in a long-term relationship, rather than just a sale. In my experience, you should be dealing with a professional service company and not a box/space/bandwidth shifter.