Blog
QuoStar's 10 Year Anniversary: 10 lessons we've learnt
August 4th, 2015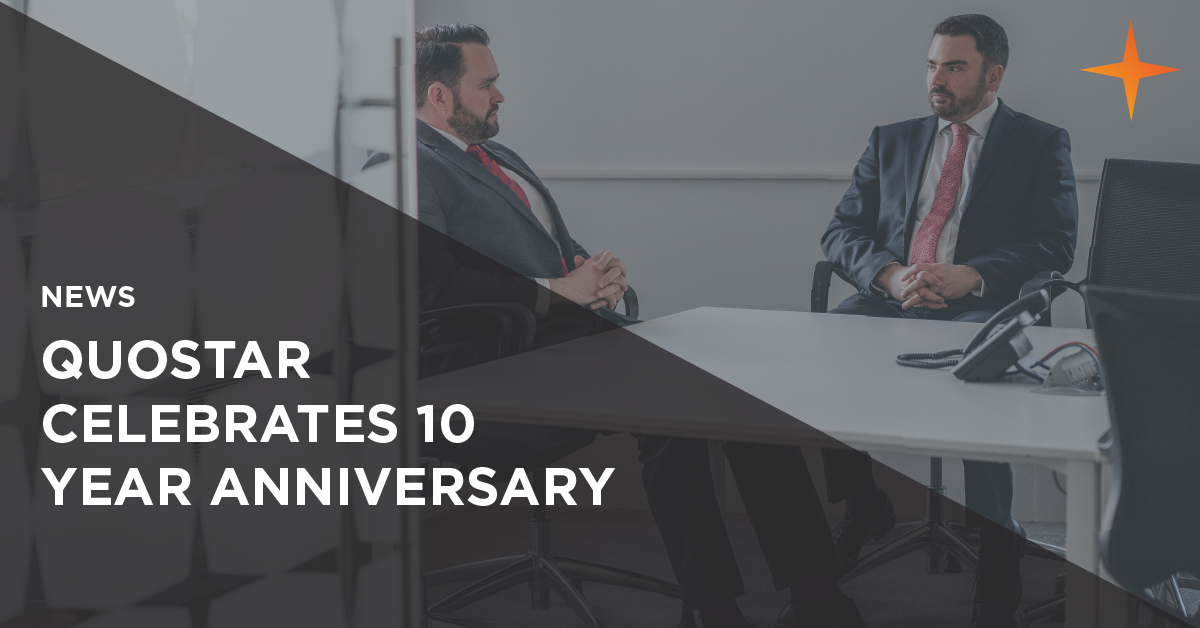 2015 is QuoStar's 10th anniversary. We have come a long way from a shoe-box office with no windows and no clients to where we are today. We have learnt so many lessons as we've probably hit most bumps in the road along the way. However, I wouldn't change that as that experience is what makes you stronger, more capable and I believe a better person.
I was asked after 10 years in business what lessons had I learnt whilst chatting with a friend who is looking to start his own business. I could list hundreds but here are 10 key lessons I've personally learnt along my journey to date:
1. Don't chase the money
Do what you love and the business and the associated benefits will come. Even if you are adding an additional product or service into your organisation you have to be passionate about it. If you aren't your teams won't be and you can be sure that your clients won't be. The passion has to come from the very top, passion sells.
2. Hire slowly and address issues quickly
Good people can deliver 3 times the return of a normal hire. Bad people 3 times less. If your interviews last 5 hours or a day, or more – that's fine. Be sure and plan your hires, as far in advance as possible. When networking, don't just look for business, look to meet people you like, value, trust and respect. People you could maybe one day employ. Employ staff who are willing to develop themselves outside of the 9 to 5. Being the best takes more work than normal – make sure you reward that. In my view, you should like every member of your staff, and they should all be of equal importance in your eyes. If they aren't then something is wrong, address it.
3. Don't think your staff know how much you appreciate them
Make sure 'you' tell them. Developing your staff develops you just as much as them, from a business and personal perspective. Everyone in your business adds value. Be sure that you don't allow a hierarchy that allows others to look down on anyone else. Personally, I hate personal offices and make sure I move around the office, so I can feel the business and know all of my people.
4. Manage expectations
If you say you'll do something, no matter how small – do it. It's so easy to procrastinate as a business leader as there is so much to do. Pay attention to both staff and clients, return calls on time and be careful not to let emails fall off the radar when someone is wanting or expecting a reply. Over time, even the slightest failures can build up, no matter how good you or your business are. Everyone's perception is their reality. Take time to put yourself in other's shoes.
5. Never lie to a client, a prospect or a member of staff
Business is complicated enough without carrying that baggage. Take business personally but be prepared to take some pain – people are fickle and can turn on you in a second. The old phrase "there are no friends in business" is 'mostly' true. However, in my view, it's best to place trust in others than to withhold it, just go in with your eyes open to what could happen.
6. Don't have an ego
Be confident in yourself but never be arrogant. There's always someone better than you out there so get over yourself. I still remember people who were rude or condescending when I started off, you never forget it. Do show respect to those businesses who are just starting as one day you may want them as a client. Don't network on a business level thinking about what others can do for you. Look to meet people you like and people who like and understand you. If you help others with your experiences and expertise then they'll do the same. If they don't then just accept it and don't worry about it as you don't have time to harbour negativity.
7. You can't be a master of everything
Even if you can, you can't grow a business like that. It'll affect you and those you employ. Along the same lines don't blame others if things aren't going right; you are most likely to be to blame if you really break it down. On the flip side if things are going well it's probably down to someone else – make sure you recognise that.
8. There is no such thing as a work/life balance
Something has to give and it's down to you to make a conscious decision on what. If you are sacrificing now then be working towards something that gives you time later on – but set a date that it needs to happen. Use your work diary for home and business – invest your time in both. Personally, I no longer work on a weekend, except for maybe an hour on a Sunday night, however, for the first few years of business, I was working at least 70 hours a week. I'd be surprised if anyone can get a new business off the ground with little commercial experience on 40 hours a week.
9. Don't moan about clients or anything else in your business
Your staff pick up on that and one day you'll want to change that pattern. You'll appreciate that people are different and you are probably to blame for their perception. If you really are right to moan then let that client go as it's not doing you, your staff, your reputation or the client any good.
10. If you can't measure all areas of your business you can't manage them
Ensure you can measure and set KPIs across your business. If you don't have accurate data and can't report on it then making decisions comes down to gut feel. Sure, that may work for a good deal of the time but the advantage comes from upping the percentage of good decisions. Going forward real-time data and reporting becomes invaluable.
So, on my now starting my next 10 years…. I'm sure I have plenty more to learn. I'm happy with that as I guess if you aren't learning you aren't doing anything new.
Robert Rutherford, CEO of QuoStar