Blog
In the press: Experts react to Windows 8 launch
/ Technical
November 2nd, 2012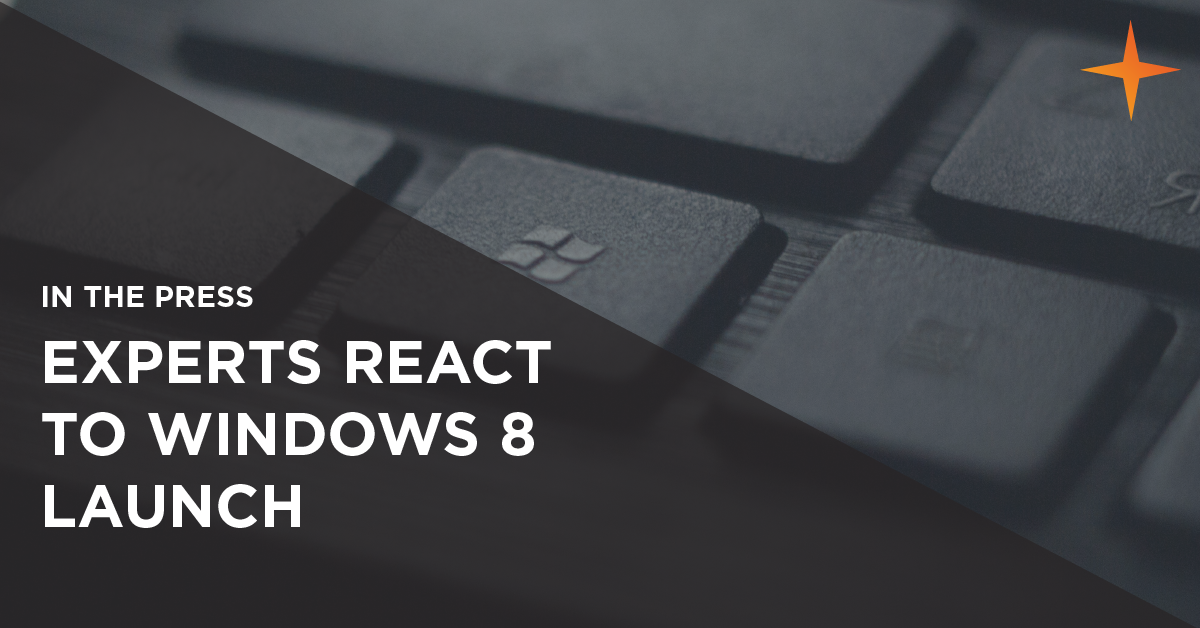 The launch of Microsoft's Windows 8 represents the most dramatic change in the history of Microsoft's operating system. CBR rounds up what experts have to say about Windows 8.
Raimo Lenschow, Barclays bank's software analyst
"In our view, Microsoft needs a successful tablet to prevent an erosion of market share and loss of earnings from its core Windows and Office businesses," Lenschow told the BBC. The key question on our and most investors' minds right now is how much traction the Windows 8 system and Surface tablet can gain.
"A success could spark a comeback story for the company, while failure would reinforce concerns about the firm's core products. Although the new tablet will likely have meaningful sales right from the start, the addition of a significant hardware product to Microsoft's business model is likely to put pressure on its profit margin."
Robert Rutherford, founder and CEO of QuoStar Solutions
"Most businesses will not gain anything from moving to Windows 8 from Windows 7, but that is not to say that there is little difference between them. Windows 8 is all new, not so much at the core, but in terms of user experience, it's different, completely different. There lies the biggest issue. Many will remember the pain of moving to Microsoft Office 2007: the change was vast and caused a raft of training and productivity issues.
"The new Microsoft Metro interface is similar to the iPad. It is pane-based, yet it still needs to flick back to the old desktop system as most applications aren't designed for it. That's a good thing, but you can expect the old desktop to slowly evaporate in later releases when people get used to it. In general, people don't like change.
"The general rule of thumb will be, stick with Windows 7 if you are already there – no matter what size of business. If you are using tablets (or want to use more tablets) then you may want to try Windows 8, but still, leave the rest of your PC estate on Windows 7. Hardware compatibility has been drastically improved on the new version so when the time comes to switch, virtually any PC or laptop that will run Windows 7 will also run Windows 8."
Chris Lim, Trustmarque, Practice Manager – Microsoft Technology Services
"Microsoft's launch of its new Windows 8 operating system and Surface tablets are a sign that Microsoft is taking consumerisation and user demands seriously – and puts the money where their mouth is on their 'devices and services' company focus. For business, the elephant in the room is XP support ending in April 2014, however, the focus should be understanding where Windows 8 fits into current desktop plans.
"What Microsoft's Windows 8 and Surface tablet launch means for businesses is that they should evaluate whether they have a strategy and ability to support a hybrid environment of both Windows 7 and 8. Most organisations have current plans for a Windows 7 enterprise desktop and have been working hard on application rationalisation, packaging and app virtualisation. Will Windows 8 stop these plans? No. May they need to ensure these plans are flexible enough to support Windows 8 devices too? Faster than you think.
"It's good to see Microsoft continually pushing the boundaries of business software and introducing the latest technology to the workplace. Expect to see some exciting devices for Windows 8 and watch the blur between personal and work devices get even more interesting."