Blog
In the press: Energy costs are now the top priority for data centre operators
/ Technical
December 6th, 2011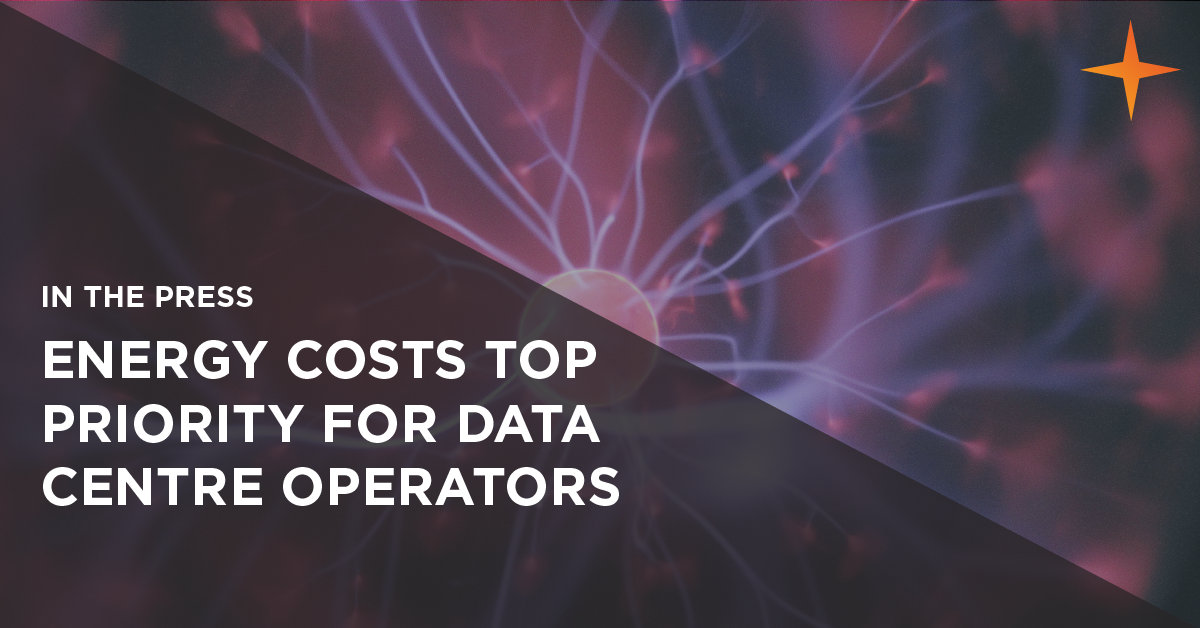 The change in approach has been swift. "Energy costs are now the number one priority for data centre operators," says Brian Murray, a strategist for the technology services provider 2e2. "It's not just about the cost of power – it's about capacity constraints and security of supply. We are seeing more and more communications providers, for example, charging per kilowatt rather than per rack unit."
Alastair McAulay, an infrastructure expert with PA Consulting Group, concurs: "Data centre operators are thinking seriously about these issues. It is something we have to look at very carefully." This year was when information technology budgets were expected to find new life. Some limited growth had been expected, but the European debt crisis and the threat of double-dip recession threw that into doubt. Forrester, the consultancy, says growth has now stalled.
Colt is a telecoms company that has expanded into IT services management. Bernard Geoghegan, executive vice-president of Colt data centre services, says: "It's difficult for chief information officers today. They are expected to cut costs while helping to expand the business into other markets. Few businesses are going to internationalise without IT behind that expansion."
An immediate consideration for CIOs, therefore, is whether to build their own data centre or outsource IT to a third party. "Right now," says Mr McAulay, "people – at least in the private sector – are more inclined to go to the market, rather than build their own."
The current balance in the UK is about 70:30 in favour of owning your own, but the picture is changing, albeit slowly.
Matt Hawkins, managing director of C4L, the UK's largest privately-owned data centre network, is quick to point out the substantial costs of running a fully resilient data centre. They include the costs of having engineers and security staff on-site seven days a week in addition to insurance, maintenance, fuel, uninterruptible power supplies and high-capacity communications links – all of which have to be mirrored for maximum peace of mind.
According to Mr Hawkins, the theoretical break-even point for building your own versus outsourcing is 400 or more physical servers or 10,000 virtual servers.
Riccardo Degli Effetti, data centre manager for Rackspace UK, says the best ways to reduce data centre operating and energy costs are to adhere to best practice, to make effective use of automation, and to employ virtualisation and cloud computing.
Virtualisation – essentially running a number of operating systems and applications on the same server – is one of the most effective ways to cut costs, improving utilisation of a server by on average 10 times. The cloud computing model best described as "pay as you go" shifts payments from capital expenditure to operational expenditure with a concomitant reduction in carbon footprint.
David Leyland, director of data centre solutions for Dimension Data, the services group, argues for unification, which he describes as the "gold standard" for computing today. "This is where all the system elements – server, switching and storage – work together in a coordinated manner from a single management window, allowing the peaks and troughs of demand to be accommodated simply and optimally.
"These solutions are offered by a number of manufacturers working in consortiums. The customer buys balanced configurations of all systems elements in 'pods' or 'blocks'. With these solutions, utilisation levels of 70% or more are common."
Data centres, in general, have benefited from new and better technology. "Many organisations are sweating old assets in the belief that they are saving capital expenditure and not incurring additional operational expenditure," says Robert Rutherford, chief executive of QuoStar Solutions, the IT services provider and consultancy.
"In reality, older servers are more power-hungry, not as powerful and can introduce risk into the business. You would be surprised how quickly you could get a return with a new, efficient infrastructure."
There has been a revolution in cooling. Ice-cold computer rooms are rapidly becoming a thing of the past. Fresh air, cleaned by filters and driven by fans, is the way of the future.
Mr Geoghegan of Colt says that in 2010 the company used only eight hours of auxiliary cooling to augment its fresh-air systems. Colt prefabricates data centres off-site, delivering the finished product to the customer.
The computing services group Capgemini has created a data centre called Merlin, which uses fresh-air cooling to reduce running costs by 80% and carbon emissions by 50%. Paul Anderson, Capgemini's programme director for global infrastructure outsourcing, claims power savings of 91% compared with the industry average and a power utilisation effectiveness of 1.1 (PUE is the ratio of the power used in computing to the power used by the entire centre).
You could, of course, site your centre in a cold country such as Norway or Iceland to take advantage of cold ambient air and cheap hydroelectricity or geothermal energy. Some, housed in former Nato bunkers are really very secure.
Source: FT.com