Blog
The growing trend for IT support providers
/ Managed IT Services
December 17th, 2012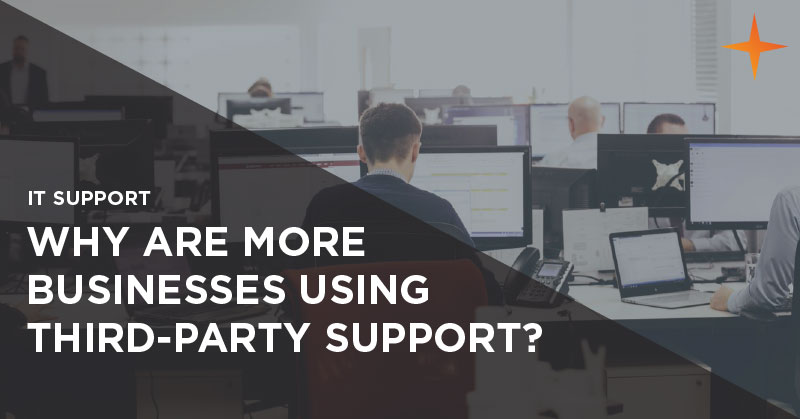 Outsourced IT solutions have been slowly gathering speed for a number of years, but the financial collapse in 2008 provided a catalyst for the growth needed to turn this progress into a 'trend' and since it took hold this trend shows few signs of stopping.
The history of IT outsourcing
Historically, the common perception has been that outsourcing can cut costs and budgeting is the sole motivator to outsource. On the contrary, in a well run IT department, cost shouldn't be driving these decisions. For many CIOs, it is a decision that is grounded in firm logic.
IT has always been a complex beast, with many different variables and considerations. As progress in the industry has sped up over the past 15 years, this area has diversified even further. As a result, IT solutions have become even broader and more complex, and in many cases have moved on too quickly for internal staff to keep up.
For small and mid-market organisations, this raises a number of questions. How can you attract and retain good quality IT staff who possess the specific skills that you need? How can you manage them and keep them ahead of the curve, so they can deliver a clear return on spend? These are difficult questions, but outsourcing can often provide the answer.
Outsourcing options
To compete, companies need to be agile. They need to be resilient to failure and have the ability to access information efficiently. In order to achieve these goals, many IT departments now use outsourcing to obtain specialist skills, rather than to just slash costs.
Some companies may outsource the whole IT function from the service desk to the CIO, whilst others will outsource elements as externally managed services to allow capable internal members of IT staff to focus on delivering further value to the business. Either way, strategic outsourcing can help the vast majority of businesses to achieve their business goals more easily.
One of the most influential trends within the broader outsourcing landscape has been the rise of cloud computing. The cloud has certainly opened doors to IT outsourcing, for both IT professionals and business leaders. Cloud is enabling smaller and mid-market organisations to gain access to technologies and systems they could never have afforded or managed in the past. It's also allowing larger organisations to flex their operations easily, while also reducing risk and significant capital expenditure concerns.
Considerations
Outsourcing doesn't necessarily mean the total removal of staff within an organisation to simply reduce costs. Outsourcing works best when a considered approach is undertaken. It shouldn't be about exchanging control for cash flow. When used effectively, outsourcing can provide much more control, as well as time and expertise, for business leaders and IT.
READ NEXT >>> 12 benefits of outsourcing for growing businesses